Home
/
Economy and Finance
/
/
Articles
It's cold and dark: what will happen to the Russian economy at the bottom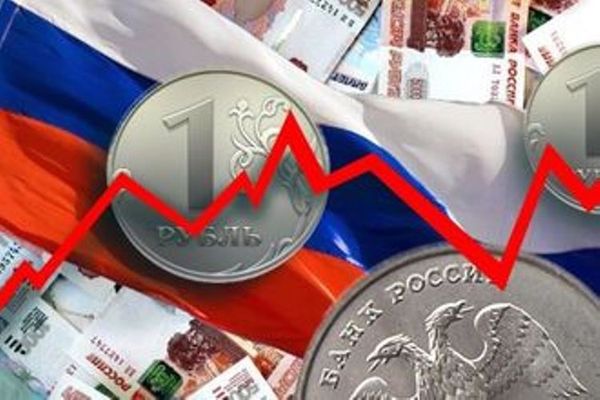 Moment
of choice for
business and citizens
still ahead.
This will be
the bottom
- the point at
which people
throw
off the
convention and
begin to fight for
life.
It is impossible to tell that we know about a bottom on which the Russian economy falls much. Never earlier since 1992 so is deep we did not fall. Therefore studying of diaries of the previous immersings, unfortunately, is a little useful. And in 1998, and ten years later the economy looked absolutely differently. In it was less cash dispenses and credits, it is less than trust to rouble, it is less than regulation, other Central Bank, it is more than dollars and so on. Where we fall this time, it is possible to guess only, trying to invest with a flesh dry figures of official and informal forecasts.
About the future some things are for certain known. The catastrophic scenario is an oil, for a long time (at least for a year) stiffened at a mark of $40 for barrel. Recession, most likely, will proceed and in 2016, it supposes the government, will probably, soon admit the Central Bank, and for a long time suppose big banks. Investments remain there where they are now, that is on zero. Real incomes of the population will fall, the consumer behaviour will change. People will save more more to give to banks under already taken credits, less to spend. The Russian companies will not return on the capital world markets. Thus the prices for oil and other raw materials will behave very badly: will continue to skip, but at very low level, probably, even more low, than today.
If the prices for oil keep at level of $45, the government will lose in 2016 two trillion roubles, if between marks of $45 and $40 - almost three trillions.
And it in a year of the big elections.
Earlier when money was much because oil cost more expensive, the federal government disposed of budgetary surplus, the oil award. Slices of this award could get to governors, the military, approached oligarchs, a management of the remote reserves with rare wild beasts and so on. Awards gave out not only president Putin. Almost each minister had monetary jugs, whence they assisted different business or needing people. Now this surplus at anybody is not present. The Federal authority cannot give money any more to help, encourage or close a question.
It overturns our representations about economic, regional, internal, industrial and so on politicians whom she can spend. The sense of these the politician, with a few exceptions, was in management of surplus. As well as whom the president or the prime minister when cannot help anybody money in view of absence of surplus will feel? Before the big chief felt a such daring merchant with a hard purse. And now it will be who?
The revolutionary sailor disposing of five fishes and five corn in the face of five thousand hungry?
So the power of did not feel for a long time.
Its partners in business about a future lack of money of the power too already have understood all. Dashing occupation of the centre of Moscow by armies capital strojkompleksa - a bright detail of an epoch of last big state orders, a swan song, so to say. Builders have eaten the centre of Moscow and have digested so is dashing and quickly because understand: following big money will it is not known when. Contractors of the Minister of Defence who have spent by August of 67 % of the allocated budgetary funds understand it also. That will be, when last metres of a tile will find the place, nobody knows. The cleverest state businessmen already prepare for a storm. All the summer long of the chairman of the Savings Bank Herman Gref to the president and the prime minister complained: the commission has grown, branches are closed, credits does not give. But that is bad at the price of $60 for barrel, is good at the price of $40. To Behave, as Gref, today in the Kremlin advise both to captains of business, and governors. And what you will order to do, when money is not present?
The out-of-pocket state and the state companies turned to greedy capitalists or ruined on the way, - only a part of that landscape which we will see at the bottom. Its other important part - private business which tries to adapt to spasms of falling economy. At the expense of what it can survive, is not clear yet. Hearings about reform nadzorov in the government - rather encouraging sign. If the authorities understand, what weak regulation has helped business vosprjat in 1998, and money for preservation of incomes of citizens at former level is not present, probably, they will dare at reform, a decontrol, at least transfer of a part of supervising functions to regions where it is less a than bribe? But as a whole destiny of the present private business in Russia while in a fog. If the lack of money of Moscow in political sense ends sooner or later with internal autonomism of regions economically it will end, possibly, enough scale wave of redistribution of the large property in the country in whole and provinces in particular.
Whether banks will merge and be absorbed every day, instead of every month, whether there will be in a retail new large players, whether bankruptcies of the large industrial enterprises will begin, we soon learn. For certain it is possible to tell that after that crisis Russia will be counted the companies, and branches. The market of contractors will disappear, instead of it there are some superplayers, like Arcady Rotenberga's firms, and the sea of "grey" and "black" concrete mixers, svaezabivochnyh cars and so on. The professional importers playing long, instead of them the markets will disappear the speculators-something ephemeral who have stuck to a certain command at customs or a source of cheap grey import will divide. Probably, the large distributors of home appliances working under the law will disappear.
Computers and gadgets Apple becomes less though demand for their repair will grow.
Citizens will change also. Year or two at the bottom, in recessions and without prospects of preservation of incomes will transform them into real Germans: greedy, cutting out coupons from the magazines searching for discounts and sales. Russians in two years become more exacting consumers, in it all analysts assorting influence of new crisis on consumer behaviour converge. Than it will end for a policy, than will end for state companies which do not differ cheapness and quality of services, or for cellular operators who too them do not differ, it is not known.
In general, to tell precisely as low we will fall while it is impossible. You are ready to hand over "odnushku" in the centre with good repair in the falling market for $500 a month? Today, probably, are ready. And tomorrow for $200 are ready to hand over? Are not assured? It is good. Then other question. At you is beautiful, new with igolochki shopping centre on suburb of Moscow at the underground. You have borrowed huge money, have put soul that has sufficed on bribes, have punched and have constructed the TTS. Inside all is simply remarkable: the tile, a fountain, on the right will be Nike, at the left - KFC and "Teremok". But nobody comes to rent to itself(himself) of metres 200 or 500 in yours TTS. One potential tenants close business in Russia, others say that have suspended expansion, the third simply do not answer calls.
Start up in the fashionable building of strong guys with shaurmoj and aunts with the Ivanovo jersey? Start up muddy manufacturers of honey ostensibly from Altai and badly smelling farmers from under Bryansk? Replace a suit with a leather jacket, which is necessary zaimet to collect rent payments every week, and not transfers into the settlement account, and slovenly packs of small roubles? Present now that you are a fragile young lady from VTB or the Savings Bank which have charged to watch debts repayment under the credit for building of this centre. Will go to penetrate into details of family relations of tenants on which their gain and your payments often depends?
Do not know. And nobody knows. Nobody can know for certain, whether he is ready to change a job tomorrow at office for concealing rouble salary on a steering-wheel of a taxi or a place of the headwaiter at currency restaurant. The fried cock yet will not peck and it is not becomes clear that time to make a choice has come. The choice moment is and there is a bottom in economic and sociological sense of a word on which we smoothly fall. A point in which people dump from themselves any class, class and other conventions, and begin struggle for life, take that work for which money, instead of that which gives more free time and possibility to study the French philosophy pays. We yet have not seen such economic bottom. It will appear on our vital horizon approximately in a year if affairs go approximately how go.
Konstantin Gaaze
---
Source: <http://www.forbes.ru/mneniya-column/vertikal/298281-kholodno-i-temno-chto-zhdet-ekonomiku-rossii-na-dne>