Home
/
Economy and Finance
/
/
Articles
Sergey Glazyev. Councils in emptiness?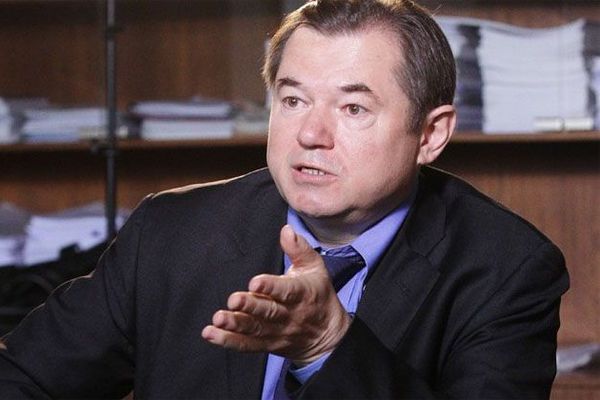 Some days before that moment when all country suddenly learned that "the peak of crisis remained behind", the famous Russian economist Sergey Glazyev gave interview to the Business of Online edition in which that is called I distributed to all sisters on earrings. Before considering an essence of those statements for a state of affairs in the Russian economy, it is worth submitting Sergey Glazyev's phrase displaying all essence of efficiency of the managers operating economy of the Russian Federation as such prolog: "If ours a liberal unfortunate and monetarists operated Germany after war, it still would lie in ruins, they would wait until people from 60 brands save up 6 million".
Sergey Glazyev who, on one moment is the adviser of the president of Russia concerning regional economic integration, during interview has noticed that at that economic paradigm which is performed today, Russia zero growth or growth in limits statpogreshnosti at the best shines. Thus Glazyev offers the whole series of measures which, as he said, is capable to disperse national economy to 8-9 %-s' annual growth in short-term prospect. About offers hardly more low. For now a rhetorical question:
If offers on increase of efficiency of the Russian economy are, but they are not implemented by the authorities leaves that or adviser Sergey Glazyev somehow modestly approaches to the president of Russia with councils, or the president of Russia neglects Sergey Glazyev's councils, or the president does not neglect councils, but here their realisation comes to naught, being lost in other imperious lobby.
Everyone for itself(himself) on this question, naturally, is free to answer independently that is why it is a high time to mention a theme of those offers which proceed from Sergey Jurevicha positioning by the obvious opponent of economic "gurus", sat down at the MAYOR, the Ministry of Finance and the Central Bank.
So, the first offer proceeding from Sergey Glazyev, consists in ceasing in every way and means to keep for inflation indicators, actually killing real production sector - production sphere. According to the economist, today the governmental structures should take all measures that the interest rate for business and production activity has been shown to a minimum. Glazyev is assured, what exactly "cheap and long" money will allow to stimulate production, to create new workplaces, to involve essential investments and to make the Russian goods really competitive and aimed on high-grade importozameshchenie. On importozameshchenie, instead of on statements about importozameshchenii...
According to Doctor of Economics Sergey Glazyev who is the academician of the Russian Academy of Sciences, cheap credits for domestic production sphere will urge on to development and many other industries. From Glazyev's interview to the edition «Business Online»:
And though our monetarists understand gold coins as money and have no the slightest representation about a credit role in economy, both in Europe, and in America, both in Japan, and in China, and in Korea creation of cheap credit resources and management of mechanisms of finishing of these resources to innovative sectors of economy with a view of support of investment activity is a mainstream of a macroeconomic policy. For example, in the USA after the beginning of financial crisis the monetary weight has grown four times, in Japan - twice, in England - more than four times, in China growth prompter. This consequence of that the monetary authorities of the advanced countries use economy crediting, cheap and various, as the main tool of support of transition to new technological way and a conclusion on new kondratevskuju a growth wave.
Thus Glazyev notices that without cheap and long money for real production sector Russia will be exclusively focused on a raw segment which as practice shows, is actually the tool of influence on Russia. Speculative character of dip in prices on oil is not denied even by the western experts who consider that there are no objective reasons for that the price for oil during about a year has failed almost three times and continues «to search for a bottom» in the absence of unsoluble economic problems in leading economy of the world.
The adviser of the president urges not to be afraid of that injection of monetary weight with a view of real production sector support will lead to increase of volumes of a debt. According to Glazyev now in general silly to pay attention on odyorgivanija from IMF in which tasks everything enters, everything, but only not real economic growth into Russia. Really. It is difficult to say that it is necessary zhelezobetonno to perform the obligations to the same IMF which as a matter of fact has undermined all economic basis of the modern world, having made of the decision on possibility of crediting of the Ukrainian economy even in the event that this economy will come on the basis of nonpayments under the credit to a default. By the way, about necessity not especially to react to requirements of IMF concerning economic principles of Russia Sergey Glazyev has declared still before the board of directors of Fund has made "epoch-making" the decision across Ukraine.
On a course of interview and Glazyev has expressed Ukraine:
Let speak frankly. Ukraine is today not the country, it not the state, it is occupied territory. There even the Constitution is not present. It has been cancelled in last edition still Yanukovych, and new and is not accepted. In Ukraine the American power acts, and the decision-making centre is the American embassy and Washington as we could be convinced on recent visit of Bajdena which has arrived as the Fuhrer on subordinated territory. All Ukrainian power is formed in the personnel relation by Americans - both ministers, and lists of political parties, and political leaders, all is agreed with the American ambassador and Gosdepom. SBU, as a matter of fact, is a Gestapo version.
But we will return to Russia … Sergey Glazyev says that the policy of the Central Bank on obrushivaniju a rouble exchange rate as the tool of "stabilisation" of economy for many long years postpones prospect of transition of the Russian rouble to the status of reserve currency on space EAES. According to the economist, the countries entering in EAES have lost confidence of rouble which is finished by the Central Bank to a condition which are not reflecting potential of the Euroasian economic union. Glazyev says that in rouble have ceased to trust. Sergey Jurevich answers a question on a fever of rouble so:
All stockbrokers and brokers know that the rouble exchange rate is manipulated. All know, who manipulates. For these things in the USA would give lifelong and not one, in England - penalties in ten billions pounds, in China - would shoot. And at us these people dare to learn all the others to life...
And after all really learn … Declare that dark, say, ljudishki, including Glazyev, understand nothing economy which should not be guided by inquiries of real sector, and should burn down reserves in hope of an advance in price of oil barrel which again will bring "saving" petrodollars - empty pieces of paper with which the press serving trillionth debts of States floods the most different economy of the world.
According to Glazyev, only the real sovereignty of a national financial system will give the chance to part forcibly economy and to stimulate to it for a steady rise. And for this purpose that the government did not sleep at the moment of gross national product recession is required at least.
Besides cheap credits for business, for hi-tech industries Glazyev suggests to implement state-private partnership in practice. While the such partnership at us resembles a small party when because of recoils this or that affilirovannyj the private trader receives the sum then at the best half from it goes on project realisation from the state institutes more. At worst right after receptions of money by the company and recoil by certain officials the project remains only on a paper, and the firm suddenly appears the bankrupt, «not calculated the economic forces». Glazyev suggests to create transparent system in which the state-private partnership will be implemented in a following kind:
«If it is ready to work on economy development, you receive credit resources and stable macroeconomic conditions».
And now all the same it is necessary to pass to a question which rose in a material above: why, apparently, Sergey Glazyev's obviously positive initiatives do not pass? Yes all is very simple: after all if they pass (at least the same transparent state-private partnership) the whole tower which on a brick was created for many years at the most different presidents and prime ministers will fail. The principle of the corruption-liberal economy the conclusion of means abroad and which, by the way, many stands out for a certain investment of certain external projects became which main attribute will fail. If this investment why the Russian money in most cases emerges in the offshore somewhere on the British Virgin Islands, instead of come back with profit back to Russia?.
There is an opinion that Sergey Glazyev's initiatives will be and to be ignored frankly further, at least for the reason that the economic wheel of the state has the persons named well-known Mr. Khodorkovsky by people, «with which it would be possible to work quite in the conditions of new Russia». New - on Khodorkovsky is "postrevolutionary", "otmajdanennoj" just like the next Ukraine.
By the way, it would be interesting to learn opinion Russian «the economic block» concerning that, than for it so Sergey Glazyev's offers are bad...
Volodin Alexey
---
Source: <http://topwar.ru/88392-sergey-glazev-sovety-v-pustotu.html>