Home
/
Economy and Finance
/
Markets: estimates and projections
/
Articles
Devaluation: gradually and hopeless: the Russian economy is no other growth factors, in addition to the price of oil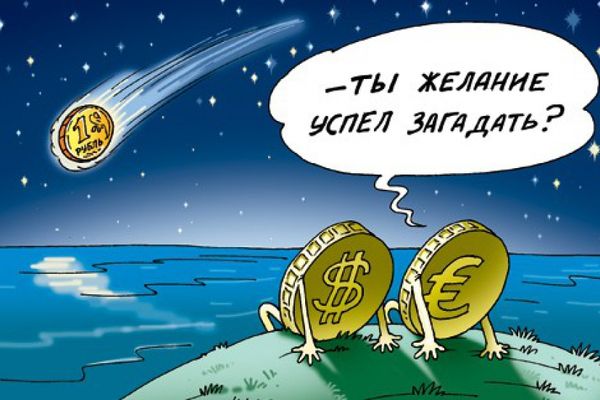 The ruble

continued to fall

.

The current

devaluation

does not seem to

shock

-

it is

a slow, gradual

and hopelessness

in the medium term

.
Yes, rouble - the classical raw currency, which behaviour directly it is connected with the price for oil. On Friday at a stock exchange the dollar exchange rate has reached 69,12 rbl., the rouble becomes cheaper nine weeks on end. And oil becomes cheaper eight weeks on end. Experts answer a question on how this adverse conjuncture will long be extended, differently (from interrogated Bloomberg 19 predict continuation of falling of the prices, 10 - growth, 12 - stabilisation). But all factors providing falling, have long-term character - removal of sanctions from Iran, delay of China, preparation of the USA for the beginning of increase of interest rates, refusal of the OPEC and Russia to reduce extraction. Even for a long time expectational reducing of extraction in the USA which should appear unprofitable at such prices, does not occur. Moreover, in the conditions of growth of efficiency of use of slate deposits and more and more appreciable replacement of hydrocarbons by renewed energy sources speech can go about forming of new price rate.
The Central Bank could constrain rouble falling, selling currency from reserves, - but as rebound of the price for oil in the near future it is not expected, to sell reserves senselessly.
Devaluation matematicaly is favourable to the budget which obligations strongly grew in former years, - they will be formally carried out, though devaluation and inflation will continue to reduce purchasing capacity of salaries and pensions. Devaluation and to exporters is favourable - but raw lose on the price, and we have some of others.
Consumers (but the effect of antisanctions has already forced them to adapt), the production focused on import investments and accessories (orientation on importozameshchenie assumes such damage), and exit tourism (but the state does not have desire it to stimulate) suffer.
The economy as a whole as it does not have other factors of growth, except the price for oil suffers also. The hope that devaluation will impulse industry growth, is not actual. Unlike 1998 Russia now does not have considerable quantity of free capacities and a cheap manpower (though through any time can appear), besides, and growth after 1999, and restoration after 2009 occurred mainly at the expense of a rise in prices for oil. The rebound after 2009 was fast and to record levels, however it has not allowed economy to grow even on srednemirovom level - so its structure has changed to the worst.
To take from rouble easing "not raw" benefit it would be possible, if Russia was more actively built in international trade, playing strengthening of competitiveness of the goods. But Russia, on the contrary, strengthens self-isolation. It is not necessary to hope and for technological jerk, impossible without radical economic and political reforms.
Nikolay Epple, Andrey Sinitsyn
Source: <http://www.vedomosti.ru/opinion/articles/2015/08/23/605882-ot-redaktsii-rublevie-stradaniya>