Home
/
Economy and Finance
/
Markets: estimates and projections
/
Analytics
The economic potential and infrastructure of the financial markets of the Republic of Kazakhstan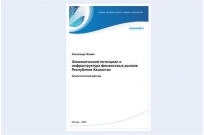 Material posted: -
Publication date: 06-03-2006
The Republic of Kazakhstan is an agrarian-industrial country. Gross national product per capita, 1997 dollars per year. The volume of Kazakhstan's GDP in the first quarter of 2006 amounted to 1989,5 billion tenge (118,41/$1) in the population of the Republic 15,259 million people. In January-March 2005 the volume of GDP was 1418,4 billion tenge in the country's population 15,1053 million people.
Gross external debt of the Republic to the end of the first quarter for the year increased by almost 40%, accounting for 77,7% of GDP. Total external debt of Kazakhstan as of April 1, 2006 was $46,818 billion against $33,4548 billion on the same date in 2005, as noted in the report of the National Bank of Kazakhstan, public and publicly guaranteed external debt amounted as of early April $2,3994 billion, while on April 1, 2005 he was $billion 3,2189 However, private sector debt, non-guaranteed by the state, was formed on April 1, 2006 in the amount of $44,4186 billion against $30,2358 billion in the same period last year.
Of the total external debt at reporting date long-term liabilities amounted to $39,4882 billion ($29,8403 billion a year ago). Meanwhile, the liabilities of the banking sector during the analyzed period increased to $16,0287 billion from $7,7356 billion as of 1 April 2006, according to the national Bank, the ratio of gross external debt to GDP amounted to 77,7%, whereas a year ago the figure was 74.3%.
According to the forecast of the Ministry of economy and budget planning, the level of average inflation in 2006 is expected in the corridor of 5.7-7.6 per cent.
The CONTENT
1. Introduction.. 3
2. General characteristics of the real economy.. 4
2.1. Non-ferrous metallurgy. 4
2.2. Ferrous metallurgy. 4
2.3. Chemical, oil refining and petrochemical industry. 4
2.4. The engineering sector. 5
2.5. The construction materials industry. 5
2.6. Transport. 6
2.7. Agriculture. 6
2.8. Foreign trade. 6
2.9. Investment opportunities.. 7
3. THE MAIN STAGES OF DEVELOPMENT OF STOCK MARKET OF KAZAKHSTAN.. 7
4. OPERATIONS WITH SECURITIES ON THE KAZAKHSTAN STOCK EXCHANGE 8
5. The banking system.. 11
6. The development of the mortgage market. 11
7. Perspective directions of development of the stock market in 2006 12