Home
/
Economy and Finance
/
Markets: estimates and projections
/
Analytics
Eurasian oil and gas cartel: prospects and challenges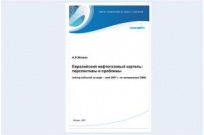 Material posted: -
Publication date: 22-11-2007
Spring 2007 was filled with international developments in oil and gas ing the area with the participation of Russia. This is largely due to approaching deadlines of exhaustion of the prospected oil reserves (according to some estimations, in Russia: 2015-2020, in the EU: 2030-2035 years) and switching energy consumers to natural gas, as well as elections in Russia.
Naturally, the representatives of close to Putin power structures want to insure against the possible negative consequences associated with the loss of power, and after the election to secure a worthy place in the new quality in the financial elite.
The best oil and gas industry with its vast resources and specific management tools based on long-term international agreements that provide the basis for the irreversibility of the ongoing policy. Another way is the first 3-year plan for the development of the Russian economy, which began to be considered on may 25. Its main task is to limit the capabilities of future power structures, to create conditions for their handling.