Home
/
Economy and Finance
/
Markets: estimates and projections
/
Articles
Germany accelerated the export of gold from the vaults of the U.S. Federal reserve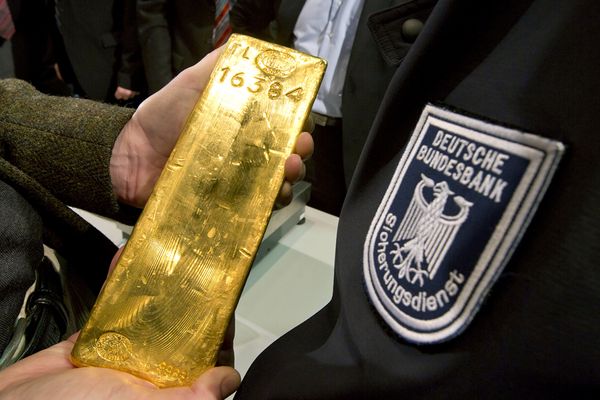 The German authorities have accelerated the process of withdrawal of gold reserves of the country from abroad. For the year 2016 in Germany from the vaults of the Federal reserve Bank of new York (part of fed) and the Bank of France was returned to 200 tons of the precious metal, according to Finanz, citing the German newspaper Bild.
It is "significantly more than planned", said the head of the Bundesbank Jens Weidmann, without specifying, what is the rush.According to Weidmann, is now almost half of the gold reserves of Germany, amounting to 3.4 thousand tons, is located in the country.In 2015, the year the Bundesbank repatriated 210 tons, in 2014 - to 119.7 tons, in 2013-m - 36,6 ton.
The decision to begin the export of gold from foreign vaults, the largest of which is the vault of the Federal reserve Bank of new York, was made in Berlin in 2012.The Federal court of auditors Germany demanded to inspect the gold bars after there were rumors that stored at the fed, gold may be used by us banks for transactions in the market.
After Germany, the desire to return home is stored in the US gold reserve announced the Netherlands. At the beginning of 2016 they managed to achieve repatriation of some 100 tons after the new York fed refused to conduct an audit is taken into custody.In the summer of 2015 to return the gold from the vaults in the fed's Governor of texass Greg Abbott.His decision, he explained the intention "to increase the reliability of reserves of gold and to spare taxpayers from having to pay for storage outside of the state."
Signed by the Governor the law contained a specific provision prohibiting the confiscation of gold by the US authorities - similar to the one that was held by President Roosevelt in 1933 year. Then the gold reserve Act, all citizens were obliged to hand over their gold to the nearest Bank at the place of residence. Then the US Treasury took the gold under control, and the banks of the Federal reserve wrote gold certificates - the obligation to repay the bullion on demand.
USA is the world's largest holder of gold with reserves of more than 8 thousand tons. Germany takes the second place from 3.38 thousand tons.
---