Home
/
Economy and Finance
/
Markets: estimates and projections
/
Articles
Why the EU threatens sanctions on Gazprom right now?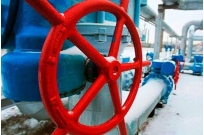 Everyone has heard of "leakage" through the media that the EU (of course without any of US pressure) has threatened to impose sanctions against energy giants of Russia: Rosneft, Gazprom and Transneft. The restrictions primarily relate to the ability to borrow money on the European market.
The European countries is prepared. Here are 2 graphics:
Above is the volume of gas flowing through Ukraine to Slovakia (millions m3 / day).
Down — stocks in underground storage facilities 28 EU countries.
As you can see, stocks are at record levels (92% of maximum) and already exceed 10% of reserves accumulated by Europe, before last winter. The same dependence on gas coming through Ukraine is reduced.
Thus, the EU plan might be as follows:
1) to limit the ability to take a system-forming companies in the EU market funds, thereby causing a liquidity crisis in the Russian economy.
2) to completely Fill the store, secured from the interruption of the supply of fuel through Ukraine. You do not need to increase the amount of purchases from Gazprom during the winter, thereby exacerbating the financial hunger of the gas giant.
3) to Undermine by paragraphs 1 and 2 of the Russian economy.
4) to Force Putin to make concessions.
That is the time for threats selected quite successfully. Better will not be accurate, the situation in Ukraine is worsening every month and at any moment could explode across the country, and the storage is almost full now.
However, this magnificent theory there are at least three problems.
1) the Plan does not take into account that winter 2014/15 will be colder than usual. Which is very likely according to preliminary meteochannel.
2) Russia has already prepared for possible sanctions, for example, Rosneft may receive 1.5 trillion roubles from the budget, and Gazprom held talks to get loans to possible imposition of sanctions.
3) What is Europe going to do in the spring ? In the street already warmly, but industry will still need gas and the storage will be empty. If Europe and Russia will survive (we will survive — approx. Anton) winter, spring, still the EU will be forced to negotiate and make concessions, so as not to derail its economy.
In addition, a strong trump card in the hands of Russia are developing good relations with China.
Here is a graph of the dependence of EU countries on Russian gas:
As you can see, more than others from the disruptions in gas supplies affected Eastern Europe but also Germany more than one third of our gas. What will happen to German industry, in the case that Merkel will continue to dance to the tune of US imagine, but fairly easy. Of course, there are countries that understand this and today's decision to defer the imposition of sanctions. However, further aggravation of the situation in Ukraine will be an additional argument in the camp of "suicidal tendencies" and new sanctions could be imposed.
The basis is a material with zerohedhe
---
Source: http://cont.ws/post/49508