Home
/
Economy and Finance
/
Markets: estimates and projections
/
Articles
Russia prefers American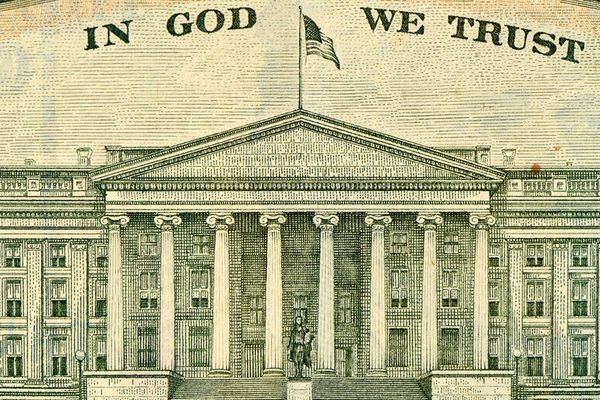 The Central Bank of Russia in April increased its investments in Treasury bonds of the US $5.1 billion to $105 billion and Now Russia occupies the 14th place among the largest creditors of the United States. Experts explain the growth of interest in American securities practical considerations: US treasuries has proved its reliability and gold — not enough liquid instrument.
Russia has risen in the ranking of the largest creditors of the United States to 14th place. Of the Central Bank, managing foreign exchange reserves in April increased its investments in Treasury bonds (US Treasuries) for another $5.1 billion As the Ministry of Finance of the USA now, Russian investments in us government bonds total $104,9 billion.
Russian investments in us government bonds rose to its highest in 13 months.
Dynamics of growth of Russian investments in us bonds has undergone significant changes a year ago, says a leading analyst AMarket Artem Deev.
"It was then dramatically increased the volume of investments in Treasuries, proving that, despite the ongoing sanctions standoff, money matters are above national pride," he said.
In March, the Central Bank increased investments in government bonds by $13.5 billion, while their total amount reached $99,8 billion In the previous month, Russian investments grew significantly less in December, January and February, Russian investments in us securities were only $100 million From June to November of 2016, Russian investments in US government bonds decreased. In July, their total amount was reduced by $2.7 billion in August to $700 million, in September — $11 billion, and in October — by $1.9 billion to $74.6 billion
Russia's interest in the bonds due to the usual pragmatism, the expert explains. When there is an urgent need to preserve capital and choose only the most reliable tools, but now when stock markets are on the verge of collapse, and monetary policy of the United States tightened (this is evident in the short-term rates), in American bonds all go. "Unfortunately, the market still lacks of an asset that could compete with the Treasuries of reliability, proven for decades," says the Deev.
The growth of investment in Treasuries is due to a purely market conditions, said the chief economist BCS Vladimir Tikhomirov. "The dollar will gradually become more expensive, and investments in dollar assets become profitable," he said. Reserves are held in hard currency to ensure imports. Refusing to investments in dollars, you need to change the system of calculation, and to change it quickly is not possible, he recalls.
"It makes sense now to invest in US bonds. Gold is not very liquid commodity. The state may lose. If will increase a substantial investment in gold, the state will not be able to sell quickly. This is clearly not an alternative to dollar investments," — said the expert.
Agree with him chief economist at Alfa Bank Natalia Orlova. "The Russian currency market remains focused on the dollars. This is largely uncontested. Gold is not liquid instrument. So gold is not an asset that can be sold quickly without loss. This is not an alternative dollar investments," she said.
Us bonds as one of the possible tools used by all the world's Central Bank. First place in October last year on investments in us securities is Japan. She keeps US securities about $1.12 trillion.
In second place is China with an investment of about $1.09 trillion, the third — Ireland from $315,1 billion, the fourth — Brazil ($of 259.5 billion). Closes the five British overseas territories — Cayman Islands. Their investments in us securities amounted to $249,9 billion.
Also the ten largest holders of U.S. government bonds include Switzerland ($234,5 billion), UK ($227,9 billion), Luxembourg ($217,1 billion), Hong Kong ($201.9 million billion) and Taiwan ($185,2 billion).
Earlier experts expressed the opinion that Russia should gradually reduce the dependence of investments from the U.S. dollar. According to the Central Bank, on January 1, 2017 the amount of assets denominated in U.S. dollars, was 37.7%, in Euro — 33,6%, the British pound 8%, the canadian dollar 3.5%, the Australian dollar 1.1% and 0.1% in Japanese yen and the Chinese yuan.
Gold at the beginning of the year in the structure of reserves held 15.8 per cent.
According to the Central Bank, the volume of international reserves of Russia on June 9, amounted to $408,3 billion, having increased within the week by $1.4 billion (0.34 percent).
Anna Komarova, Ekaterina Katkova
---
Source: https://www.gazeta.ru/business/2017/06/16/10724063.shtml