Home
/
Economy and Finance
/
The financial system of a new era
/
Articles
Bitcoin as the national currency of the Internet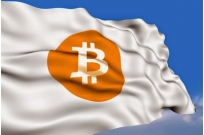 The idea that the Internet is gradually becoming a separate sovereign nation, for many years being discussed in the circles of techies, futurists, libertarians, anarchists, and many others. Before the emergence of Bitcoin all the discussion that such ideas were only the first glimpses of truth. With the advent of the Internet, Bitcoin has acquired its own local currency. But the very fact of having our own currency is an essential distinguishing feature of any independent state.
Bitcoin Commerce makes sense on the Internet
For many people living in developed countries, the use of Bitcoin does not make much sense. Why would someone convert a portion of their funds in a volatile currency if he should just do buying on the Internet? Classic payment system perfectly cope with this task.

However, not everything is so unambiguous as it seems at first glance. For generation of the Millennium to keep their money in online currency looks more practical than the use of vulnerable to fraud schemes and identity theft payment systems based on credit cards. PayPal and various payment systems, managed centrally, are also far from perfect. In the case of Bitcoin you are the true owner of their units of account. Kickbacks no payments in several months, if suddenly someone will decide to challenge your deal, as well as no need to pay an intermediary a significant percentage of its services for payment.

It turns out that if you deep-rooted "resident of the Internet", Bitcoin as a means of payment ideal you. Bitcoin is de-facto should be the local currency of the Internet, because that is exactly what people should want to get as online payment. And all to go: a growing number of merchants accept bitcoin as payment. This is not surprising as credit cards and PayPal on the Bitcoin background look quite pale: why use payment means with a known higher commissions and the timing of payment, if there is Bitcoin?
The growth of the Internet economy
And although most people are not yet aware of the revolution going on in the labour market in the Internet now, many now turn to freelancing, thereby replacing the five to nine jobs in classic employment. There are plenty of professions that in the decades to migrate online. If you are a teacher, writer, lawyer, doctor, programmer, artist, ... practically anyone, you have the possibility to migrate your working activities to the Internet and self-planning your work schedule.

Even many aspects of traditional offline business can be transferred to the Internet. Instead of paying the hotel via real meetings you rent apartments through Airbnb when your contractor is on vacation. Instead of going to a restaurant when you have limited time, you just order food delivery via the web site. The company distributed transport, similar to Lyft and Uber, to accept payment through mobile apps, instead of trying to understand whether you have enough money to pay for the trip. Many of the ideas that emerged during the first dot-com bubble, in our time, when everyone has a smartphone now begin to be realized. Even delivery of products, the victim failed in the beginning of the two thousandth, received a new impetus to its development.

An impressive volume of trade migrates to the Internet, while changing a habitual methods of payment. And the emergence of Bitcoin are very handy, because in fact it is the most preferred method of online payments.
Full cycle
To the above we add that the success of Bitcoin continues to depend on its use as a currency and not just as a means of payment. To achieve the next level of success people need compelling reasons why they would keep it as a part of their savings in Fiat currencies or, at least, supported his appeal. The key here is the audience of people who have made the purchase of goods and services, rather than simply passing the received bitcoins into Fiat.

Let's look at an example of a full cycle of using Bitcoin:
Bob is a specialist in optimizing content for search engines of the Internet and prefer to receive payment in bitcoins. His employer is quite far from Bitcoin, but still uses Circle to purchase bitcoins at the expense of the company, to pay for the services of the bean.
Bob is a fan of singer Alice, and he bought her last album recently earned bitcoins.
Alice lives in California, but loves hot sauce, known as Texas hot Sauce from Tom, which is only available in Austin. She's eating a little more sauce over the Internet using bitcoins received from Bob.
Tom from Texas loves to bet on results of football matches. He spends a portion of bitcoins, putting the team on 5dimes.
5dimes can exchange your bitcoins for dollars and credits the account Volume.
Translator's note: actually, I'd argue that it is correct to call a full cycle. A recent article in "the gold standard of Bitcoin acceptance", in my opinion, more correctly captures the essence of full cycle. In short, the full cycle of using Bitcoin means that no need to convert bitcoins into Fiat at any stage. This is the world of the future (although there is a chance that unattainable future) where Bitcoin would be completely liquid, that is, any imaginable product or service could be purchased using Bitcoin.

The position of Bitcoin as a currency will be strengthened with the increase in the number of transactions and payments between employer Bob, acquiring bitcoins, and 5dimes selling bitcoins. This increase in liquidity will eventually lead to a decline in the volatility of the exchange rate. Reduced volatility, in turn, will lead to a new wave of mass adoption of Bitcoin new companies, which again will lead to an increase in the number of transactions in the entire ecosystem. One follows from another (as well as the emergence of Bitcoin has been predetermined by the advent of the Internet), resulting in the Internet economy grows.
---
Materials: insidebitcoins