Home
/
Economy and Finance
/
Direction materials
American retailers have begun to automate warehouses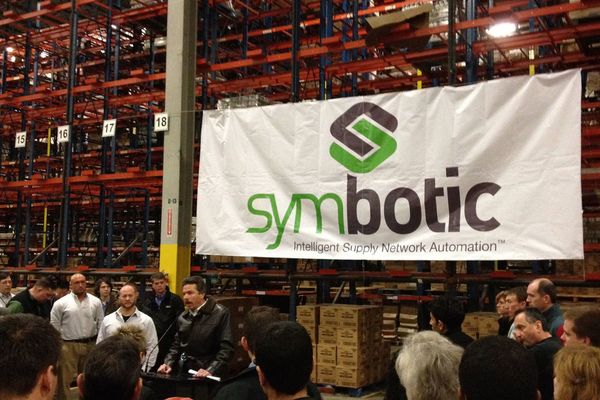 Material posted : Administrator Publication date: 14-01-2017
The billionaire from New England, owner and CEO of C&S Wholesale Grocers (wholesaler deliveries) Rick Cohen is working on a technology that can completely transform the warehouse business. Autonomous robots are able to move and sort boxes of goods around the warehouse. Robots manufactured by Symbotic – part of the business Empire of Cohen. They can move freely along the aisles of the warehouse, stacking and get the boxes with the goods, and also interact with conventional warehouse robots that move only on certain routes and perform a fixed set of tasks. "What we do with Autonomous robots, not so different from the development of unmanned vehicle. I think that within five years it will completely transform the distribution," says Cohen.
New technology Symbotic introduces free C&S. in addition, Cohen sells it to major retailers, which have their distribution centers such as Target, Coca-Cola and Walmart Stores. For them, automation of warehouses is an opportunity to reduce costs amid the rising cost of real estate and labor and lack of wanting to go to work in the warehouse.
In 2013, Target decided to expand its distribution center in California. To build new premises was expensive, and Symbotic suggested the retailer technological solution which helped to solve the problem in the existing areas, said Larry Sweet, Professor Georgia Institute of Technology.
To use the new technology in two of its distribution centers and Walmart plans. Retailer interested in whether to allow this technology to store more goods in its storage space. Over the next year Symbotic is going to deploy at least a dozen fully automated warehouses across the country.
Until now, retailers have struggled to automate even relatively simple warehouse processes, such as removing the shelves and pallets of boxes custom size. According to the U.S. Department of labor, as of August 2016, this job employed approximately 867 300 people across the country. Especially tight grocery retailers. Distributors and wholesale sellers of products that work with low profit margins – typically 1-2%, and the cost to automate one warehouse reaches $100 million. However, the increase in staff costs and property, as well as increased competition from technology companies such as Amazon.com forcing vendors to change existing practices.
In Symbotic claim that its technology allows retailers and wholesalers to reduce the cost of warehouse staff by 80% and reduce the usable area by 25-40%. Automation of warehouse processes already forced to take a defensive position in the Teamsters Union, among other things, represents the interests of 122 000 employees warehouses in the United States. "Employers seek to automate more and more processes, and I think we will have to consider these challenges, conducting negotiations on the terms of the employment contracts in the coming years," says Steve Varma, head of the Union unit of warehouse employees.
The use of Autonomous robots is still at a very early stage, so the project is very ambitious Cohen. Robots are still difficult to perform a particular task in an unstructured, chaotic environment, says Professor Carnegie Mellon University Martial Hebert specializing in vision systems and pattern recognition for Autonomous robots. In this regard, automation is faster only goes to the most well-organized environments, such as factories and warehouses with a limited range of products. But that time is near when these technologies really become part of the real world, says Gebert.
It is especially hard moving automation in the grocery retail sector: a partially or fully automated, only 8% distribution centers 75 of the largest U.S. networks, according to data of consulting company MWPVL International.
To see the Symbotic system in action and compare it with the work of the team of 20 operators-people in a C&S. the Latest work the night shift, removing packages of goods from the racks using forklifts and manually stacking them on pallets. For the shift such employee may take up to 20 miles (32 km) and raised to £ 50,000 (more than 22.5 tons).
In another part of the warehouse has more than 100 Autonomous robots. They move in the dark at speeds up to 25 mph (40 km/h) stack and removed from the shelves the boxes with the help of manipulators. While they carry only objects of a standard size with a solid surface – for example, cardboard boxes. A broken box can bring the robot down and need human interference. Robots move inside the building, which engineers call a "box" is a multi – level metal structure with a rather narrow aisles between the shelves on each level.
In contrast to traditional warehouses, where specific types of goods usually kept in a special place, robots Symbotic put a box on any free rack spot, which saves space. The software remembers the location of each product, to robots were then able to find him. Each robot unloads or pulls from the shelf a box of product in one minute is about 5 times faster than would a man. The width of such a robot – only 71 cm, and the passages in which they are moved, only a little wider. For comparison: the width of aisles between the shelves at the regular warehouse is 3-3,5 m.
One of the obstacles to the widespread dissemination of technology Symbotic is its price. Inventory system costs from $40 million to $80 million, indicate in MWPVL. However, with the increase in staff costs and the increasing reluctance of young people to go to work as porters, these technologies will become more and more widespread, says the founder of MWPVL mark Wulfraat.
Translated Hope Belichenko
---
Source: http://www.vedomosti.ru/management/articles/2016/10/13/660739-riteileri-avtomatizirovat-skladi