Home
/
Economy and Finance
/
Direction materials
The world of the blockchain and cryptocurrency with the eyes of a cosmopolitan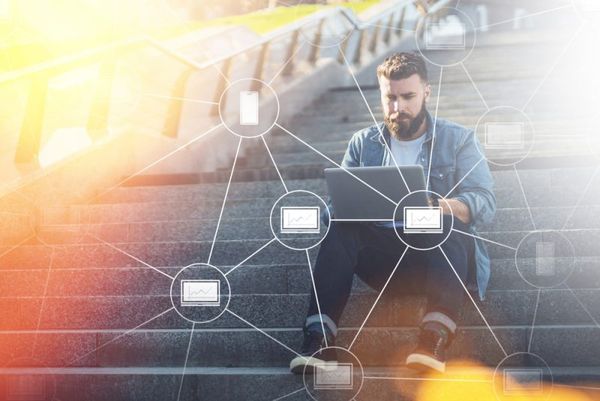 Material posted : Administrator Publication date: 03-12-2017
Hello! This is partly serious, partly humorous article about the blockchain and cryptocurrency. It describes some of the political and logical problems of the blockchain. Those who are far from the topic, jaw droop after reading, because deep immersion in this world, he looks different.
A year ago one of the programmers in the office brought the graphics card. He was so excited about her that I wanted to ask, and what actually happened? Pfff, mining? I of course ran across the article about the explosion of demand for video, advertising, mining farms and charts the growth of bitcoin, but it seemed somehow uninteresting, momentary and boring as the next financial pyramid.

Now, a year later, I participate in the development of a startup — exchanger cryptocurrencies, with the head immersed in this fun world with interesting contests. Now I'll tell you everything.
The idea and implementation of the Blockchain
I guess you all heard about the fact that the blockchain and cryptocurrency is the new "black Swan". That is a Grand event which was not expected and not planned, but once in 100 years, it happens to be changing the world and people don't know how they lived without it. Something like electricity or the Internet. It really is very interesting and looks beautiful, when this technology is presented as a means of decentralization and of getting rid of excess interlayer between two people who want to record the fact of the transaction with each other. Low almost any blockchain based on cryptography in this world of today cryptoanalysis brightest Shine cryptocurrencies.

Funny that once it is called black Swan, so plan on waiting for thousands and hundreds of thousands of traders in cryptomeria and miners. Although Foxblack Swan comes by itself, when it did not expect and do not wait. It turns out, the community of cryptoanalysts're all broke! But, anyway, the idea is still great, but about the community of speculators'll talk later.

The technical disadvantages of the described well in this article. I believe that most of the problems like the limited amount of money in the Bitcoin network can be acquired. Currently, many problems are solved by alternative coins, is constantly undergoing releases new currencies, the developing technology of Bitcoin (the forks). I will talk largely about the political and logical flaws of this whole thing (of course, they almost always intersect with the technical).

Let's start with decentralization. At the moment, any blockchain — it's just a distributed database (replicated), which stores information about transactions between addresses. There is a special mechanism ("mining"), which allows you to maintain the state of the databases on all computers in a single state, makes counterfeiting unprofitable base class and, consequently, allow to consider the network of computers as a single supercomputer. Here the old man cryptoanalysts, acne Buterin trying to convey to others, and to understand how it works. He understands modern blockchain as the "architectural and politically decentralized, but logically centralized". However, in fact the blockchain is centralized and politically too, "no one controls them" — a controversial statement. That is the policy technology is unable to influence, and below — a couple of funny stories that prove the correctness of my thoughts.
The story of The DAO
No, it's not Data Access Object. It's such startup that has collected many millions of dollars over the air (crowdfeeding) and was embarrassing. Interesting and strange that after the embarrassment and flourished all the other ICO.

If you just want to buy a little air, the first thing you will encounter is the presence of two different Esters in the network. Ethereum and Ethrereum classic.

Now far from the crypt people choke with this story, and who turns in this long, already perceive this as the norm and continue to treat seriously the crypt.

So, on 17 June 2016 because of a vulnerability in the code of the contract was stolen 12 million ETH (now billions of dollars, then 60 million), which invested users in promising startup The DAO. Without thinking, the leadership of the Air (Yes, don't be surprised), were shared Live on air right and wrong. Actually they just rolled back the correct history of Ether at a time when there were no leaks this huge sum and, correspondingly, deceived the citizens got back their money by connecting to other database. Wrong Ethrereum classic has continued to develop with the wrong kind of history where there was an embezzlement of funds of the users. It's called "hardforum" and is considered the norm in the world of cryptocurrency. Just Paradise slacker, when your purse is magically splits in two and you get two of the same balance in different currencies — about the way it happened. Nothing particularly wrong with that, just Fiat money can only print a select few, and in the world of the crypts is allowed to all — to copy, to consume and to breed, Paradise, equality and freedom for all. The wrong course, according to the people of ether is now growing slower than the wrong course, according to the code, at the time of writing ETH is 10+ times bigger ETC — and this is the crux of the problem. But the man could lie and say that this money was stolen from the hole in the code, right? In the beginning, people have written code for the contract, and then decided that we did not agree, we these contracts are not profitable.

How is it that technology is allowed to do it, but what about the decentralization? Why do people believe politicians are people, not a supercomputer? The problem is that technology if it exists, it solves only a small fraction of information problems in respect of contracts on-the-ground. There is a database that has information about the contracts people, the rest of the information you own is still the little people, the blockchain knows nothing about the world outside of this narrow area. And if a reputable little people will say to ordinary people, that's the deal for stealing $ 12 million void, all people will go together on the "right" database, and its rate will grow from zero to the old value. In this case, the decision about hard forks was taken, allegedly at a closed democratic vote.

A vulnerability in the code is a technical problem, but the fix opened another problem and it is a political problem. Maybe insulation of the base payments from the people to solve the problem, but technically has no idea how to do it.
The story pulami
More recently, other authoritative cryptobinary made another hardwork already Bitcoin. On a specific unit of the database was split and all the users who have N bitcoins, also received N "goldmine" in a parallel database. To use the new coin, just download another client (a fork of the main). Coins from this division would be worth 0, if the owners of bitcoin wallets don't know about them.

To this new currency has gained value, you need to start trading on the stock exchanges through it. Just the appearance of coins on a reputable exchange allows you to start the bidding at $20 for 1 item, for example. If you secured enough investor, you may pay one or more exchanges for adding your new coins. There are self-respecting of the exchange type Bithynica where traded only highly liquid pair and get back to the streets is almost impossible. There is just a stupid exchange type Jobito, where they sell such coins as "PUTIN". The difference in the exchanges, the cost of adding currency to trade pair (from $5,000 to millions of dollars). After agreement with the stock exchange, you need to organize PAMP currency to raise its value. Cryptocurrency has gathered around itself a number of speculators, so profanity something and collect easy money can be quite simple if you have knowledge about stock trading and advertising budget.

Well, the slogan of a new currency Bitcoin Gold "Make Bitcoin Decentralized Again". Funny that all of the decisions about validity of transactions takes is one specific group of people owning the only pullam, which sucked greedy miners.

Briefly tell what pull. At the moment, to confirm the validity of a contract within the network (to make a consensus), we need miners that will waste electricity to brute force the encrypted strings. Who was the first saputit some string tied to a contract, he will receive a reward (these rewards is the only form of emission in the crypt). The technology is designed so that a new block (Pak task to bruteforce), you receive every N minutes and has no more than N such tasks. Because bottom now all the idlers of the world, the situation that each task has Brutus NNNN miners who want to solve it. However, the award for Brutus will receive only one whose computer will solve this problem first. That is, if you start now to mine solo from your computer, then the probability that some row of the first brucite is you extremely small. Therefore, the miners are United in the so-called Polly pass the power of the computer to a certain giant, which distributes the reward for a successful Brutus among all participants in proportion provide power.

If you know about the attack 51%, you know perfectly well that as soon as a pool reaches 51%, leading this pullam people will be able to start mine alternative payment history and no one technically will not be able to stop him. For example, Bitcoin mines of 3-5 large pullow, the largest of which owns a 30% power. It has been the case when it reached 50%.

So, one of pullow new currency Bitcoin Gold now takes much more than 51% of the network capacity, and its owner may at any time make for your wallet 0 coins. And all you have to do in this situation is to make your hardwork and return true in your opinion the story, but that's just how much it will cost your alternative history, if you are a normal user, a political zero? Your currency will be worth zero, too. The solution here takes just impartial computer and this is true. Attack 51% — a critical issue of technology, while everyone relies on good faith that people will not unite around leaders. As has history has shown — such honest words are worth zero.

By the way, about the miners. Heard recently an interesting thought that during the gold rush can only be earned by the sellers of shovels. So, I have in stock is new Asik E9. Please write your request in PM, if you have the amount of 150 thousand rubles and want to play a fun game with a different hashing the old and new currencies. Payback time today — more than 1 year, a period of growing together with the complexity of the network. But everything is constantly changing and earnings will depend on what currency you are mining as part of its Ampat and how well you hegiras its exchange for less volatile growing currency. It is understood that Asik buying from someone else, you risk not to obtain at all or obtain within six months (the market is wild, growing and speculative). This is no joke, I really sell Asik in this article and they are in stock in Moscow, write. So I was influenced by this community of cryptanalysts, and more recently, I would be ashamed to push something in his article. "Out of sight, out of mind" :)
Another interesting currency
Currently, cryptocurrency exchanges can buy a few hundred different cryptocurrencies. The major part of them represents a fork of bitcoin with some technical improvements or twisted settings (any programmer can one day start their own currency). For instance, Bitcoin Gold built another method of encryption that can be mine on a different type of equipment.

To understand the absurdity of this world, here are a few examples.

Dogecoin
The dog from the meme. Capitalization is inflated to 126 million dollars. All, thank you for your attention.

Biocoin
It's like the fork promoted in Russia. Some eccentric uncle pressed the button fork on Github of Bitcoin, wrote some strange promises and so was born BIOCON. You can even find and download any core-client, but in fact nothing works and nothing is clear.

DASH
The author wanted and made it so that 10% of the reward from mining is some Central node and supposedly spent on marketing. Unlike BIOCON in principle, everything is clear and it is very popular.

Motocoin — mining game.
Basically, mine Brutus hash is not required, it's just the most common variant of mining. You can bind not only to the power of the computer and anything, the main thing that this process was done with the expenditure of some resources (in the case of Motaain — time person).

Thousands of startups produced by so-called tokens, based on the existing cryptocurrency, they call themselves the ICO. Here at the world of scams, this isn't funny, don't even want to give anything. Well, except that in this video, which takes its atmosphere and charisma of the actors (be careful, most likely it is a Scam, laugh, and close).
The legal side
It is clear that the price of Bitcoin and Altcoins will rise, until new people bring new real money earned on the job or in a real business. And new people come, you need to drum up interest, including news about legalize cryptocurrencies in some country or the emergence of new payment method the crypt in a large network.

But for Russia only one. Cryptocurrency is not prohibited as investour and is prohibited as a means of payment. You can legally change the crypt to the crypt and Fiat money with an individual. You can legally change valuable goods in the crypt, just as you can change your keyboard to the mouse Mat with colleagues. But you can't buy anything for PPC legal entity. And all the news that Subway or another chain introduced the payment of the crypt is a fake and a marketing ploy. Really it are only small entities that are not afraid of responsibility for the violation (if caught by the hand, faces a penalty of up to 70% of the purchase amount). And, of course, payment by Bitcoin is actively used to bypass international restrictions on currency operations, this is probably one of the few things that looks like something new in the world (decentralization and the absence of a regulator).

Also a lot of fakes about that kind of network has released its cryptocurrency. All of this marketing course, such articles buy marketing. For example, here is Burgerking bought an article in the BBCand got a lot of free shares on a wave of hype. Although, in fact, quite difficult to get information on how to obtain these coins. The staff know nothing, see nothing stock about it. The alleged need somewhere to send pictures of checks, and someone will manually credit the coins. Apparently, if I can be a stubborn fool and all get, I really will pay something somewhere, but in General it is clear that this is designed for hype and real business does not apply.

You'll often see a statement that bitcoin in Japan (or another country) is recognized as means of payment. If you dig deeper, it turns out not so simple. To a legal entity able to officially accept Bitcoin, you need to be a rather complex procedure and to make a contribution of $300 000 for the license. That is, it made for some narrow niche of big business, earning in currency trading and speculation, not for use by ordinary people in the physical world. If someone lives in Japan, can correct me and say that it is really possible to pay the fare in the tram with Bitcoin.
My vision
So how I see the world of cryptocurrency? Response — as the world profiteers and slackers that are trying each other to sell something more expensive to cheat each other. In the period between trades they are very friendly and socialized. It is very important to the black Swan believed the new people, otherwise everything will break and their numbers are worthless. They have leaders, centres of clusters, and evangelists. Honestly sick of them, because I am a cosmopolitan, a misanthrope and a sociopath.

But. While these speculators buy and sell something from the blockchain, there is a global market. Even if the main eater of my tribe will not allow me to get value from a neighboring tribe, to enter into transactions with them, I will still be able to do it, just to assure you this deal will not be a notary and the supercomputer, consisting of million ordinary. While that technology is very fragile and tomorrow is the authoritative founding fathers of my cryptocurrency can collude with a man-eater, together they convince the owners of a million computers to cancel my transaction with a neighboring tribe. Everything rests on the words of people who are worth nothing. But I believe that all along, continue to learn and master the technology of decentralization. While the blockchain looks like a wrong or too crude a solution.