Home
/
Science and Society
/
Future of the Information Society
/
Articles
Man as IoT device. Programming biorobots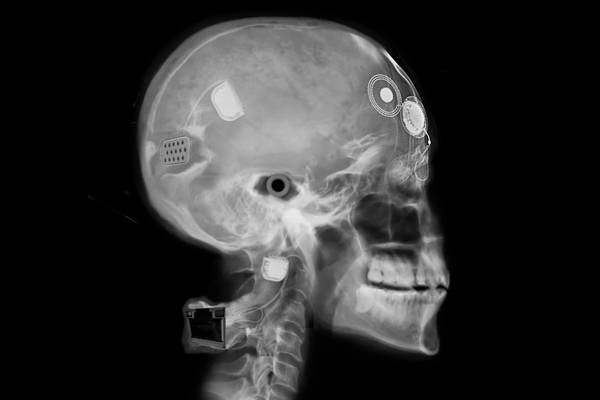 And let's imagine the near future, which embodied the most plausible headlines and missions of startups on chipping, achievements of artificial intelligence such as computer vision, artificial food, self-managed devices(drones) and everything else that belongs to progressive technologies, which already have access to the residents of large cities.
It's not a Friday post about a fantasy story! Embed ' trendy in startup circles insignias "Visioner" or "Pioneer" author, if you will be closer to reality. You can just scroll to the header "Forced the surrender of biometrics" to see specific "use case" and then to read the entire article, if you already have developed a strong Allergy on a fantastic press releases of liars founders.

Immediately mention my disclaimer for written and will clarify some of the beliefs formed text. I work in the IT industry, with considerable experience in various fields. Know and share the values of my colleagues. And only recently started to realize the professional aspects of the degradationof hybridization, which were not previously noticed, may be due to the small experience, maybe I watched just for its progressive environment, and maybe something else all together.

Also, this article is not a long read, but it reads longer than a tweet, so it can cause rejection, distrust, anger, criticism, denial, and distrust in individuals with klipovoy thinking or devoid of a sense of humor and irony.
Forced the surrender of biometrics
Meeting in one of the Corporation:

— ... so we can manage all our system around the world remotely and automatically.
— Okay, now how do we manage all people?
— We tell them: "prove you're not a robot!?"

With the development of FaceID Apple Corporation began to copy and reproduce this technology to identify users on the Internet. There are many different companies that do the photo identification of people. If you walk on crypto-exchanges and various online financial tools for people, you can collect a dozen services that provide services photo identification users of web applications.

One of the outstanding companies FaceTec with the development of Zoom.

The key technology of online photo identification is Liveness Detection. It can also be called True Liveness, and it can have many methods of implementation: 3D, eyeball, approach, removal, smile, phrase, twink etc. to Apply this technology, you can now have the SDK and some of the bigger sites have already introduced it to their users in compulsory!

Soon, corporations will control all people to have a database of faces of people from different countries, to determine the face your mood, condition, sell your faces in other corporations, to prescribe the ointment from under eye circles, define periods and pregnancy in women, to find your face on video recordings of all public web cameras and tracking devices, to identify you at the entrance to the shops, around the city... and this is just a small list of things which thought of my inflamed imagination.



Not far off the time when the password will practically disappear and for taking actions on the Internet, you will need to show your face and to fulfil any order, written on the screen.

You still think that AI (artificial intelligence) is a divorce investors for money?

Try it yourself demo Zoom Liveness Detection in the browser or in the mob. application: zoomlogin.com
The beginning of the repression on the Internet. Briefly
Everyone has the right to anonymity and privacy. Users have many reasons to hide your identity on the Internet. And profitable and unprofitable corporations have lots of reasons to know who sits on the other side of the screen is an honest simpleton, for which they can earn or common people.

For the first time, I saw the Internet in the late ' 90s, when it was introduced commercially to master since 1999-wow. It was not anti-human prohibitions and restrictions, copyright law, and trolling, and locks at the country level, political censorship and other things. It took only 20 years, the change of generations. There are some "hackers" that prevent corporations and States to pull money out of your pockets and they decided to fight with their users.


How can I take the taxes with electronic coins, which are traded only on the Internet?
Is it possible to arrest a man for what he had gone online under the IP address that scans the website?
Whether sajith man in jail for what he did not point users to your site, and not controlled goods, which are prohibited to sell?

Earlier, these questions would seem strange now is based on what criminal cases in different countries.
What are the rules of waiting for the user after 2020.?
Fines for drinking alcohol when visiting public sites
Cyberpolice, which can force you to show documents at any time surf the Internet
Prevention of offenses by arrest for 5 and more dangerous search phrases in a row from the user
Can be a long list of trouble that can bring users to corporations. And yet these criminal hacking syndicates... They could be anywhere! The enemy does not sleep. Its Bay, and the hacker attack! Where beat?
Mass chipizatsiya
Okay, it seems to have been fashionable cyberpunk. It seemed kind of cool to have superpowers, gadgets in his body that expand abilities, and more. Only then, it seemed to be something unique, drawn illustration, movies and other work, and now this is becoming widespread and is being introduced only under the pretext, that it is empowering.



Although some of the extension capabilities of the person we talk about when expanding only the employer of the person, and not the man himself?

It's so convenient to open the door to the office hand, not a card!

Chipped animals in many countries has become the norm, they say, to make it easier to find the owner. The tag on the collar is not eternal, the plastic is not too long to decompose and the handwriting is not at all smooth. The numbers in the chip more reliable. Only a special reader is needed, which is the veterinarians, they pet it and adopt it yet for a modest fee. Rumor has it, another program for smartphones will soon write, or already wrote.

Continuing on the usefulness and chipping of the animal, it should be noted that the 15-digit code, after scanning, you must enter it in the database in which its registered owners. The global platform for storing information about animals all over the world, there are many small: AnimalFace, AnimalID, Check-a-chip etc. Nothing like?
What to eat biorobots?
Biomasa, of course. Today humanity eats food sostoyalsya of flavorings, sweeteners, flavor enhancers and flavor, emulsifiers, preservatives, glutamates, benzonate and other additives that trick the receptors and the body is almost impossible to recognize — is the food real or fake.



The development of the meat of the tubes are moving and today such meat is objectively delicious soy alternative and try it already in a number of cities anyone.

Buy food in supermarkets is already possible without human factor, automatic cash, cameras that raspoznat buy chips, where money is stored.
A world without humans. The American working class is worried that soon they will not. There is a joke that "soon America will have one Bezos and the remaining tasks will be done by robots"
Okay, a bit of satire in the theme can be fun, but people are not stupid! Anyway, the machines are always sooner or later lost in the war with humanity, and proved that all science fiction writers.
The operating system of the bio-robots of the future
We can already see the representatives of mankind, who being in society, with a bored look, frantically reaching for my phone to check the place he came from new likes, comments and then shyly hiding his addiction in his pocket, continuing to look around himself in search of a place for a potentially successful selfie.

Facebook, Instagram, Twitter, Youtube, Google, Habrahabr. Is providers of emotions for bio-robots. Trained dopaminergic connections in their receptors are gradually replacing analog methods of obtaining digital information. Every like is a small portion of dopamine, which allocates a bio-body for the promotion of this vital function, namely establishing social contacts and obtaining new information is fit for survival.



It makes no sense to invest in the publication on the provider "Facebook", if not periodically go there to see what response she made. After all, how else to communicate to loved ones at a distance? Just like to have sex — with the help of wi-fi cowards. Was already conducted monitoring for potential adoption (adoption) of the new toy through advertising campaigns.

And you know how much time to spend bio-robots to work with your ISP emotions "Youtube" to get a shot of dopamine and feel like a man? Look at the statistics. 4 hours per day — average time spending in Internet. It is the maximum do productive work of the brain in the day.

To fulfill the purpose of life and to serotonin helps mechanical movement and a porn site, or electronic device of the genital organs of the opposite sex.

A bit of adrenaline or even cortisol? You can pick any story on the palate, the caller is the hormone cocktail necessary for the sense of life in the body and see it in VR-glasses.

Fear of future headlines "Man killed hackers" and the use of this technology as a cover for real crimes or as a new PR about in the geopolitical arena about weapons of mass destruction, which will be written off terrorist attacks.

Whether emotional, social, physical and other intelligences to be new bases of knowledge of the future AI, on the development are already biorobots in corporations?



But social media and news "detox" — what processes caused the birth of such new words?

Perhaps in our age, many philosophers come to mind, that the so called "information (technocratic) century" — is only the superstructure over the classical capitalist: sell\it people teach their technology and they would teach the whole world.

We are still warm, the tube at such an interesting time to live.

What first have learned to make your child to use their feet.?
Source: https://habr.com/ru/post/452364/