Home
/
Science and Society
/
Future of the Information Society
/
Articles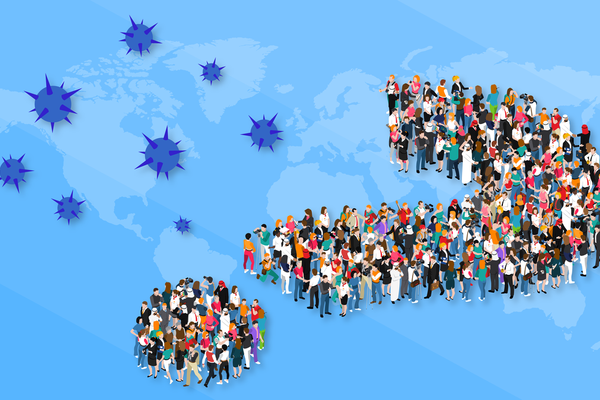 The past year has taught us how to buy everything online, turned our homes into offices, fitness halls and restaurants at the same time, showed that a lot of familiar things are no longer needed. And, of course, no one believes that it will be the same as before. The point of no return has been passed, but the future is still hazy: will the borders open? Will mass events return? Yes, even banal — will we go out to the offices? The unknown makes rethinking the future of work critically important. It is obvious that our ideas about work and career will radically change after this crisis, and even faster than expected. What has the pandemic already brought to our working life and what are we going to face?
Translation difficulties
We are witnessing the world's largest experiment on working from home. And despite the fact that many people feel quite comfortable on the remote (according to McKinsey, 80% of people enjoy working from home, and 41% even feel more productive than before), we note that the power of social connections is actually much greater than it was estimated before, and it is important for people to interact with each other live, not just in Zoom and messengers.
And one of the striking examples confirming this is the problems when hiring employees. The selection has become less personal, and it is now more difficult to check the interaction with each other at the initial stages. Previously, when passing an interview, an important criterion for success was "chemistry" in personal interaction. Now, when everything goes online, the number of errors without this "chemistry" is increasing. Communicating in Zoom, it seems to you that it will be comfortable to work with each other, but as soon as you start meeting periodically and interacting in projects, it turns out that this is not the case. We see that it has become easier to hire people, but it has also become easier to say goodbye to them. The number of people who leave the company 3-6 months after leaving has increased.
Another problem with the removal is that it began to take more time to bring the team together. Both we and all our clients note that the number of meetings has increased, and what used to take 2-3 minutes now requires a full-fledged call with a prelude, middle and ending. By the way, a recent survey by the National Bureau of Economic Research analyzed emails and meetings of 3.1 million people from 16 cities around the world. It is reported that the average working day length increased by 8.2%, or 48.5 minutes, with an increase in the number of letters.
New features
At the same time, the pandemic has opened up a number of resources that were previously unavailable to us.
Companies and corporations have the opportunity to have distributed teams and hire people without transferring them to their office. This made it possible to reach out to those with whom it was not possible to cooperate before just because of the location of the office. And, of course, this is a huge resource in the form of access, on the one hand, to unique competencies, and in some cases to more cost-effective personnel. In some situations, for example, when large companies hire people from the regions to work remotely, this also allows solving social problems.
Switching to remote work or working in a hybrid schedule will lead to a redistribution of costs. Since there is no need to spend as much on maintaining the office as before, this money will be invested in the development of people and products. In the end, everyone benefits from this.
Victory of trust
The pandemic managed to cure many historical managerial diseases: excessive control, micromanagement, widespread distrust of their employees. This year, the leaders had a good opportunity to overcome them. The main management tool in the new era will be the ability to negotiate, build a dialogue and maintain partnerships, because if the remote does not erase the hierarchy, then it definitely pushes its boundaries. Directive management methods are no longer so effective. The ability to concentrate on the result and the ability to build trusting relationships between teams and subordinates comes to the fore.
The future belongs to trust, and this can not but rejoice. At the same time, it is important to understand that trust will be built on understandable systems for measuring the result. If there is a movement towards the result, trust will be maintained. If there is no result, they will come up with either very simple control systems (daily reports, for example), or more complex ones, such as time spent monitoring systems; but this is hardly the way to success. We must learn to both trust and justify trust.
Trend for stability
The prospect of quitting the corporate world and flying to freelance on the islands is no longer so attractive, and not only because air traffic is closed. The pandemic has shown the importance of working within a corporation, because it is better to sit in one place, sometimes get bored, but steadily receive a salary and be sure that you will be insured at the right moment. Companies have shown high social responsibility towards employees during the pandemic. We have not heard about mass layoffs: companies, being in a difficult situation, first of all thought about people and looked for solutions in which it would be possible not to dismiss employees and keep them the highest possible salary. It seems to me that this resonated with people and returned the trend to stability at the moment when we began to forget about it.
New professions, ideas and thoughts
We have all often heard the phrase that not everyone will be taken into the future, and the story of dying and emerging professions is not new in itself. Nevertheless, the pandemic has raised this issue as well. What professions will be in demand in the future — the near and not so much?
We see that a huge number of different engineers will appear within 3-5 years. And in fact, we will observe a renaissance of this role, such a return of a forgotten profession to the elite, because it was fashionable to be engineers in the days of our parents.
Many new professions and directions will definitely appear out of interest in the research field — in how it can change the lives of both specific businesses and humanity. The profession of a scientist in the broad sense of the word will become popular and, most importantly, in demand.
And, of course, marketing remains the profession of the future. We see that the trend towards knowledge of marketing tools, understanding how marketing works, is growing when hiring top officials, when hiring CEOs. Universal digitalization poses new challenges, which the marketing function will have to cope with first of all. Modern marketing is a full-fledged work with users, their retention and, most importantly, responsibility for the financial result of the company.
The new world has already given us many opportunities, and this is just the beginning. The way things are changing under the impact of the pandemic has shown how important it is to feed on new ideas, thoughts, showed how important access to new information and interlocutors is. And the appearance of Clubhouse, its rapid popularity once again proves how important it is for us to have access to everything new, where there is knowledge. Could we have imagined earlier that MegaFon would organize a dialogue with the 50 best top managers? Previously, to do this, it was necessary to assemble a conference, spend months organizing, interest everyone, buy tickets. And now people have become more open to dialogue, ready to give.
We have less sense of security, but this is also an evolutionary stage that will be passed, because the value of a person was, is and will be important. The strength of a company's brand is in its attitude to a person, an employee, and the employee's willingness to give creates the same synergy. I would like to hope that the work of the future will become more conscious and sincere, and it will be very interesting to live in this world.
Leonid Koen
---