Home
/
Science and Society
/
Future of the Information Society
/
Articles
Social credit in China as a system of punishments and rewards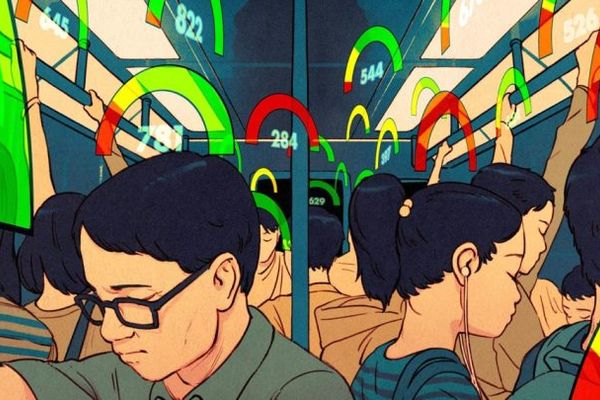 "Big brother is watching you" – write some English-language media about the new social credit system in China. Others liken it to "Black mirror" or called "creepy". But Chinese media and social networks, the attitude is quite different. The official media claim that it promotes "social harmonization", and users are more focused on profits than on perceived threat.
At the end of 2017, American Jeremy Dumas, senior research scholar in law from the Chinese center of the Floor Tsai has published a simple article, which noted that the foreign media does not see the difference between Credit Sesame and "Social credit". This leads to confusion. So, what is fact and what is fiction? As discussed this question in the Chinese social networks? Internet edition What's on Weibo explores some innovations in this growing field.
Credit Sesame vs "Social credit"
There are many Chinese terms that are related to accredited, it is not surprising that the boundary between the system of "Social credit" and private programs is eroded. Main misconception is the assumption that in China there is only one structure. Actually two of them, and they work independently from each other: the commercial (like Credit Sesame from Alibaba), and government ("Social credit", which promise to expand nationwide by the year 2020).
Credit Sesame
Sesame Credit system implemented by the company Ant Financial is a "daughter" of Alibaba, is most often discussed in the foreign media. By 2017, it had 520 million users. This is one of "trial balloons" that have received permission to conduct transactions from people's Bank of China.
Credit Sesame was launched in 2015. Being part of a "family" of Alibaba, it has a huge amount of data, ranging from websites to e-Commerce and to financial products (Taobao, Tianmao, Alipay, etc.). With their help the system is its own user's rating (from 350 to 950 points), who chooses the program. The estimates are based, in particular, payment history, contacts and communications of these people, as well as their behavior online.
Foreign media called Sesame Credit "system of Orwellian" because in scoring, among other things, takes into account publicly available "black list". This is a list of people who have committed offences and punished by Chinese justice. Presence in the registry may severely lower the rating of the user and to deprive of certain privileges, for example, when rental cars and bicycles or booking hotels.
In addition to Credit Sesame, there are other corporations that comprise a credit ratings. One of them is Tencent Credit, also created in 2015 and approved in January 2018.
The system of "Social credit"
The state system of "Social credit" in China until introduced experimentally in some regions, and cities. Jeremy Dumas calls it a "policy" or "ideology of the use of data" rather than "system". He believes that it will focus mainly on gathering information and creating measures conducive to the "safe behavior" and punish those who are "not credible". It is unlikely that personal data will be reflected in one score, as suggested by some media.
This year was published a list of 12 cities where implemented pilot program. The American magazine "Foreign policy" published an article which described how many residents of the urban district of Rongcheng in Shandong province joined the "pilot" of "Social credit" and seems pleased with how it improves society. Slander on the Internet or insult of family members negatively affects the rating, and the care of parents or positive influence on neighbors leads to its increase. The people Juncana reached the top of the list, posted on the "Board of honor" in the center of town.
Sesame and exchange
Twitter or Facebook on the "Social credit" and Credit Sesame often respond negatively. But on Weibo – one of China's largest social networks – they are very different. Credit Sesame fans mainly interested in the privileges and the Chinese "sharing economy".
At the time of this writing the official account on Weibo Sesame Credit totaled 240 thousand followers. They unwind there last advantages to users with high scores, such as the ability to obtain bikes without bail. Some are discussing the recent Alibaba agreement with Ford that allows people with a rating of 700+ for free to take on a three-day test drive of a new Ford Explorer.
In addition to Hello Bike or Ford, there are many other brands seeking to participate in the system, Sesame Credit and an "exchange economy." For example, Mobrella providing services for the exchange of umbrellas in cities allows citizens with a rating of 600+ to take umbrellas without bail. And the company Anbi specialized in massage chairs allow such persons free to relax in their chairs.
The advantages of a higher Credit rating Sesame transcend branded services. So, at the University hospital of Zhejiang province patients with a rating of 650+ may, for example, first to go to the doctor, and then pay or free-to-use wheel chairs. In Shenzhou and other cities, you can rent a car without Deposit. Such examples are many, so the users tend to reach 650 points and above.
Credit ratings and karma
Unlike Sesame Credit, national and/or local system of social lending is not very much discussed in the Chinese social networks. But when it happens, it seems to be more emphasis on its punitive side, not the benefits.
For example, in early may, a young man from Shanxi was the first local who made the list of "lost confidence" and was forbidden to travel by train within 180 days. And all because he jumped through the control barrier at the station, Yangling. Many commentators supported the ban, stating that "people who ignore the rules, shall be limited to the crossings for an indefinite time."
Another example was the city of Guangdong government on may 22 announced the introduction of a special "black list" of violators of the rules of the exchange of bicycles. For example, punishment for vandalism can be a ban on the use of the service and the downgrade. "Great, just great. I hope this will be implemented across the country," wrote chief commentator.
Attention media recently called the experiment of police of Shenzhen, which uses face recognition technology to catch on pedestrians crossing streets in wrong places. The state newspaper reported that such violations will also affect your credit rating.
Although many see the system of social credit a "law of karma", agree not all. About careless pedestrians, one person wrote: "with regard to violators of traffic rules, then we have respective laws. To influence them through personal loan, I think it's too".
Credit city
What is remarkable in the emerging system of "Social credit" is the fact that many local authorities have already created in their Weibo accounts on its implementation, and some was in 2014. While they are not popular, but their presence already suggests that social networks may occur hundreds of such accounts, when the system expands to nationwide. Through social media, authorities will inform citizens about the new measures and/or recommendations related to the credit system.
Now the leading city in the construction of a system of social credit became the Hangzhou closely with Credit Sesame. The media referred to as the "Credit city".
And if the foreign media describe innovation as "shiver-inducing" or "strange", the Chinese use the words "safety" "harmony" and "convenience". In cities of the pioneers of "trust" and "credit" seem to be an important asset for those who care about "karma" and "personal gain".
"I support it, – says one of the commentators on Weibo. – I hope it will have a positive impact on society."
Dmitry Gorin
---
Source: https://laowai.ru/socialnye-kredity-v-kitae-kak-sistema-nakazanij-i-pooshhrenij/