Home
/
Science and Society
/
Analytical work: the experience of Russian and foreign experts
/
Recommended
G. Altshuller "to Find an idea. Introduction to TRIZ - theory of inventive problem solving"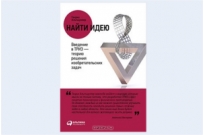 What the book is about? About TRIZ - theory of inventive problem solving. After examining tens of thousands of patents and certificates, the author discovered the basic laws of invention and showed that the process of creating inventions manageable.
In his book he talks about the process of invention, which requires proper organization of thinking, overcome mental inertia, striving for the perfect solution, the resolution of contradictions, hidden in any non-standard task.
Why book worthy of reading
TRIZ is recognized worldwide and is used for solving creative tasks in many fields of human activity, from design and development through to advertising, PR, management.
TRIZ enjoyed extraordinary popularity in the 70-ies and 80-ies of XX century the aggregate circulation of books in the Russian language only amounted to about 1 million copies.
This is a book in which the tips outlined in the most complete and finished form. In this first edition presents all the basic tools of TRIZ, and also gives numerous examples of the creation of inventions and tasks for independent decisions.
Who this book is For everyone who strives to improve the efficiency of creativity, to learn to use an interdisciplinary approach, wants to abandon compromise and get what you want, without losing anything.
Publisher: Alpina Publisher
Series: the Art of thinking
ISBN 978-5-9614-1794-4; 2012