Home
/
Science and Society
/
Analytical work: the experience of Russian and foreign experts
/
Recommended
Bestuzhev-Lada I. V., Kuzin V. V., Cornish, E., et al. "World of our tomorrow. Anthology of modern classical prognostics"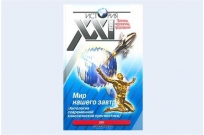 The book represents the world's first anthology of prognostics. Here summarizes the research of the future and gives a vivid picture of the upcoming people's lives in the twenty-first century. The anthology is compiled of the most interesting sections of the works of the most famous futurists.
In some cases the global sensation of the past years. Also presents summaries of the forecasts for the foreseeable future, regularly published in the magazine "the futurist" - the largest organ of the international organization of futurists. The book is illustrated with "pictures of the future" - as contemporary artists and famous French caricaturist of the nineteenth century A. Robida, funny and presciently anticipated many features of the lives of their descendants in the late twentieth century. Designed for a wide range of readers, not necessarily experts in the field of future studies.This book found the word(s) "anthology". If You want to see the entire collection, click on the appropriate link.
ISBN: 881-1-889-50717-7