Home
/
Science and Society
/
Analytical work: the experience of Russian and foreign experts
/
Recommended
Filippov V. A., Bogatyrev, V. L. `Analytical centers. Their story of creation in different countries, the organization of their work and various aspects of their application in politics and Economics`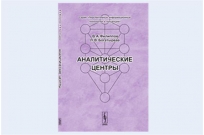 For the current stage of development of mankind leading value is an increase in the quality and speed of decision making on various aspects of human activity on the background of increasingly complex management problems. The main direction of solving this problem is the creation and development of think tanks.
This book examines the history of the establishment of centres in different countries, the organization of the work of think tanks and various aspects of their application in politics and Economics.
The book is intended for specialists in the field of collecting and processing information, as well as for a wide range of undergraduate and graduate students.
ISBN 978-5-9710-0365-6