Home
/
Science and Society
/
Analytical work: the experience of Russian and foreign experts
/
Recommended
A. A. Kokoshin "strategic planning in politics"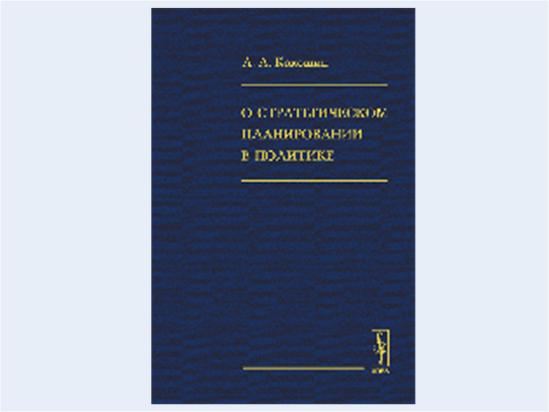 In his monograph academician Andrei Kokoshin considers the complex issues of methodology and practice of strategic planning in the policy as to the activities of States in the international arena, strengthen the military power of the state in economic development, etc. the Author offers a formula of strategic planning, including determination of vital and strategic interests, goal setting, separation in time and space tasks, tools, and resources needed to achieve these goals.
In this study, the author draws on his experience as a scholar and as a practical worker Executive (first Deputy Minister of defense, the Secretary of Council of defence of the Russian Federation, then Secretary of the Russian security Council), as well as the Deputy of the State Duma of the Federal Assembly of the Russian Federation.
The book is intended for specialists in the field of strategic planning in government and in business, and for a wide range of readers, including undergraduate and graduate students of civil and military schools.
2007. Hardcover. 224 S. 210 RUB.
ISBN 978-5-484-00981-7
1

Introduction

2

Planning and forecasting

3

Samples of successful scientific prediction

4

Goal setting and its relation to the definition of national interests, vital interests and strategic interests

5

About the domestic experience of strategic planning

6

"Asymmetric response" to "Strategic defense initiative" as an example of strategic planning in the field of national security

7

The combination of conflict and cooperation in contemporary world politics and the importance of this combination for strategic planning

8

An example of a U.S. foreign policy strategy: NSC-68

9

Strategic actions and counter-actions

Notes

App

 

1.

About the experience of strategic planning in Japan

 

2.

About the experience of strategic planning in South Korea

 

3.

A summary of the work of Nobel laureate academician V. L. Ginzburg ""Physical minimum" at the beginning of the XXI century"

 

4.

The development of strategic nuclear weapons as a measure for maintaining the ability to adequate retaliatory strike under the strategy of "asymmetric response" to SOY (from published report of the Committee of Soviet scientists)

 

5.

About the "speakers" to analyze the stability of military-strategic development

 

6.

Special tools and ways to counter anti-ballistic missile (from published report of the Committee of Soviet scientists)

Index

About the author
The book is available in the online store: