Home
/
Science and Society
/
Analytical work: the experience of Russian and foreign experts
/
Recommended
Konopatov S. N. "The military-political situation in the modern world: Sources, status and prospects"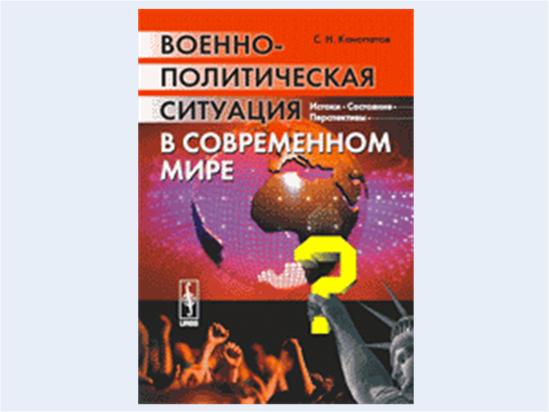 The present monograph is characterized by the globality of the problem and originality of approach. The reader presents a new, integral concept of the modern military-political situation and prospects of its development, reconstructed through the analysis of contributing factors and the process of military-political process.
The urgency of the task, the novelty, the validity obtained in the process of its solution results, simplicity, consistency and density of thought in its presentation to make the book interesting, useful and comprehensible to various categories of readers. The monograph can also be used as textbooks in political science and philosophy.
2005. 240 p. 155 rubles.
ISBN 5-484-00099-8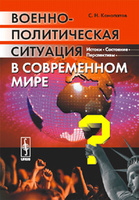 | | |
| --- | --- |
| Table of contents | |
PREFACE

THANKS

INTRODUCTION

CHAPTER 1.

THE METHODOLOGICAL BACKGROUND OF THE STUDY

 

1.1.

The limits of interdisciplinary research

 

1.2.

SuperCell research

 

1.3.

The ideological position of the researcher

 

1.4.

The dependence of the military-political situation geoeconomics

 

1.5.

Basic geo-economic factors determining the military-political situation

 

1.6.

The cycles of development and structure of study

 
 

1.6.1.

The cycle of development of geo-economic situation

 
 

1.6.2.

The cycle of development of military-political situation and structure of study

 
 

Conclusions

CHAPTER 2.

ECONOMIC CONTRADICTIONS UNDERLYING MILITARY-POLITICAL SITUATION IN THE MODERN WORLD

 

2.1.

Market contradiction of the modern world and its compensation

 
 

2.1.1.

Market contradiction: the lack of markets and lack of traditional tools to meet the needs

 
 

2.1.2.

Compensation market contradictions of the virtual economy

 

2.2.

The virtual economy as the source of the main contradictions of the modern world

 
 

2.2.1.

The origins of the virtual economy

 
 

2.2.1.1.

Bretton Wodskou agreement

 
 

2.2.1.2.

The reform of the international economic policy of the USA in the 1970s

 
 

2.2.2.

The essence of the virtual economy

 
 

2.2.2.1.

The main purpose of virtual economy

 
 

2.2.2.2.

The mechanism of the virtual economy

 
 

2.2.2.3.

The scale of virtual economy

 
 

2.2.2.4.

Necessary condition for the existence of the virtual economy

 
 

2.2.2.5.

The scarcity of the virtual economy

 
 

2.2.2.6.

Information, monetary Economics

 
 

2.2.3.

The basic contradiction of the modern age: the crisis of virtual economy, and the failure of traditional means to overcome

 

2.3.

Areas of conflict resolution and the resulting military-political imperative

 

2.4.

The application of the results

 

Conclusions

CHAPTER 3.

MILITARY-POLITICAL SYSTEM OF THE RESOLUTION OF THE MAIN CONTRADICTIONS. THE PRINCIPLES OF ITS STRUCTURE AND BONDING

 

3.1.

The way to resolve the main contradiction

 

3.2.

World-Empire -- the system resolution of the main contradictions

 

3.3.

The principle of a world-Empire

 
 

3.3.1.

Mastery of the world

 
 

3.3.2.

Control of the world without possession

 

3.4.

Linking world-Empire

 
 

3.4.1.

Technological dependence

 
 

3.4.2.

Resource dependence

 
 

3.4.3.

The dependence on security

 
 

3.4.4.

Management dependency

 
 

3.4.5.

The balance of dependence and coercion in the binding of Pax Americana

 

3.5.

The application of the results

 

Conclusions

CHAPTER 4.

THE SYSTEM DESIGN CONCEPT RESOLUTION OF THE MAIN CONTRADICTIONS

 

4.1.

Recursion

 

4.2.

Values and meanings

 

4.3.

The principle of AI-Ki-to

 

4.4.

Polarity

 
 

4.4.1.

Virtual polarity

 
 

4.4.2.

The real polarity

 

4.5.

Management of world-Empire

 

4.6.

The application of the results

 

Conclusions

CHAPTER 5.

BUILD PATH RESOLUTION SYSTEM OF THE BASIC CONTRADICTION: METANOIA

 

5.1.

Metaboly of conditionality as a means of organizing aggression

 

5.2.

The mechanism of falsification in metavoice

 
 

5.2.1.

Model

 
 

5.2.2.

Interpretation of the model

 

5.3.

A legal object of metaboly (canvas)

 
 

5.3.1.

Requirements for canvas

 
 

5.3.1.1.

Global

 
 

5.3.1.2.

Unity

 
 

5.3.1.3.

Density

 
 

5.3.1.4.

Versatility

 
 

5.3.2.

The outline aspect in the future

 

5.4.

State sovereignty in metavoice

 

5.5.

The factor of legitimacy in metavoice

 

5.6.

The dialectic of metaboli

 
 

5.6.1.

The development and stable existence of metaboli

 
 

5.6.2.

Sunset metaboli

 

Conclusions

CONCLUSION

APP

THE LIST OF REFERENCES