Home
/
Science and Society
/
Analytical work: the experience of Russian and foreign experts
/
Recommended
If VL. F. `the Theory of international forecasting`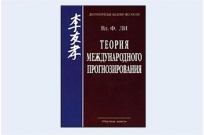 The book is dedicated to one of the least developed issues of international politics and is an introductory course in the theory of prediction of global politics and international relations.
Logically developing methodological subjects of their former Oriental research, the author reveals the main problems of the international forecasting in the conditions of globalization of the world community. Discusses methods of extrapolation, comparative studies, scenario development expert and situational analysis, etc. In the Appendix reproduces the texts of unique documents on the subject of the publication. Training manual corresponds to the state standard of higher University education in the specialty "international relations".
Publishing house "Scientific book"
Year: 2002