Home
/
Science and Society
/
Analytical work: the experience of Russian and foreign experts
/
Events
The Ministry of emergency situations of the Russian Federation will hold in 2015, world Congress on risk management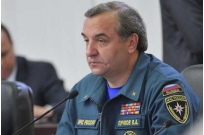 EMERCOM of Russia will hold in 2015 at the Moscow world Congress on risk management, said the head of the Ministry Vladimir Puchkov.
"A new threat to humans, transform and change the existing threats to natural-man-caused and bio-social nature. In this regard, the MOE plans to hold in Moscow in may 2015, world Congress on risk management," said Puchkov, who is participating in Beijing in the Eighth forum of senior officials of emergency services APEC.
Puchkov said that the decision was made by the government.
He invited meeting attendees to participate in the preparation and conduct of the Congress.
---