Home
/
Science and Society
/
Analytical work: the experience of Russian and foreign experts
/
Recommended
The Proposed E. N. `Modeling and analysis of political processes`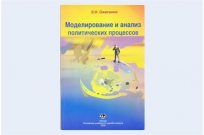 The manual covers the modern approaches and methods of modeling of political processes, based on the theory of the structure and dynamics of political systems.
Discusses the practical techniques of computer simulation of political action, simulation and forecasting of policy scenarios using a methodology of hierarchical analysis of processes and analysis of system dynamics. The idea about effective ways to study political conflict and mass consciousness.
For students of political scientists, lawyers, economists and other Humanities, as well as all interested in the problems of modeling of social processes.
Publisher: people's friendship University
Year: 2009