Home
/
Science and Society
/
Analytical work: the experience of Russian and foreign experts
/
Articles
"Today is the best day, today the battle with fools..."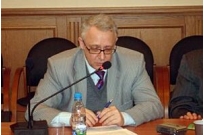 Information occasion for this article–calling was rather fragmented in time and seemingly unconnected events.
Event No. 1. On the TV channel "Russia 1" on 13 December 2012, hosted a TV program of Vladimir Soloveva "the Duel", which was attended by Vladimir Zhirinovsky and Mikhail Prokhorov. The fight ended with a crushing score 118177 : 38878 in favor of LDPR. The participants and their teams of experts (seconds) looked so pale that it was the last straw for a long period of silence independent experts concerned about future of Russia. This event is superimposed on the other, have occurred somewhat earlier.
Event No. 2. On the website "Political education" Anton Stillavin asked: "Where are you, politicians? Where are your predictions? Your experience? Anything that you prophesied did not come to pass. The common sense of ordinary people turned out to be rather your reasoning. What's next? Further Kondopoga, Kuschevka, the flourishing corruption in the dreaded scale. But the most important thing is that political science suffered a terrible defeat. Every science must be based on logical apparatus. Today political science is pre-scientific discipline, developed on the basis of logic and methodology of science. Maybe someday it will happen, but so far, political analysts are just people who think about politics, and nothing more. A General discussion of the political process cannot meet the demands of true knowledge. Here we go, boys!". In addition, on one of the forums known methodologist Anisimov O. S., evaluating inappropriate behavior of national elites and of the government's decisions, suggested the need to check media power for their "Metodologicheskie". Point put the cycle of telecasts with Nikolay Svanidze "Historical process", after which it became evident that his political ideologists have lost the war, no one listens and they are not interesting. Now, public disputes are not partisan ideologues, methodologists and analysts. These facts evoked memories about the event a decade ago, when I had the chance to prevent the events described above, and disappointments.
Event No. 3. In 2001 was developed and proposed to the television project "Country of fools?" (letter dated 4 September 2001 addressed to the Deputy Director General of TV channel "REN-TV" L. A. Tomko). The project was a script cycle entertaining and educational programs in the format of a political talk-show with elements of gambling and betting cash (Copyright certificate No. 5056 dated 10.10.2001). The idea of the project was to introduce new technologies to conduct scientific-expert disputes that allow you to carry out lustration of obsolete knowledge, false ideas, political myths, economic utopias, distorted notions of their sources and media. The project was not implemented because, according to Irina Lesnevskaya, the channel does not have the money for it. However, after a few years in 2005 after her "REN-TV", "NTV" has appeared the author's TV program of Vladimir Soloveva "To a barrier", known today as the transfer of "Duel".
Against this background, the authorities continue to accumulate internal contradictions, trying social propaganda, PR and insane legislative initiatives to cover up their erroneous management decisions within the model, composed of fragments of science, philosophy, religion, social myths and economic utopias. This model assumes a gradual improvement of individual elements, but will completely destroy the system as a whole. Monitoring of the development of hidden process of Russia's transition to a new state showed that liberal supporters of monetarism must come new players - the independent experts that a new model of global governance will occupy a special place, to continue the global information war, but a new "semantic" level.
CHALLENGE: I Just Aleksandr Fedorovich, called Prokhorov, positioning itself as the best top-the Manager, capable to rescue Russia, the intellectual duel. Ask him to send before 31 December 2012 their seconds to discuss the conditions, time and venue of the match,to be held in the format of "Smart tote" - a shortened version of the television project "Country of fools?", against offshore where money will play a intellectual RUB. As facilitators and organizers of the match, you can invite managers of Internet sites: "the Rating of personal pages" - www.viperson.ru; "all-Russia electronic exchange of intellectual property" - www.vebis.EN, "Political education" - www.politobraz.EN and TV host of "Duel".
Regarding advertising, participation and sponsorship contact: E-mail: russelcom@ yandex.ru ortel. 8-916-663-33-45.
® Copyright © Just And.F. All Rights Reserved. Published as a manuscript, all rights are reserved, link when reprinting is required.