Home
/
Science and Society
/
Analytical work: the experience of Russian and foreign experts
/
Recommended
Military and political aspects of forecasting the world development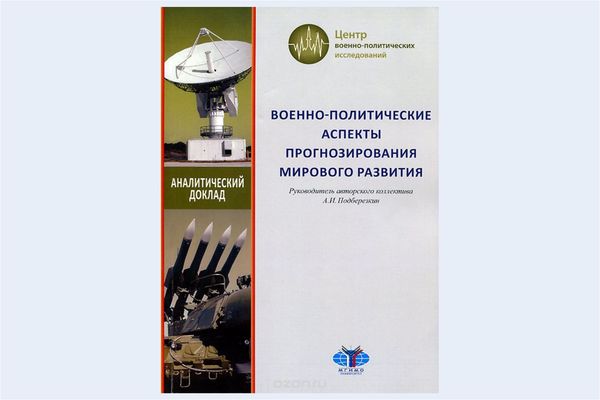 Analytical report of

the Center for Military

-

Political Studies

(University

)

MFA

Russia

is dedicated to

methodological issues of

long-term forecasting

military-political

and military-

strategic dimension

of global development.

The report

details the

procedure for the formation

of scenarios

,

analyzes the

existing scripts

and offers

the author's

long-term

military and political

outlook

to 2050.

The report

may

be of interest to

both

researchers

in the field of

military and political

planning and

decision-makers

.
Long-term trends of world sociopolitical development of a human civilisation frequently are not considered in military-political forecasting. However the military science depends tsivilizatsionnyh megatrends not to a lesser degree, than any other human activity. Value of the given monography consists in underlining of indissoluble interrelation of a military-political problematics with ostalny mi spheres of world development and with dynamics of a human civilisation as a whole. For example, processes in economic sphere define possibilities of the states in escalating of the defensive potential; manufacture of the weapon and military technologies today inseparably linked with a science; the quantity and quality of military men is defined by the general demographic trends and quality of system of national education; foreign policy possibilities of the states not in the last instance depend on their geopolitical position and the general international and strategic conditions in the world. The difficult methodological question consists in definition of relationships of cause and effect between various spheres of activity of the person. That is an independent variable in the difficult equation of world development: economy, a demography, the armed violence, system of the international relations, culture, religion? The book "Military-political aspects of forecasting of world development", written by a group of authors of the Center of military-political researches MGIMO () the Ministry of Foreign Affairs of Russia under the direction of the director of the Center, the pro-rector for scientific work, professor A.I.Podberezkin, gives an irrefragable answer on this and many other questions. The methodology of long-term military-political forecasting developed in the monography allows to build the complex forecasts considering dynamics of development in all spheres of a human civilisation. It is assured that such complex approach to long-term strategic planning will help Russian OPK properly will be prepared for accruing turbulence in modern international relations.
Download PDF.