Home
/
Science and Society
/
Direction materials
The near future through the eyes of artists-futurists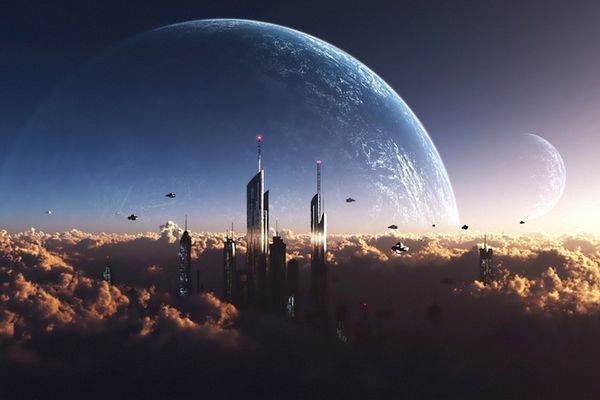 Material posted : Administrator Publication date: 17-02-2018
The Internet has long been there are different kind of figure, which shows our time as it represents the people 100 years ago. The drawings are quite interesting, they are clearly created by people (or person) with imagination. Our time is very different from how it imagined ancestors, but there are ideas that become reality.
Now everything is changing much faster than before. Job, people, way of life — and all this is due to the rapid technological process. Some aspects of the near future of mankind was discussed at the next meeting of the world economic forum. Among other visitors of the event it came to the representatives of the Agency AKQA and Misk Global Forum. Heard ideas were presented then in the form of illustrations.

The future depicted in them is the year 2030, plus or minus a few years.

Some of the pictures look fantastic, but some of them can be implemented now using existing technologies. For example, "printers for superdomo" — their prototypes already exist and work.


Recycler of waste


And no, it's not about those who just dismantle the trash on modern musoropererabotka enterprises. Pictured here is driver portable processing plant, the skiers in landfills. Such landfills — a huge amount, and need something to do with them right now.


The guardian of national identity


The modern city change the appearance of the surface of the Earth. Destroyed monuments of the past, cultural objects, which embody the national identity. Perhaps in the future there will be experts who will be able to save it for posterity.


Engineer blockchain banking


This profession, perhaps in the near future. Hard to imagine why the cell block (ATM?) located on the water, but it is not excluded that it will.


The operator of the construction of a 3D printer


Construction printers already exist, they build a small house, and it is not a concept, but in reality, the existing commercial technology.

In the future, perhaps there will be a giant construction machines that will be able to build no less giant buildings and structures.


Appraiser "friendliness" of the technology


The representative of this profession will be to assess new technologies for their conformity to the expectations of society and the possibility of introducing such technologies in widespread use.


Telemedic


Not all regions have the doctors. The picture is a vivid example of telemedicine is when the surgeon, who is possibly thousands of miles away from the person who directs the operation of specialized apparatus.

How do you think, how realistic is such a vision of the future and what the specialty of the future were not mentioned?
---