Home
/
Defence and security
/
/
Articles
"The gap between reality and its reflection become fatal"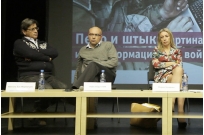 The Ukrainian conflict was very difficult for the journalists, many international publications have been involved in the information confrontation. To this conclusion came the participants of the discussion held on October 27 at the cultural center ZIL. The chief editors of the media and the representative of the Russian Ministry of foreign Affairs discussed the difference between journalism and propaganda, watched "Tape.ru".
"It seems that the gap between reality and its reflection was something fatal. We live in completely different realities. In a sense, worse than in cold war", — said the moderator of the lecture and the chief editor of the magazine "Russia in global Affairs" Fyodor Lukyanov. He believes that such opposition is a serious threat, leading to worse consequences.
Chief editor of The Moscow Times Nabi Abdullaev believes that the events in Ukraine was much more difficult to understand and coverage as the conflict between Russia and Georgia in 2008, and even the Chechen war.
Migel the Bass Fernandez, the head of the Spanish foreign service of the MIA "Russia today", stated that the information war is everywhere where there is any conflict. However, the war in Ukraine, he said, was the most manipulative opposition.
The Deputy Director of the Department of information and press of the Russian foreign Ministry Maria Zakharova, in turn, confirmed that different forces are using the media to achieve their political interests.
At the same time, she complained that international agencies are not very willing to broadcast official statements by Russian Foreign Ministry and "hour of the press conference Lavrov transmit only photos". In addition, Zakharova said that the representatives of the US state Department regularly accused the Russian foreign Ministry propaganda.
The head of the international application to the "Russian newspaper" Russia Beyond the Headlines Evgeny Abov considers, in propaganda there is nothing wrong when it comes from government agencies. However, when these are journalists, discerning audience don't believe them.
The actions of the Russian propagandists have not had the desired effect on the Western audience because were originally chosen the wrong messages, said the chief editor of The Moscow Times.
Abdullayev told how in the current environment to read the news, to be a true picture, and how to write them.
---