Home
/
Defence and security
/
/
Events
Russia in the information war: the methods of confrontation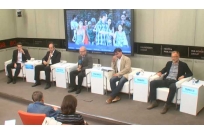 Multimedia round table on the topic: "Russia in the information war: the methods of confrontation." In connection with the events in Ukraine against Russia unleashed a real information war. The countries of the West, spreading rumors and distorted information, trying to isolate Russia politically and economically. All attempts of our country to resolve the situation in Ukraine is not taken into account. Russian reporters objectively covering events in the East of Ukraine and hinder the work. Still unknown the fate of the photographer MIA "Russia today" Andrew Stenina.
How to effectively counteract unleashed against our country the information war? Who and what are the benefits of escalation of the conflict in Ukraine? Why the UN Security Council blocked Russia's proposal on ceasefire in Ukraine? What the US and NATO give false information about the movement of Russian troops? Why Ukraine refuses to provide data about downed Boeing?

The event was attended by:
— General Director of the Center for strategic estimates and projections Sergey GRINYAEV;
— General Director of the Center for political information Alexei MUKHIN;
— Director of the Center for public policy research, head of Department of the CIS Institute, Vladimir YEVSEYEV;
— political scientist Sergey MIKHEEV.
---
Source: http://pressria.ru/pressclub/20140902/949511106.html