Home
/
Defence and security
/
/
Articles
U.S. intelligence agencies has infected computers in radio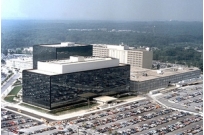 The national security Agency of the United States uses special radio equipment for infection of computers and interception of information, writes The New York Times, citing NSA documents and the opinions of computer experts. This technology, primenyalsya at least since 2008, allows the Agency to conduct surveillance even on machines not connected to the Internet. To date, the NSA has already infected at least hundred thousand computers worldwide.
In particular, for infecting computers and interception of information can be used special transmitting devices, discreetly embedded in the USB plug in the cable. Such a device is called Cottonmouth I. It radio sends information from your computer to mobile the NSA station, called the Nightstand. Under ideal conditions, the exchange of information between Cottonmouth I and Nightstand can be made at a distance of almost 13 kilometers.
The mobile station can be used not only to intercept information and its subsequent transmission to the NSA servers, but also for infecting computers. Podsadnoj software is responsible for sending information from the infected computer if connected to the Internet, as well as for the formation of networks of infected machines for the organization of cyber attacks. In this case, most likely, in the USA such technologies are not used.
Special radio equipment may be installed in the computer in several ways: agent NSA, inattentive user (for example, without connecting the adaptor or cable) or your computer manufacturer. The latter option was used to establish surveillance of the military part of 61398 of the National liberation army of China. It is believed that the latter has conducted several cyber attacks against the United States.
In the China-made equipment integrated transmitting devices to identify which non-specialist is almost impossible. As the host workstations and servers transfer information can speak Chinese mission of the largest American companies. A similar scheme had been established supervision over the Russian military, Mexican police computer networks and eropeyskoy trade organizations.
In the summer of 2013 the former employee of the national security Agency USA Edward Snowden gave the press some materials about the programs of surveillance of American special services. After the publication of this information, according to which the USA watched Internet users and listened to telephone conversations, sparked several diplomatic scandals. U.S. authorities have charged Snowden with leaking state secrets.
---