Home
/
Defence and security
/
/
Recommended
Zázvorka has been preserved G. "Psychological warfare NATO (the Organization, the ways and methods of conducting psychological warfare)"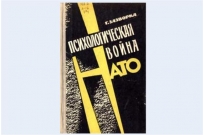 The book is a monograph which are exposed purpose, the reactionary character and the essence of the so-called psychological warfare of countries participating in NATO against world camp of socialism and the third world war.
The author reveals the forms and methods of reactionary bourgeois propaganda and espionage activities, organized and conducted by the imperialist States. The book discusses in detail the activities of state agencies in the U.S. and Germany, participating in the conduct of
psychological warfare.
Publishing House: Voenizdat
Pages: 313
Year: 1963