Home
/
Defence and security
/
/
Analytics
`Information warfare and information security. A Glossary of key terms and definitions`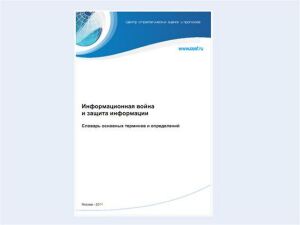 Russian Federation, with significant military and economic potential and for representing Western countries is a serious obstacle to world domination, is the object of close attention of special services of foreign States engaged in information struggle. This Handbook attempts to summarize a number of sources and to form a common view on the subject as outlined by the phrases "information warfare" and "information security".
At the present time in the struggle for spheres of economic and political influence in international relations focus on the use of military force is increasingly to use the more secretive and flexible forms, one of which is the control and management of information resources of the States. Informational influence is therefore regarded as a new type of weapon, which to some extent is no less effective means of influence than traditional weapons and military equipment.
Many recognize the fact that in the modern world (and even more in the future) the status of "great power" will be determined by the ability to develop, leadership in the priority areas of knowledge, Informatics, technology and everyday impact on the lives of millions of people worldwide through consumption of their products, goods, services and culture.