Home
/
Defence and security
/
/
Events
Round table "Security of it-infrastructure of the industrial enterprises and strategic facilities of Russia"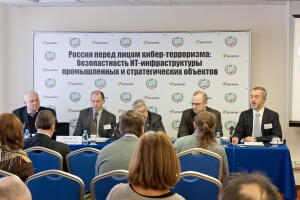 On January 25 2010 in the world Trade Center held a joint round table "Russia in the face of cyber-terrorism: security of it infrastructure and strategic industrial facilities", organized jointly by the Foundation "Science-XXI" and by Symantec. The round table was attended General Director of the Center, doctor of technical Sciences Sergei Grinyaev.
In the framework of the round table discussed problems of safety of industrial enterprises and strategic facilities. Open discussion of the security of the it infrastructure aimed to draw attention to the topic of industrial security and to enable stakeholders to receive the latest information on the most modern technologies of protection of industrial it infrastructures. The event also hosted an open discussion with a discussion of the strengths and weaknesses of the presented technologies and solutions.
This topic has become particularly relevant after the advent of a new generation of computer viruses that use complex and sophisticated mechanisms for the implementation in a well-protected network of industrial facilities (for example, Stuxnet, which penetrated into the network of the Bushehr nuclear power plant in Iran) and have the capacity to threaten national security.


---