Home
/
Defence and security
/
/
Recommended
""Will tell you about war..." the Second world war and the Great Patriotic war in the textbooks and the minds of the students of the Slavic countries"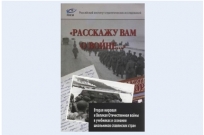 The monograph is devoted to the processes of formation of historical memory of world war II and the great Patriotic wars among young people of the Slavic countries of Eastern Europe. The authors analyze the modern history textbooks of Russia and Belarus. Ukraine, Poland, Bulgaria, The Czech Republic. Slovakia. Serbia and Croatia, allocate the General and the particular in the narratives about the events of 1939-1945, reveal the conditionality of approaches and interpretations of history in school textbooks individual countries conjuncture of international relations.
A special section is devoted to the knowledge and perceptions of pupils about the Second world war, which are investigated on the basis of tests and compositions. This approach allowed the authors to show the impact of various factors on the historical consciousness of the younger generation. The book is intended for educators, historians, political scientists, culture experts, diplomats and all those who are interested in the history of the Second world war and its interpretation who cares about the problems of Patriotic education.
Author: Tamara Guzenkova (ed.)
Publisher: RISS
ISBN: 978-5-7893-0150-0
Year: 2012