Home
/
Defence and security
/
/
Other
'Russian market of computer crimes. 2011'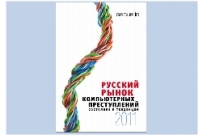 Group-IB is a Russian market leader in investigating computer crimes — announces the results of another study on the state of the Russian market of computer crimes. According to analysts of the company for 2011 "Russian" hackers earned about $ 4.5 billion.
In the study, a quantitative evaluation of financial indicators of computer crimes market in Russia and CIS countries last year, revealed General and industry trends of cybercrime market, and forecasts for 2012.
The key trends of 2011:
The doubling of financial indicators of the Russian market. The financial performance of the global computer crime market in 2011 amounted to 12.5 billion dollars. Of which the share of "Russian" hackers have up to a third of all income — about 4.5 billion dollars. This amount includes the revenues of the Russian segment of 2.3 billion dollars. Thus, we can talk about almost doubling last year's figures of the cybercrime market in Russia.
Centralization of the market of cybercrime. Due to the consolidation of participants and penetration of traditional criminal gangs, the cybercrime market in Russia is experiencing a period of dynamic transition from the chaotic state to centralized.
Online fraud and spam account for more than half of the market. In 2011 Russian Internet scammers have managed to steal about $942 million; followed by spammers, who earned $830 million; the domestic market Cybercrime to Cybercrime amounted to $230 million; and DDoS at $130 million.
Profiles of CERT-GIB. This year the study appeared constant Chapter on the overview of key events, in which computer criminals – immigrants from Russia and other CIS countries. This time there are published profiles of the following hackers: Vladislav Horohorin, Oleg Nikolayenko, Yevgeniy Anikin, Maksim Glotov Andrey Sabelnikov. We consider separately the case Assist.
In addition, in 2011 special attention is paid to legal issues of combating computer crimes in Russia. The report provides a list of measures to improve domestic law enforcement. Implementation of these measures will significantly increase the level of crime in the sphere of computer information, change existing law enforcement practices, and establish proper international cooperation in this field.
"As our study shows, the activities of computer criminals from Russia costs the global economy billions of dollars every year, — says Ilya Sachkov, CEO of Group-IB. Although in our country are taken some positive steps, we believe that you have to keep going by changing existing law enforcement practices, and establish proper international cooperation that, ultimately, will lead to an increase in the number of solved computer crimes."
---