Home
/
Defence and security
/
/
Articles
Aleppo in a copper: Turkey and NATO became nervous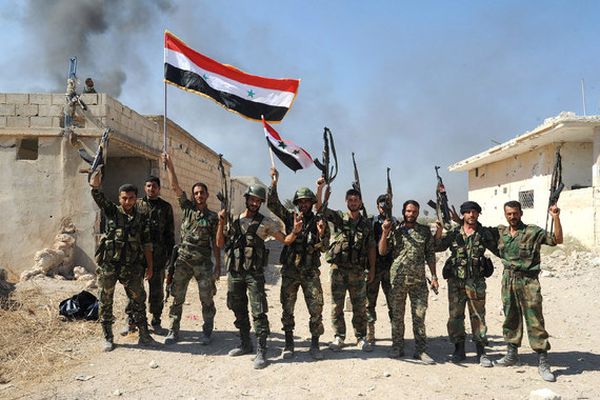 Local operation of the Russian-Syrian coalition turned a battlefield and gave any impulse to geopolitical vibrations. In total in a week the strategic isthmus in the north of Aleppo on which of Turkey there was a supply the dzhikhadistkikh of groups of different sense in rebellious Syrian enclaves was blocked.
On this background the first stage of peace talks in Geneva has predictedly unsuccessfully come to the end, and Turkey has seriously reflected on carrying out of land operation in territory of Syria. Were intensified ekspansionistskie thoughts of Washington which, seemingly, forces down the coalition. And in the western mass-media the next pumping excitation of the inhabitant propagation how ten thousand peace Syrians run from malicious Russian bombs has begun. The situation promptly changes almost every day but while Russia has the strategic initiative that prevents to think over thoroughly to the Arabian and western powers the adequate answer.
Cut off an appendix
The Syrian Arabian army (SAA) still does not have forces on scale approach on all fronts, participation of the Russian aircraft is limited also. Therefore while in one unit of the country (before recent time in Latakia and in the south - in a province of Dera) soldiers of Asada and civil guardsmen press through insurgents, in another - accumulate forces. The strengthened preparation for an operation under Aleppo went some weeks, the infantry and the mechanised connections there concentrated, including systems is rocket-volley fire also our tanks T-90 with the trained crews. But where exactly allies will strike it was not known that strongly irritated extremists. Variants was much. However, already back mind it is possible to state - the incorporated Joint Staff does not recede from a general line: the main task of the first phase of the Syrian operation is overlapping of borders with Turkey and Jordan, flows of the weapon and volunteers-dzhihadistov whence continue to go.
Damascus has struck in the northwest Aleppo in a direction to a Shiit enclave with the cities of Nubol and Zahra who more was than four years in an environment of insurgents. In this operation new tactics SAA has even more clearly appeared: well strenghtened positions do not assault, and bypass, grope weak places in the neighbourhood and beat the mechanised wedge after artillery and air handling. And then come back to ukreprajonu, but already from back. For some days were tens settlements are taken, the isthmus has been strengthened and defended from counter-attacks.
The offensive initiative asadovtsev was supported so-called "afrinskie" by the Kurds named so on capital of a northwest Kurdish province to the city of Afrin. Judging by character of interaction and the active help to Kurds of Aero-space forces (VKS) this coalition was formed not casually, and all operation was successfully co-ordinated Russian shtabistami. As a result Kurdish groups have taken over the control of a number of cities and, despite difficult mutual relations with regular army, have organised joint patrols and posts on roads.
Here in general it is possible to tell many kind words concerning military men who in the last half a year plan operations in Syria. Their work for the inhabitant remains invisible, but is determining for front success and minimisation of losses: how many forces are necessary to spend, that within the limits of the uniform operating plan to adjust interaction between units ill-matched asadovskoj coalitions: the Lebanese, Iraq, Iranian, Syrian, Kurdish civil guardsmen and army, between Shiits and sunnitami, different nationalities, groups of different degree of combat training, experience and equipment. Not to mention rear provision, logistics, transport. High professional level of the Russian military advisers is obvious.
By Tuesday of subdivision SAA, civil guardsmen and Kurdish units continue to "move apart" a corridor both to the south, and to the north though speed of approach was aloud slowed down for benefit of strengthening of boundaries. Environment threat over dzhihadistkimi regions in Aleppo, which hardly vygryzajutsja regular units in view of difficult operative conditions in a zone with dense building and underground tunnels has hung months. The vector of movement of troops and on the north, to Turkish border is obvious. Here Islamites hastily strenghten southern boundaries and receive reinforcements from Turkey. The final task - a border capture «under the lock» - is the main geopolitical factor which causes today sharp nervousness of Ankara and allies.
«Life road» for insurgents
Than so this green corridor for antiasadovskogo front is important? First, as it has already been told, on it to Syria there was a transportation of the weapon and dzhihadistkoj mass meetings. And in large lots. Yes, it is final a rebellious province of Idlib has with Turkey much more extended border, therefore to speak about "copper" in which insurgents, incorrectly have come to be. All essence in convenience of logistics - here there are the wide highways, the equipped frontier transitions, smuggler tracks, and Aleppo, half uncontrolled for Damascus, - large logistic knot for redistribution of terrorist flows are adjusted. The Idlibsky border in times is less convenient - on mountains the big consignments do not send on errands.
But other logistic route which was passing on the cut off appendix is not less important also: on it there was an active exchange between dzhihadistami and the Islamic state (YOKES), the organisation prohibited in Russia.
The agreement concluded with the assistance of Ankara, meant that YOKES conveys in northern Syrian provinces fuel, and in an exchange receives the foodstuffs. For both parties it is literally «life road» as under the control of YOKES there are basically deserted territories with oil fields, and Proturkish groupings occupied rather fertile earths, but without deposits of fossil and processing factories. Turkey for the clear reasons actively promoted exchange, regulating the deliveries fuel and food deficit on the Syrian earths. The journalists living in controlled dzhihadistami units of provinces of Idlib and Aleppo, already report today about a heavy humanitarian situation: without deliveries of fuel for diesel electro-generators food factories, transport, sector of services stop, there is no light and an electricity. Truth hold back that at the same time on short rations there is a military technology dzhihadistov.
Sharply worsened social conditions in rebellious provinces together with approach SAA have really caused a semblance of humanitarian disaster. The easy panic, truth basically among insurgents who for long time have grown roots on the Syrian earth is observed, have got families, plain illicit business and have saved up means for resettlement in more safe places, like Turkey or Europe. They run to Turkish border and accumulate in specialised camps. Ankara declares today 50 thousand refugees, sounds alarm and urges the whole world to pay attention to the crisis ostensibly provoked by the Russian aviablows. Frontier transitions are closed, mass meeting arrives also a picture of "a humanitarian apocalypse» all is more critical moves in the western mass-media. It seems that this card will be played in the near future by Ankara and the West for pressure upon the Russian-Syrian coalition. And probably also will become the cause for land intrusion.
Turkey prepares for war
On fourth of February in the Russian Minister of Defence have declared that Ankara has created precedent of "uncontrollable military activity»: Turkey has refused to agree with observant flight over the territory within the limits of the agreement on the open sky. Plane VKS should fly by over regions on border with Syria and airdromes with NATO aircraft. This incident which has remained almost not noticed many mass-media, on hearings has practically stopped land operation of Turkish troops: the matter is that the Russian specialists have offered such route of flight that to foreign colleagues it became clear - their plans well-known to the Joint Staff of the Russian Federation, and reaction can be unprecedented the rigid.
Already later the official representative of the Minister of Defence major general Igor Konashenkov has reported that supposedly Syrians have transferred shots on which expansion of Turkish self-propelled artillery installations of large calibre on border is visible: «Every day signs of the latent preparation for intrusion the Turk on the Syrian territory is found out more and more. We regard these actions of Turkey as a dangerous case and attempt to conceal criminal military activity at border with Syria».
The task on creation of a buffer zone on southern borders for Ankara sees today paramount, here only a question of principle in, whether this zone will be arranged on the Turkish or Syrian earth. After with arrival of Russia, the hope of overthrow of a mode of Bashara Asada has failed, Ankara staked on under control groups dzhihadistov, but now is forced to expose zagradotrjady not to start up in the country running from blows Russian VKS insurgents. One more mission of the buffer - to hold on a distance Kurdish approach, without allowing to unite two large Kurdish enclaves in the northwest and the northeast of Syria. At last, the hypothetical zone of influence is important for habitual tasks of supply of terrorists and trade with the Islamic state.
The Russian prevention has held the Turkish initiative, however has not split the delayed problem knot: with each new taken settlement in an appendix in the north of Aleppo time for intervention on the Syrian territory at Ankara becomes less. One business to grasp the territory under control to insurgents, another - to be got involved in battle with SAA or Kurds who actively co-operate now with the USA. It is possible to put a plug of decisions and so: whether Turkey is ready to act unilaterally with silent support of the West or will agree with the initiative with a pro-American coalition.
The first variant can be kalkirovan from the Lebanese precedent: Israel repeatedly interfered on southern territories of the neighbour for struggle against Hezbollah, without having any prescriptions of the United Nations and considerable condemnation of other countries of the world. Tel Aviv acted quickly and resolutely: created buffer and bespolyotnuju a zone, entered troops both with dot special actions and shellings amazed the opponent. With disputable result, but without consequences fatal to. An occasion to such decisions of Ankara forced humanitarian crisis on borders which already moves as serious threat for stability of the European Union can become artificial. Erdogan continues to blackmail infantile eurobureaucrats skilfully:« We can open doors to Greece and Bulgaria at any moment and to bring refugees by buses. If you give to us €3 mlrd for two years then there is no sense to continue conversation. Greece has received €400 million in a crisis current. We should start up money for safety zone creation in Syria to solve all problems with refugees ». However, in EU can decide to save and shut eyes to military operation as have already closed on a growing slaughter-house in Kurdish provinces of Turkey. German chancellor Angela Merkel has let know that it is ready to play this game:« In the last some days we not only are amazed, but also shocked by sufferings of tens thousand people because of bombings, including from the Russian side "." Are shocked »by actions Russian VKS and other countries of the NATO, and the secretary general of the North Atlantic alliance of Jens Stoltenberg has declared that our operation in Syria interferes with peaceful settlement of the conflict and leads to a growth of tension in region.
On what in the Minister of Defence of the Russian Federation have noticed: «Would like to remind mister Stoltenbergu, what not operation Russian VKS was a crisis source in Syria, and reckless activity of the countries of the NATO which has shipped Near-Eastern region in chaos. Moreover, before occurrence in Syria the Russian aircraft of the country of the NATO almost 3 years represented there destruction of the international terrorism in a format of" struggle of Nanaian boys ». And all this time anybody in the West and the more so in Bruxelles did not argue at all on any negotiations in Syria. Terms of definitive disorder of the country under the scenario of Libya were specified only, where exactly the NATO countries free established« democracy »the western sample. If someone and« strains »today from actions Russian VKS in Syria it are terrorists. And that is why together with terrorists« strain »and in the separate countries of the NATO - a question already to J.Stoltenbergu».
However, it is necessary to understand that Turkish intervention at all does not mean direct military collision of Russia and Turkey. With the big share of probability, it will be a question of the next episode of hybrid war, and not the fact that the wars which have become skilled for four year soldiers of Asada on the Russian tanks independently will not reject pressure of Turkish battlelosers. «Any military intervention without government SAR consent it will be apprehended as aggression. In this connection it is necessary to send interventionists home in coffins», - have rigidly declared in Damascus.
Absolutely other calico - if Turkish military men will dare not only at creation of a buffer zone along border, but also will think up to punch a corridor in a direction of Aleppo or Rakki. But such variant is possible unless as a part of a coalition.
Coalition problems
Behind all peripetias of discussion of hypothetical Russian-Turkish war realness of estimations of potential of players on the Syrian front, apparently, is lost. Ankara is represented a certain mad patient who is at any moment ready to inadequate self-destructive acts. And a role of the United States which have obviously lost the initiative in region, it is accepted to belittle recently, and in general to treat to Obama's policy with contempt, if not with contempt. Such underestimation of the strongest power of the world can manage expensively, the blessing that it in a greater degree is inherent in the inhabitant, instead of specialists.
Certainly, Washington was be taken by surprise by the Russian operation in Syria and has lost tactical bridgeheads on the Syrian earth. But it still dominates in Iraq where, seemingly, intend to begin large operation against the Islamic state with advancement prospect on the Syrian territory to capital of YOKES to the city of Rakke. Rough terms of this plan - spring of 2016. Realness - under the big question. Not clearly, who will struggle with insurgents: the Iraq army regularly suffering defeats, the hypothetical American landing, which disembarkation else should pass the pre-election test in fight of democrats and republicans, or mercenaries of Saudi Arabia which burns with the desire napoddat to Iranians on the Syrian front but while counts up losses in struggle with Yemen husitami. Here again "fresh" and powerful enough military vehicle of Turkey can appear very opportunely. However, support of Kurds of the USA have tired out itself in uneasy relations with Ankara.
Past Sunday Erdogan has actually put the ultimatum to Washington, having suggested to make a definitive choice for benefit of real allies. The president of Turkey was indignant with visit of the special representative of US president Breta Makgurka to the Syrian city of Kobani where it met Kurdish civil guardsmen: «And how we can to you after that to trust? Who your partner - I or terrorists from Kobani?» Earlier prime minister Ahmet Davutoglu showed to the vice-president of the United States of the card of border with noted points of a transfer of weapons of the Syrian Kurds to colleagues in Turkey. Any variant of cooperation of Washington is unacceptable for Ankara with Kurds, it is the main stumbling-block.
As will solve this dilemma Washington - not so clearly. On the one hand, the military potential of Kurds is not comparable with Turkish, and as though States did not pump up the weapon groups of Kurdish self-defence, large land operations by this infantry to conduct difficult. And Kurds further the patrimonial earths will not go, besides without having a guarantee of creation of own state (and the White house will not incur such obligations). On the other hand - today Kurds provide to Americans unique real bridgehead on the Syrian earth, having lost which it is possible to leave the Syrian battlefield basically. Besides, the amplified influence of Turkey will force Kurds both in Syria and in Iraq to turn the weapon against historical enemies, having left insurgents of the Islamic state on conscience of States or having submitted on a table to the Russian-Syrian coalition which have developed appetite. War notably will become complicated, and not the fact that the USA from it will be thrown simply out.
Problem and that Americans are forced to straighten out Turkish ambitions, but have no levers completely to build in a mode of Erdogana the system of co-ordinates. «Increasing hostility of Turkey to Kurdish fighters in Syria - to the most effective allies of the USA in struggle against YOKES - undermines the efforts directed on more intensively to lead operations against this extremist grouping», - the American officials to newspaper The Wall Street Journal have reported. Are dissatisfied in Washington and failure of peace talks of Geneva - in it also charge Ankara, meaning corresponding instructions under control peregovorshchikam. Speech does not go at all that States are ready to agree on conditions of Damascus, but negotiating process - other side of war, the lever of pressure which Turkey beats out at the West the obstinacy.
Creation of a pro-American coalition with participation of Ankara and with prospect of land operation is capable of time to place ambitions of Erdogana in a channel of the American foreign policy and even to move political costs from such astable ally. However while any of the parties of the Syrian battlefield has no essential military potential for showdown. As have shown events of last months, in the field of battle that party at which the infantry is most prepared and provided has the real initiative. Today is Damascus.
---
Source: http://3mv.ru/publ/aleppo_v_kotle_turcija_i_nato_zanervnichali/3-1-0-52993