Home
/
Defence and security
/
/
Recommended
Bezymensky L. 'Covert front against the second front'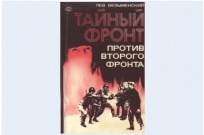 In the book known publicist L. A. Bezymensky considered acute struggle between the two lines of American policy during the second world war: the lines support the anti-Hitler coalition and the line on the anti-Communist conspiracy, the exhaustion of the USSR.
While the West delayed the opening of the second front was a secret front — namely the front behind-the-scenes negotiations between the U.S. and Nazi Germany, in fact, directed against the Soviet Union. The book is based on documents, including little known.
Bezymensky L. Covert front against the second front. — M.: the Academy, 1987. — p., ill.