Home
/
Defence and security
/
/
Recommended
Report "NATO - 2030: Unity in a New Era"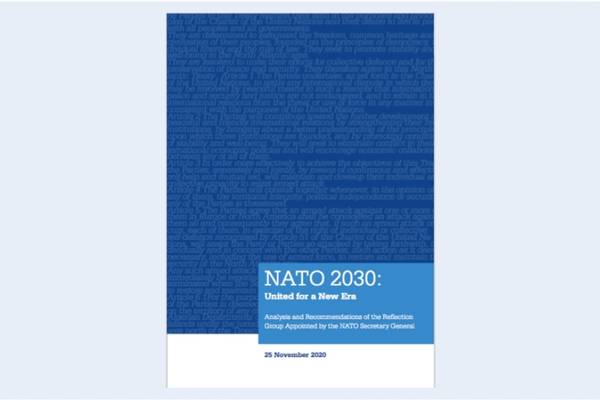 The new report "NATO – 2030" retains tendentious rhetoric regarding the events in Crimea in 2014, in connection with which "the Alliance maintained a united front against Russian aggression militarily as a deterrent in the eastern direction, as well as in political terms in the form of solidarity that the allies showed in response to Russia's actions".
The analysis of the military-doctrinal document shows that such" aggressive actions " are designated by the military-political leadership of NATO, (further quotes):
- organizing a nerve agent attack in Salisbury;
- Violation of the INF Treaty;
- other (aggressive actions).
"In 2016 and 2018, the Allies reaffirmed a bi-directional policy of deterrence and readiness to continue dialogue with Russia in the NATO-Russia Council to exchange views on the crisis in Ukraine (Donbass) and maintained military channels of communication to this end," the report says. 
NATO continues to believe that Moscow is conducting a " hybrid campaign to undermine faith in the democratic institutions of the Alliance," which is an obstacle "on the way to a constructive dialogue."  
In conclusion, the authors of the report conclude that in the long term until 2030, Russia is likely to remain the main military threat to NATO. In addition, the following arguments and generalizations are given:
NATO should continue its bi-directional approach of deterrence and dialogue, within the parameters agreed at the Wales and Warsaw summits, as the basis for its approach to Russia.
NATO must continue to respond to Russia's threats and hostile actions in a politically unified, resolute and consistent manner, without returning to normal engagement that precludes a change in Russia's aggressive behavior and a return to full compliance with international law. In the event of a threat, NATO must continue to respond to Russia with clarity and force.
For this reason, NATO allies should adhere to the general guidelines agreed in NATO when formulating a national security and defense policy towards Russia and should clearly and consistently communicate the indivisibility of the security of the Euro-Atlantic region.