Home
/
Defence and security
/
/
Recommended
Lutwak E. "Strategy. The logic of war and peace"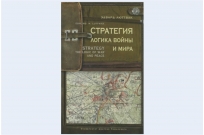 "Strategy. The logic of war and peace" was published in 1987, we Offer our readers the translation is from the second edition (2003), which takes into account the experience of NATO operations in Yugoslavia in 1999.
The book talks about "paradoxical" (dialectical) logic underlying strategic thinking. Discusses four levels of strategy: technique, tactics, operational art, strategy of military operations and Grand strategy. The author analyzes the new kind of war - "postgarantie war" spawned by fear of losses and desire to avoid them at all costs. Of the writer's ideas supported by many historical examples. In China the book is used as a textbook for students of the military Academy. The app contains an article about the geostrategic situation of contemporary China.
Publisher: Russian Fund of Assistance to Education and Science, University of Dmitry Pozharsky
ISBN: 978-5-91244-022-9