Home
/
Defence and security
/
/
Analytics
Materials of round table "the CSTO: the present and future project"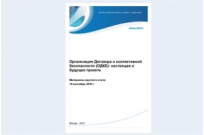 September 10, 2012 CSop held a round table on the problems of the present and future of the CSTO. Materials are available on the website.
The participants of the event
Armenia
  

Sergey Sargsyan

Deputy Director of the Center for political studies, "Noravank"Foundation
Uzbekistan
Oybek Makhmudov

Political scientist, independent expert.
Ukraine
 

Sergey Galushko

The independent expert
Questions round table
Do You consider a successful project of the CSTO?
Had been correctly selected strategic goals of the organization?
Is there a future for the CSTO without a profound transformation?
Is it possible to generate on the Foundation of the CSTO is a new organization, built on a fundamentally new principles of collective military planning?
What new threats will face a new organization in the medium term?