Home
/
Defence and security
/
/
Articles
Oil rose after the drone attacks on the pipeline in Saudi Arabia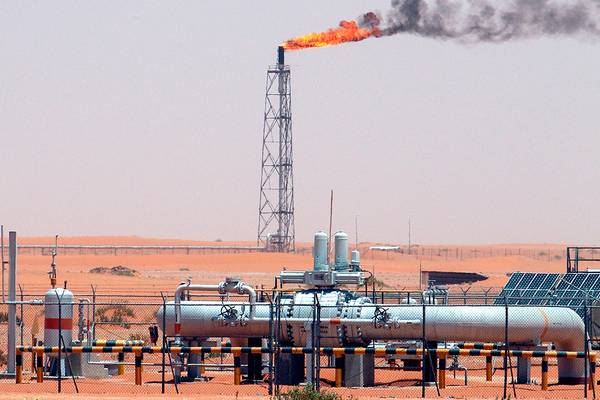 Drones carrying explosives attacked two pump stations on Saudi Aramco pipeline "East — West". Riyadh was forced to stop pumping.
Oil prices on Tuesday jumped nearly a dollar after the world's largest oil exporter Saudi Arabia has said that drones attacked two pumping stations owned by state oil company Saudi Aramco.

So, Brent, according to 15:00, it was trading at $71,22 per barrel, which is 99 cents higher (plus 1.4 per cent) compared with the close of the previous trading session. Per barrel of WTI crude oil at the same time gave $61,71, which is 67 cents more (plus 1,10%).

The Minister of energy of Saudi Arabia Khalid al-falih on Tuesday said that after the attack drones at the pump station Saudi Aramco was suspended pipeline "East — West" in order to assess the damage and carry out restoration work, according to Reuters. Pipeline "East — West" oil comes from the Eastern province of Saudi Arabia to the port of Yanbu on the red sea coast. Attack of the drones caused the fire, which in the end managed to cope. According to al-falikha, oil export goes without a hitch. The Minister called the attack a terrorist act aimed at destabilizing the world market of hydrocarbons.

Saudi Arabia has previously stated that on Sunday two of its oil tanker was attacked off the coast of the United Arab Emirates. In Washington said that the likely culprit is Iran, representatives of the Iranian party have denied involvement in the incident.

Who is behind the drone attack, is unclear. Bloomberg notes that the Houthi rebels in neighbouring Yemen supported by Iran, has previously stated that attacks with drones locations in Saudi Arabia. Riyadh supports the government forces of Yemen, who oppose the Houthi rebels.
Maria Bondarenko
---
Source: https://www.rbc.ru/economics/14/05/2019/5cdab04a9a79478fbc2918d5?from=from_main