Home
/
Defence and security
/
/
Articles
Putin explained the reason for the capture of Palmyra by militants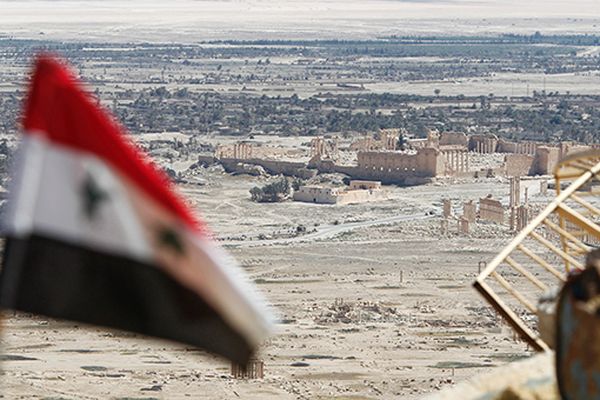 What is happening today in Palmyra, recaptured by the rebels, is the result of isolated actions of Moscow, Washington and Damascus, Putin said. It became known yesterday that the Ministry of defence is helping Damascus to prepare a counteroffensive.
The capture of Palmyra by militants of the banned terrorist group "Islamic state" is a consequence of the inconsistency of the coalition led by the US, the Syrian authorities and Moscow. This was stated by the President of Russia Vladimir Putin, reports "RIA Novosti".

"Everything that is happening in Palmyra, is the result of uncoordinated actions between the so-called international coalition, the Syrian authorities and Russia", — said the President at a press conference after talks with Prime Minister Shinzo Abe.

Putin also stressed that "many times told" that in order to achieve results in the fight against terrorists, "need to unite".

Earlier that the attack by terrorists on Palmyra was due to the lack of interaction between the U.S. and Russia, said Putin's press Secretary Dmitry Peskov. He noted that the cooperation would enable all "effectively avoid" such incidents.

The Syrian army announced that left Palmyra under the onslaught of the militants, 11 December. As clarified by the Governor of the province of HOMS, where the Palmyra, the city was captured by terrorists "Islamic state". According to the Russian Ministry of defense, the attack involved more than five thousand militants, who broke into the city using cars with bombers.

As stated by the Syrian President Bashar al-Assad, the time to attack on Palmyra was chosen by the insurgents for a reason. According to him, terrorists attacked Palmyra, to stop the offensive of government forces in Eastern Aleppo. "They are obtaining from Aleppo to the Syrian army moved to Palmyra and the attack was stopped. This, of course, will not" — said Assad.

The Washington Post analyzed the photos associated with ISIS Agency Amaq, and suggested that in the city there are a large number of different small arms and heavier weapons, in particular anti-aircraft missile system s-125. However, the defense Ministry assured that the weapon which could be seized by militants, not a threat to the international coalition.

On the eve of the General staff of the Armed forces of the Russian Federation said that the Syrian forces, with Russian support, began to prepare a counter-attack on Palmyra. As reported by Lieutenant General Victor Pozniki currently line of defense is in the area of Tias airport and Tifor.
Daria Nabieva
---
Source: http://www.rbc.ru/politics/16/12/2016/58539ed89a794732e673e37f