Home
/
Defence and security
/
/
Events
NATO and Russia: peaceful coexistence or violent confrontations?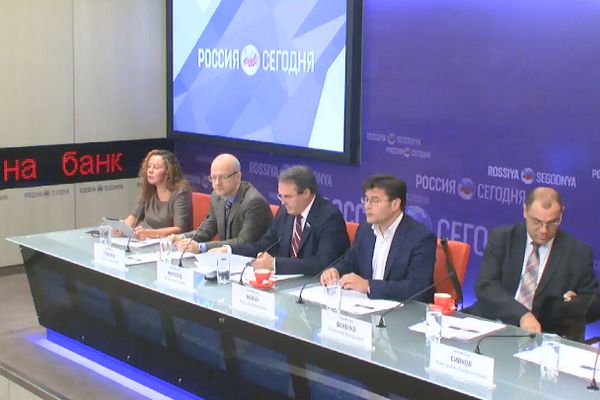 Round table on the topic: "NATO and Russia: peaceful coexistence or violent confrontations?". September 21 on the sidelines of the 71st session of the UN General Assembly, a meeting of Minister of foreign Affairs of the Russian Federation Sergey Lavrov with NATO Secretary General Jens Stoltenberg. The dialogue between Russia and NATO, which would be useful for both parties, not fully resumed until now. Russia continues to wait for written responses to expressed in the July meeting of the Council Russia – NATO proposal.
One of them is concerned with ensuring air safety over the Baltic sea, which involves the flights of military aircraft with the transponders included, and the second meeting of the military experts in the field of air safety. But the information war against Russia, in which the leading role played by NATO, continues to increase as Russia's defense of its national interests and strengthen positions on the world stage. Ex-commander of the combined forces of British General Richard Barrons in a recent interview with The Times said that Russia will be enough for two days for the occupation of Europe. Such allegations can trigger another bout of war hysteria, with the deployment of new military contingents of the Alliance close to Russian borders.

Than today, except for the rhetoric, boasts of NATO? Why the Europeans once again took the initiative to create their own army? How to transform NATO's strategic concept in recent years? Is it possible a productive dialogue between NATO and Russia? To these and other questions have tried to answer the authors of the report "NATO: capabilities and intentions" prepared by the Center for political information, which will be presented at the round table.

The event was attended by:
— member of the Federation Council Committee on international Affairs Igor MOROZOV;
— General Director of the Center for political information, the report's author Alexey MUKHIN;
— General Director of the Center for strategic assessments and forecasts, the report's author Sergei GRINYAEV;
— corresponding member of the Russian Academy of rocket and artillery Sciences Konstantin SIVKOV;
— associate Professor of international security faculty of world politics of Moscow state University. M. V. Lomonosova Alexey FENENKO.
---
Source: http://pressmia.ru/pressclub/20160927/951235933.html