Home
/
Defence and security
/
/
Recommended
The Russo-Japanese war of 1904-1905.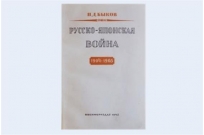 The book provides a brief description of the events preceding the Russo-Japanese war, and preparing for one of the parties. The main focus in the book is given to the description of military action at sea during the period of the war, the siege of Port Arthur and the transition of the 2nd Pacific squadron to the far East.
In the conclusion of the book the author gives a brief outline of the naval weapons and naval tactics of the warring parties and shows in what direction after the Russo-Japanese war went the further development of naval technology and naval warfare.
Author: P. D. Bulls
Title: the Russo-Japanese war of 1904-1905 action of the sea.
Publisher: naval publishing house of nkvmf of USSR
Year: 1942