Home
/
Defence and security
/
/
Articles
The U.S. released a new national security strategy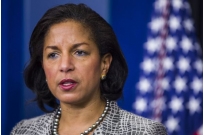 The United States unveiled a new concept of national security strategy. The document reiterates the need for US leadership in ensuring that the rules of world order and global mobilization for a number of security fronts, including stopping Russian "aggression".
U.S. President Barack Obama said that the United States "to lead the international coalition to counter the acute problems associated with aggression, terrorism and disease".
Obama said that Washington is "in lockstep with our European allies" and "conducts stringent sanctions against Russia, associated with deterrence of aggression" in response to the Kremlin's actions in Ukraine.
In concept, containing a plan of foreign policy priorities Obama mentioned a number of other risks, including nuclear proliferation, Islamic terrorism and "destructive" cyberattacks.
The document is 29 pages circulated by the press service of the White house. The new concept will represent the assistant to the President for national security Susan rice, who will speak at the Brookings Institution in Washington with the report on this subject.
---
Source: http://www.svoboda.org/content/article/26833933.html