Home
/
Defence and security
/
/
Articles
The third shock wave: what will be the next phase of the conflict in Ukraine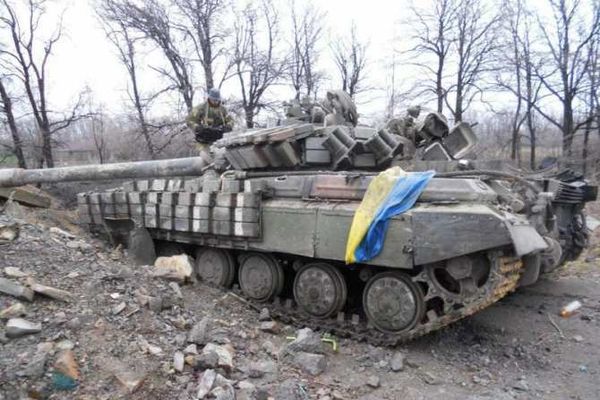 The escalation of the conflict in the south-east of Ukraine, the return of heavy weapons to the line of contact between the parties increase the likelihood of a resumption of hostilities in the territory of Donbas.
So say military experts, talking about it in the conduct of the self-proclaimed People's Republic of Donetsk.
Chairman of the National Council of DNI Andrew Purgin noted that increased the number of attacks with heavy weapons, the day comes around 60 clashes.
"To Lenta.ru" I wondered what could be the third wave of military action, based on the current front-line operational environment and the location of the opposing forces.
War of symbols
After front fixing according to the second Minsk agreements Armed forces of Ukraine (VSU) have carefully strengthened the positions, especially on those sites where expect offensive actions from armed forces of Novorossii (VSN). Marks of these directions nevertheless were defined by not so much really military expectations, how many politically. And the part of this "policy" has been based on semimystical representations which command VSU and has inspired itself, being on one frequency of thinking with the political country leaders and a tonality of mass-media. For example, it is superfluous (PILLBOX) the area adjoining to the Donetsk airport, village especially Sand and settlement Spartak though VSN only once has tried to pass in counterattack on this site is oversaturated by long-term weapon emplacements and that is casual - as have found out strengthenings in the geographically very difficult located settlement. But Sand do not represent any strategic interest for VSN. Another matter that the area of the Donetsk airport has turned for a long time for Kiev in political fetish, to an element of propagation and geroizatsii wars with all documentary both feature films about "cyborgs" and other tools of a controllable hysteria of a society.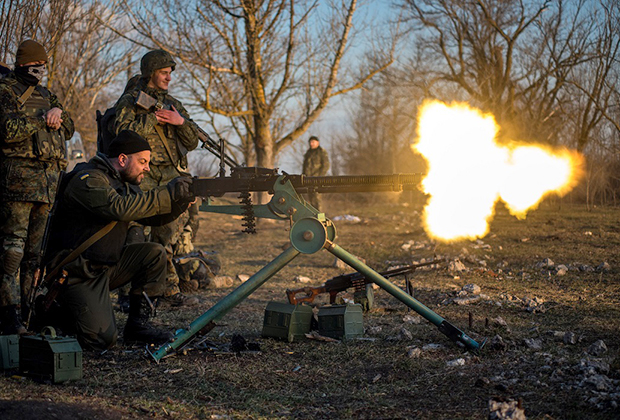 Fighters of the Ukrainian regiment "Azov" near Mariupol
Photo: James Sprankle / Global Look
Something similar has occurred on other excessively "politized" sector of the front - Mariupol. To initially nobody the necessary village Shirokino has turned almost to a symbol of all «struggle against aggression». If to look from the east at Mariupol it is visible that before Shirokino the ridge - an ideal position for fire control over territory rises low kurgannaja below up to the Mariupol. And here Shirokino in such geographical environment is the self-destructive position, simply one of set of neutral villages of a front zone. VSN were not going to come there at all and formed a fist considerably to the north, at settlement Sartana, without wishing to storm a city in a forehead on coastal highway. But Shirokino from giving of the Kiev mass-media has found a proud rank «last settlement on a way to Mariupol», and here still president Poroshenko has inopportunely promised money for each taken village. As a result of Shirokino became object of constant attacks of a battalion "Azov" which eventually and have led to that in senseless fight for it forces VSN were involved also.
Thus monstrous forces and means are spent by Kiev for strengthening of defence of Mariupol in a coastal direction - to the most unpromising from the point of view of approach.
Have borrowed
From two defeats the successively Kiev command has not taken any special strategic lessons. Refer to geographical features of region - say, in existing realities speech can go exclusively about strategic coverage of Donetsk city agglomeration from the north and the south. For this purpose VSU it is necessary to cut communications with Lugansk and to leave to the Russian border through Amvrosievku. It is the unique strategic plan developed by the Joint Staff of Ukraine.
In practice it is drawing of two converging blows from areas Volnovahi (south) and Avdeevki through Gorlovka (north). For this purpose also it was necessary «debaltsevsky a ledge» in the north. Now launching sites are much worse, than in November of last year as the front is rejected considerably to the north. But two basic groupings VSU are concentrated on these sites.
The third is generated to the West from Donetsk, and she has tried to go over to the offensive from Marinki directly on a city. Earlier such attempt was undertaken also by grouping in Sand with a problem to reject VSN somewhere on 2-2,5 kilometres, that is practically in city boundaries of Donetsk. To come from the western direction directly to Donetsk - suicide, therefore hardly fight for Marinku can be regarded as the certain planned military operation. Most likely, it was developing attack which has turned to a meat grinder as it often happens in the war when events start to develop independently and initial plan forget already through a pair of clocks of contact fight.
The tactical reception applied VSU, is entirely borrowed from absolutely recent tactics VSN. On the one hand, the Ukrainian party like would grow in the face of - adds to the arsenal methods of the opponent. But on the other hand, this purely tactical loan testifies to qualitative growth serzhantskogo structure and younger officers that is absolutely normal for such wars. They operated on a minor sector of the front, without coordination with the basic forces, without support and investigation. And it already a question to the senior officers who have not adjusted till now coordination and communication system. The main achievement of their administrative genius - creation of new number motor-shooting brigades of incomplete structure, without armour enough.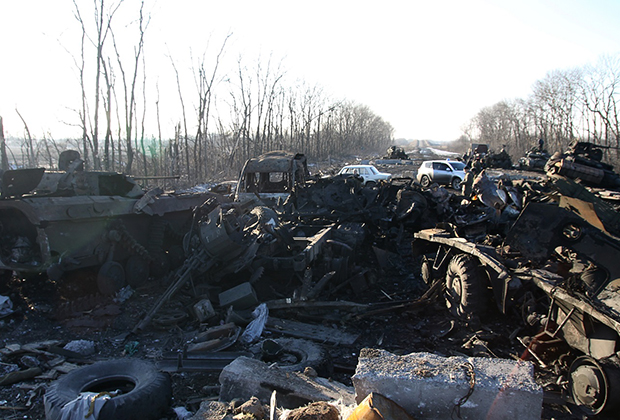 The broken armour under Debaltsevo
Photo: Sergey Averin / RIA Novosti news agency
Tactical schemes are reduced to carrying out of developing attack, near contact fight by forces of 1-2 company groups. When the basic positions of the opponent and its number come to light, the massed artillery attack is put. In the formed zones of rupture of defensive lines small tactical groups which, co-ordinating the actions with the advanced forces of approach force the way, attack the opponent already from back. This scheme some times worked at VSU, at VSN - practically always. Has partly put here in a lack of anti-tank means and frankly bad condition of the Ukrainian armour. Even the local attack VSN supported by tanks, broke through front. Ukrainians use both in defence, and in approach podkalibernye shells "Mango" while at the disposal of VSN there are much more modern shots. At VSU categorically there are no even those systems of anti-tank fire which, apparently, should be at them available, for example "Bassoons". As a result in armour collisions the Ukrainian parts practically always lose, except for single instances of tank duels when can work and accident or, say, quality of dynamic protection on the concrete tank. Level of preparation of crews is a separate conversation.
The reservation is strong
Absence of armoured support - scourge VSU. On break of positions at Logvinovo, for example, in "cover" closing debaltsevskogo a copper, VSU have sent 5 tanks against 20 at VSN. Clearly, in what it has resulted on open district. To spend real offensive actions VSU now simply not can, but will spend - for political reasons. Thus there are attempts to give out purely defensive tactics for the offensive. For example, «the defence labyrinth» - exclusively effective in city conditions the scheme of construction of the fighting tactical groups, considering an arrangement of houses, cannot be applied in offensive usages. Namely it also have tried to make VSU in Marinke.
If to assume that fight for Marinku was tactical investigation then it though is somehow justified. But about street quarters it is necessary to reach somehow still, and all offensive strategy VSU is under construction on movement on enough open district: on steppe from Volnovahi through Dokuchaevsk on Starobeshevo. On purpose «to clear away road» area Dokuchaevska is exposed to the daily bombardments disturbing, but useless. The Ukrainian party has passed to formation strengthened batalonnyh groups that from it was demanded by the Joint Staff even last winter. But then administrative reform has degenerated only in formal creation batalonnogo commands while at the front real batalonnyh groups were not. Fighting usages broke at the best by a company principle, and even on branches which buried in the, if one may say so, PILLBOXES, and in practice - clay blindages.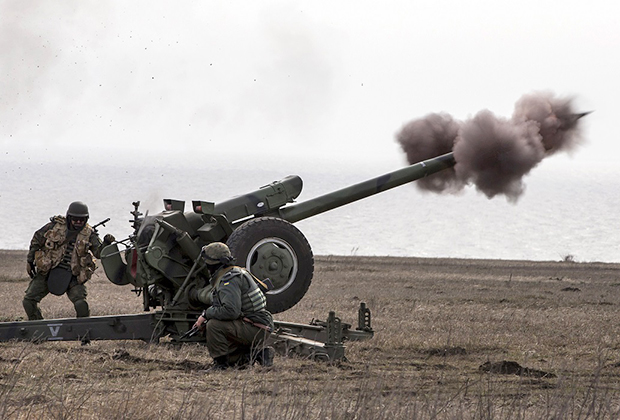 The Ukrainian artillery fires near Mariupol
Photo: Marko Djurica / Reuters
It is especially sad this practice has affected in Uglegorsk and other occupied groups inside debaltsevskogo a copper. Huge grouping VSU to local measures has completely lost controllability as it was scattered under "numbers" at times even without communication with neighbours. Tactical groups VSN at all did not storm these "numbers", bypassing them.
But if on open space of steppe (at Volnovahi, for example) this sort of dissociation of coming groups yet so is terrible, on northern fase at Avdeevki a situation absolutely other. There the basic phase of approach is necessary just on city agglomeration of different degree of a saturation where VSU by itself will break up to small groups. Sometimes such tactics works - if these tactical groups all the same large (till 30-40 the person), at them are the adequate anti-tank weapon, they know district and are capable to realise the problem set for them. They independently move before front, finding ukreprajony the opponent and attacking them, destroying armour. Then in this area some tanks which cover ukreprajon are brought on distance of an aim shot, and in a gap pass already front forces.
Analysis on shots
If to leave behind brackets technical equipment VSU, the basic problem of Kiev - shots. All described above - result of activity of the Kiev generals. Proceeding from a real parity of forces, they have counted exclusively on artillery. Some time it brought success as suppress a gun-fire at the initial stage of war of force of a home guard were unable. Refusal of contact fight in favour of artillery was if to look from Kiev, logical, but absolutely absurd from the political point of view. The big destructions of an infrastructure and a victim among civilians only increased number of a home guard and raised war "degree" that was not compensated by tactical successes like capture of Slavyansk. In due course artillery advantage has disappeared, but the habit has remained.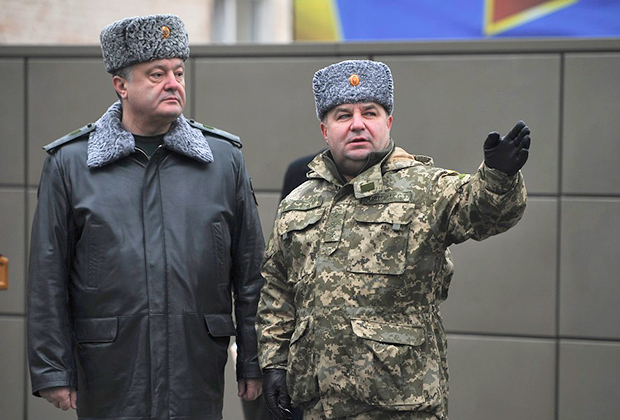 The president of Ukraine Peter Poroshenko and Minister of Defence Stepan Poltorak
Photo: Andrew Kravchenko / AP
Representation about logistics is absent absolutely. Yes, in old textbooks it is written that the front should be supported forces of air defence. But what for near Donetsk of air defence? However VSU persistently hold at the front the quantity of heavy systems of air defence put under textbooks on kilometre of front which there not only basically are not necessary, but also regularly become targets for diversionary groups VSN. Ukraine loses the expensive technics, and completions of losses in the foreseeable future is not expected. Almost all front means of radio-electronic struggle that does VSU on a huge sector of the front simply "naked" for radio-electronic diversions and prowhispers are already lost.
Number posts have ceased to play for a long time already the role and have turned to usual elements of a configuration of front. Strategic concentration of armies on two-three directions is too obvious not to understand an approach plan. And the Joint Staff of Ukraine goes by the way of escalating of number of armies, leading up it to indecent figures. However without correct tactical distribution of resources and putting in order of tactical training of younger officers all it is useless.
Evgenie Krutikov
---