Home
/
Defence and security
/
/
Articles
Turkey, fight for Diyarbakir: dozen of knives in a back to Erdogan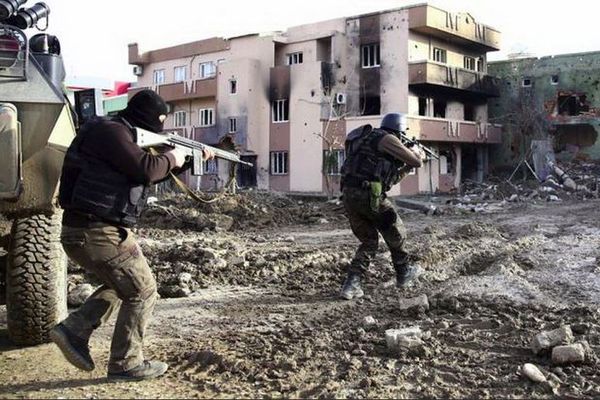 Diyarbakir is the military base of the Turkish Air Force, major for all southern direction. From a place where right now there is a fight, to the airfield runway – five kilometers!
Zavarushka in a city with the name difficult to pronounce Diyarbakir in the south of Turkey, arranged in 120 kilometres from the Syrian border, is of great importance than simply next military-police operation of Turkish armed forces against the next 100-th revolt of Kurdish rebels.
These battles for Turkey have not local, local, police, and obviously strategic value. Diyarbakir - the largest knot of military activity and a disposition of the Turkish forces, the base of military aircraft largest in Turkey. Certainly, destabilization of such region strongly prevents to put to plans of Ankara pressure upon adjacent Syria: it is difficult to plan intrusions when at you at most in back war begins.
It almost crash, or, at least, essential difficulty on a way of the conceived transformation of Turkey to regional empire, sovereignty plans over adjoining region of the Near East.
These events cannot be understood and correctly to estimate out of general context of the big regional war which appreciably has arisen on fault and as a result efforts of Turkey. Now we see as this war comes back to it, and beats her in the heart, under its most sensitive plans.
Thus about a role of Turkey in a swing of the Syrian conflict have seriously started talking only recently. By the right of the author who in detail investigated a key role of Turkey in firing of the Syrian conflict still five years ago when the conflict only began, has depicted the purposes, plans and the basic military efforts of Turkey in region, and has assumed then, on the basis of this investigation that soon we will see wide and direct military intervention of Turkey in the Syrian conflict that it only a matter of time that such plans exist also all necessary decisions are accepted, I will dare to make new assumptions.
Some time could seem that the forecast it comes true not to the full, but it was only tactical delay of inevitable and considerable events. It has been enclosed forces that so it was simply possible to refuse the put imperial purposes too much and to replace a political policy with submission new osmanskomu to a yoke former southern podbrjushja great Omansky empire.
In brief, in 2011 was obviously following: plans of displacement of a management of Syria have arisen at all at the moment of the conflict beginning in 2011, and much earlier, at least in 2003. Then «the Libyan variant» - partial disarmament in exchange for «loyalty and friendship» the West has been offered Syrian Arab Republic. Syria, unlike Kaddafi, has refused this plan. Then the Congress of the USA has accepted «the Bill about responsibility of Syria» («Syria Accountability Act») according to which the US president has acquired the right to enter against Damascus sanctions at own discretion. Otmashka has been given and then, in 2003, special services of the USA and Turkey were engaged in methodical preparation of operative positions for a change of power in this country. The mentioned Diyarbakir at that time was considered only as bridgehead Turkish armies for carrying out of operations in adjacent territory, and a place of a disposition of the large military-police forces ready to intrusion on adjacent territories.
Key role in a preparation for an operation of a change of power Syria was played not by Americans (which were engaged in Iraq more), namely Turks. Directly activity against Syria was co-ordinated by investigation of Turkey (MIT), and is even more concrete - its operative department, and Military investigation of the Joint Staff of Turkey - GID. Officers GID have been implemented in a railroad train of subversive groups of mercenaries and autonomous groups which since 2011 prepared for battle work in territory of Syria.
Under cover of these special services in 2011 2012 redeployment of the mercenaries who have carried out earlier the mission in Libya through Turkish port Iskenderun and the air-force base largest in region of Indzhirlik («Adana-Incirlik Airbase») on adjacent territory with Syria has been conducted. At the first stage of this operation of force of mercenaries should grasp bridgehead in mountain-woody district on border of Turkey and Syria, having created «the released territory», a buffer zone in northern Syria on a line to the south of Turkish frontier highway Kilis-Urfa-Mardin. The given task should be carried out forces of subversive groups the unit from which constantly is in territory of Syria, and the unit had training preparation in frontier camps, including around settlements Kilis, Harran and Akarsu.
All these calculations and forecasts of the further actions Turkey made still in 2011 completely have proved to be true. War has been untied and has begun to live own life, involving in the circulation of death millions people.
Since this forecast were much more obviously designated distinction in positions of the USA and Turkey on a Kurdish question. But if for the USA Kurds are only a cabal question, and their position can change, for Turkey «the final decision of a Kurdish question» - is possible, how they have solved a question Armenian, is today a basic basis of preserving of their state status as steady regional power.
Unfortunately, the Russian diplomacy was not kept on a true track gradual vkolachivanija a reliable Kurdish wedge between the purposes osmanskoj and the American policy in region, and, after incident with military plane have rolled down to a line of a sharp deterioration of relations with Turkey. It is thus obvious that the United States which have had an opportunity again to offer of Turkish republic «a safety umbrella» became the unique party which has politically won from rupture of relations of Turkey and Moscow. Probably, with that end in view all also has been played.
But not only Turkey and the USA form today a geopolitical reality in region There there are also other players having the purposes and interests. And, except the Arabian players, it, undoubtedly, Iran and Russia.
Diyarbakir is the major for all southern direction military base of the Turkish Air Forces where the headquarters of the Second tactical command of the Air Forces of Turkey is based, multi-purpose planes F-16 and army helicopter aviagroup, not including land forces are placed. From region of an old fortress of Sur where right now there is a rifle battle with artillery application, to an airdrome runway - five kilometres! It - already in range capability limits modern nosimyh surface-to-air missile systems. Imagine rifle battle on border of our air base in Engels, and you will understand scale of a problem for Turkey. No doubt, it is a problem of Turkey someone has created, but who?
To understand how much seriously participation of external sponsors in these events, it is possible to estimate involved by opponents of imperial plans of Turkey the budget, for example, attentively to look here at this news:
«On February, 6th, 2016 in the centre of Diyarbakir two thousand women which oppose battle of army with representatives of Kurds have collected. They have arrived to« capital of Kurds »from the different ends of Turkey - from Istanbul, Ankara and other cities. On meeting slogans« the World sound! Negotiations! "And" long live resistance Sura! ». Collision of the governmental army and Kurdish rebels in full blast, and battle goes in two kilometres from meeting. The volley fire does not frighten active workers, and they continue the procession».
Thus to Ankara one thousand kilometres of mountain roads, and to Istanbul - one and a half. The organisation of such meeting, in itself, without events accompanying it costs about a half-million of dollars and if to understand, what to create such facts of a policy it is necessary under supervision and within the limits of working counteraction to special services - that in times more. If on subsidiary and single events, in frameworks of "the tactical plan of information support of military efforts» there are such sums it is easy to present the general budget observed by us since November, 2015 of revolt of Kurds in Diyarbakir.
Vital issue is the one who pays for all this magnificence. At the moment only Syria, Iran and Russia can be the candidate for a role of the sponsor. However, hardly Russia will be scorched so openly as Turkish special services were substituted, almost openly acting in 90-years in the Chechen Republic and financing there insurgents. Turkey equates Kurdish resistance to terrorism, and, certainly, it is very sensitive question, whether on which we a number will find the answer even in memoirs of scouts. Therefore the figure of default and presumable character of these conclusions will remain still time is rather long. But all cards on a table and players are known. And at whom the as here sticks out of a sleeve - solve.
Also it is essential that since 2015 the base "Diyarbakir", along with military base of the USA "Adana-Indzherlik", is the American operation largest in logistics against IGIL, and as a whole in region. The American helicopters HH-60 «Pave Hawk» together with staff there are based and the air passage on which there arrive heavy transport Gerkulesy HC-130 is created.
Earlier this base of the Air Forces was considered as the NATO advanced post in restraint of Soviet Union on southern boundaries, therefore for expansion of forces - up to forces of nuclear restraint - there all is ready, enough only to shake a dust from old schemes. Formally the base has been transferred Turkey in 1997, but the equipment unit there continued to work in interests of investigation of the USA. In documents of the NATO the base also carries nazyvaniem «Pirinçlik AB», by name settlement in 30 kilometres in the West from air base where there are important components of this equipment.
According to the same NATO, on base sensitive electronic prospecting systems and means of tracking of the NATO behind region of the Near East, caucasus and Russia », including a radar, capable to control near space and rocket activity that is a unit of American system NORAD, monitorjashchej a space in military and other purposes have been developed«. The sphere of responsibility of the given military system of the NATO includes, for example, rocket starts of Russia from range Kapustin Jar in interests of the Ministry of Defence of the Russian Federation. The aerial of one of a radar working there is fixed, and range of a covering of this strategic radar over four thousand kilometres is constantly directed towards territories of Soviet Union. He looked at the USSR from the south, and the second the same type - with Alaska. Jointly they saw «almost all».
And here in kilometres from all this good - rifle battle.
As a whole events in Diyarbakir bear a strong resemblance to the scenario of the beginning of the same conflict in Syria: the large city-milionnik with the disloyal central authorities the population is gradually retracted in resolute military opposition to a mode. There all is serious, and increases. So, the first barricades in a city which prevented to pass to police machines in the regions controlled by rebels have appeared still three months ago. In a city just as in the region of Damascus occupied with earlier Islamic insurgents Dzhobar, gradually arises the developed system of underground communications and the courses, allowing as months to work even under artillery blows.
I think that we only at the very beginning of events. Even if revolt in Diyarbakir now will manage to be knocked down, in itself this «the underground fire» will not go out. Imperial plans of Turkey in region have entered the rigid and long contradiction with plans of other players, and Turkey now receives the natural and symmetric answer for the aggressive actions in Syria. Having conceived to unleash war in adjacent territory Turkey regularly receives war on the.
As to «the general forecast of a situation» that it is necessary to tell the following. The ancient name of Diyarbakir - Amida, the name not less ancient, than Damascus and Constantinople, a city which for last three millenia saw the power of Assyria, Persia, Alexander the Great, Rome, Byzantium, hettov, seldzhukov, osmanli Turks, here reached Scythians and crusaders, Mongols from the Cupid and Timur's soldiers reached.
Only in the XX-th century beginning Christian population earlier prevailing there therefrom has been expelled. As a whole, the triangle of the cities of Amida, Urfa (bible Ur), Mardin is a region adjoining the most ancient way from Persia to Byzantium on a valley of Harran known since Assyria and Babylon. To written mentions of names of these places in klinopisnyh texts about five thousand years, and to the drawings found there and stone ruins of a temple of the Sun - 11 thousand.
Harran was a part of Ottoman empire only in 16 century, at the time of Sulejmana Magnificent, and since then remains a flashpoint for all governors of this country. Digression to so long history is undertaken only for the only purpose: it is not necessary to count that so hot region - and as a whole the Near East - to calm down and upokoitsja in the world throughout foreseeable from a threshold of our short life of the period of time. War without interruption there proceeds already thousand years, and we do not have any chances to see its termination. And any world there - only time armistice, time «to collect stones».
And us many strange stories from this genuine, and still wait to this day for a hot cradle of mankind.
Boris Borisov
---
Source: <http://jpgazeta.ru/turtsiya-bitva-za-diyarbakyir-dyuzhina-nozhey-v-spinu-erdoganu/>