Home
/
Defence and security
/
/
Articles
Threats of the prime minister of Turkey to repay "a historical debt" push to war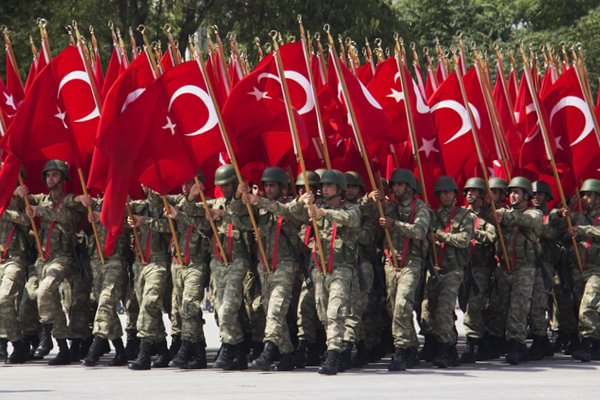 The prime minister of Turkey Ahmet Davutoglu declared that his country intends to protect the Syrian Aleppo. Probably, from Russia, in any way not from dzhikhadist. Ideological justification of big war is available, and the army of Turkey lets know that is quite ready to it. Russia is going to answer, the certificate to they are large-scale re-deployments of military in the south.
«We will repay our historical debt. Once (during the First World War) our brothers from Aleppo defended our cities - Shanlyurfa, Gaziantep, Kahramanmarash, now we will defend heroic Aleppo. Behind the back of its defenders all Turkey», - transfers RIA Novosti news agency the statement of Davutoglu which have acted at session of parliamentary fraction of party in office of justice and development. At this Davutoglu again has charged VKS Russia of bombings of the peace population at which continuation, as he said, to Turkey there can arrive 70 thousand new refugees.
«In a reality there is no communication between the modern population of region Aleppo and remote osmanskoj suburb of the beginning of the last century in which Turkish officials banished for bribes and homosexuality»
Level of the Antirussian rhetoric in a management of Turkey has already crossed that critical level which direct actions should follow. The statement of Dauvutoglu is remarkable and it is dangerous just because in a Turkish society it will be apprehended (and is already apprehended) as a basis for intrusion into Syria, based on "obligation" of the Turkish people. Though when these events occurred, the Turkish people upon did not exist yet. It is a question about geroizatsii very small period in the history of modern Turkey (not historical Ottoman empire) when Ataturk and its associates created the Turkish state and Turkish ethnos.
Let's begin with Kahramanmarasha. Based in the heart of centuries hettami, the blossoming this city has reached at the time of board of crusaders, in the ambassador of capture by osmanli Turks in XVI century gradually fell into decay. But during time «wars for independence of Turkey» in 1919-22 not far from an old city of Marash Turkish troops have broken the French-Armenian legion. Soon in Paris there was a change of political priorities, and already proclaimed in territory controlled by the Armenian legion the independent State Cilicia remains without military support and has been routed by Turks.
In 70th years the theme of Turkish nationalism and forming of the uniform Turkish nation in which is not present either the osmanli Turk, or the Kurd, either the Circassian, or a manhole, either the Armenian, or the Greek, became again dominating. Ankara was accepted geroizirovat events of 1919-22. In 1973 the city name has been solemnly changed to a pique of this campaign: to it have added word Kahraman - "hero" (it is said "kaaraman").
The same history has happened with not less ancient hurritskim the city of Urfa, in which ambassador of departure of the ex-Armenian forces all 35-thousand Armenian population has been cut out by "liberation Turkish troops». In 70th years to the city name the word "nice" has been added and now it is called as Shanlyurfa.
With Gaziantep is still easier. Turkish (osmanskogo) this city had no name never, and was called on-kurdski Dylok, and on-armjanski Ajntep. In 1915 the Armenian population has been deported in nowadays Syrian Dejr-az-Zor. But after exemption by the French troops and declaration of independence of Cilicia many Armenians have returned back. In 1920 Turks have beaten off a city at Frenchmen, but Armenian fidainy resisted till February, 1921. After definitive departure of Frenchmen the Armenian population taught by bitter experience, arrival a Turk did not begin to wait and is emigrated to Syria, Lebanon, the USA and the Armenian Soviet Socialist Republic. And at once Ataturk's decision to a city had been appropriated a title "gazi" - "brave". And the title has been attached to slightly osmanizirovannomu to the Armenian name.
On the party mladoturetskogo the governments in Cilicia actively participated in these military operations and acts of violence Turks-osmanli Turks (present turkomany) and the Kurds living in then still a Turkish province of Aleppo. Here about what «historical debt» to «inhabitants of Aleppo» Turkish prime minister Davutoglu spoke.
On this base the official historical heroic of modern Turkey is under construction. Greek-Turkish war, «struggle against the English-French intervention», «war with the Armenian terrorism» and - a bit later - with «Kurdish separatism». And use of such heroic for rather new states without the real historical past (what Turkey is), - a commonplace for the aggression justification. In a reality there is no communication between the modern population of region Aleppo and remote osmanskoj suburb of the beginning of the last century in which Turkish officials banished for bribes and homosexuality.
Doctor Davutoglu the recognised specialist on such historical constructions. It was, for example, the author of the concept of "cultural returning» Turkey to the Balkans by restoration of a heritage of Ottoman empire in its greatest possible borders on the European continent. During the first period of its work as the Minister for Foreign Affairs of Turkey it carried out this to the policy, being based on historical references and parallels. For example, Ankara financed restoration of monuments of architecture osmanskogo the period. Under the same sauce humanitarian programs in Bosnia, Albania, Kosovo, Bulgaria and even in Serbia moved also.
Another matter that the reference to historical "memory" of Ottoman empire looks strange enough as modern Turkey is constructed on negation osmanskogo heritages. In some Turkish mass-media approve, as Davutoglu ethnically not the osmanli Turk, and the descendant of the Crimean Tatars, than and motivirovano its exaggerated relation to osmanskomu to a heritage. By the way, neither Ataturk, nor the overwhelming majority of the first government which have thought up the modern Turkish nation, had drops osmanskoj no blood.
Obligations on ideological provision new "mladoturetskoj" expansion of Davutoglu has incurred for a long time. As the prime minister it ideologically and historically covers a position of the military men who have been adjusted on the big war. Military men are pushed to it by total defeat close to Turkey dzhihadistskih groupings, enforced to run both from Latakia, and from vicinities of Aleppo. Last days there was about what long spoke: quantitative overweight of the governmental troops of Syria with support Russian VKS at last has passed in the qualitative. Battle tactics, and victories of a steel not only obvious geographically, but also irreparable for the opponent has changed. Now complete rout dzhihadistov under Aleppo is a question of several days.
The general military situation has changed so considerably that for its correction dzhihadistam and to Proturkish forces direct intervention of armed forces of Turkey is required. And for this purpose ideological preparation and propagation already in the Turkey is required. Thus it is necessary to remember that Ankara has experience of complete ignoring of a position of the USA: at all global power Washington regularly faced that simply sent it far away. And not only Turkey which in 1974 in general has broken off any military cooperation with the USA against the conflict to Greece because of Cyprus. Even tiny Iceland which does not have own army, regularly entered conflicts to all around because of «treskovyh wars», and any Washington influences their opinion could not.
Doctor Davutoglu in an armchair of the prime minister - the main ideologist osmanskogo imperialism in that kind in which we it still never saw. Ataturk created the Turkish state not for restoration of empire or halifata, it has spent some years for destruction of the status of the Caliph, without applying violence to latest of them. Now the world has appeared on the verge of the big war exclusively because of phantom pains of a unit of the Turkish elite dreaming of restoration of old empire.
It is necessary to react. In troops of Southern military district there is begun check. 40 units VKS are relocated on southern airdromes. The Caspian flotilla with its "Calibres" is completely loaded and has put to sea. Some landing crews are relocated on earlier it unknown airdromes. The raised readiness is declared on all military bases in Russia, Abkhazia, South Ossetia and Armenia. God will give, will carry by.
Evgenie Krutikov
---