Home
/
Defence and security
/
/
Articles
In Central Asia, Tehran, Moscow is not a friend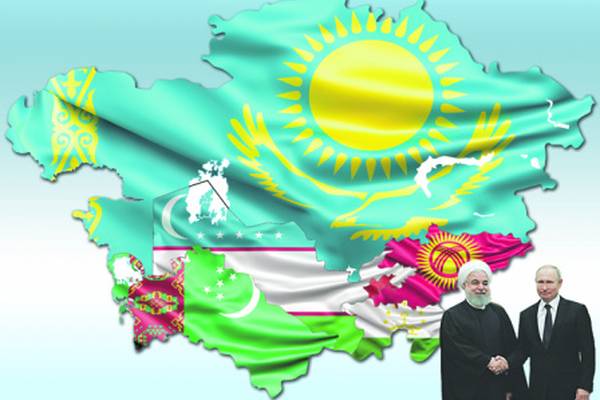 Russia sees no need for partnership with Iran in the region.
Never happened, and here again, Tehran has formulated another claim against Moscow. Moreover, this claim of the most unpleasant – to publicly and officially about her out loud not talking, she is called, for internal use. Like not too noticeable, but the atmosphere of bilateral relations poisons quite a high quality. "Moscow does not want development of partnership relations with Tehran in Central Asia, is convinced of Iranian politicians and experts. And this is another evidence of unfriendly from the Russian side to our relationship."
This year will mark 18 years since the then head of the Iranian diplomacy Kamal Kharrazi declared Central Asia a priority in Tehran's foreign policy, but something went wrong. And to date, Iran not only failed to substantially expand its economic and political presence here, he will lose even those positions that have gained by the end of 10 years of this century.
The theme of "Iran and its relations with Central Asian States in the twenty-first century", full of intrigue, dramatic turns and episodes, whether worthy crime novel, or spy Thriller, not so much in one article in a weighty monograph to reveal difficult. But one thing we can say with certainty: the problems of Tehran in the post-Soviet States of Central Asia, Moscow has no direct relationship. Without the "hand of the Kremlin" there are enough other good reasons because of which Iran and its attempts to become one of the system players in the region still "lost link", without a clearly defined status in the local economic and political landscape.
When geopolitics gets the geography and the economy
Special piquancy of the situation with the restlessness of Tehran in Central Asia by the fact that from the point of view of geography, Iran is in such States of the region, as Kazakhstan and Uzbekistan, is absolutely essential. At least for access to "warm seas", and hence new markets.
That's why projects of all kinds of "multimodal corridors" of Iranian participation on such a scale with involvement of India, Afghanistan, Turkey, so numerous, so popular – and equally realistic enough.
Geopolitics – the position of Washington on the Iranian presence in Central Asia and Afghanistan, as well as increasing competition in the region, China and India, well, in any case, imagine a situation in new Delhi- hit backhand and sends a knockout economy and geography of those initiatives repeatedly performs Tehran. And even if we manage to reach practical implementation, the turnover of commodity flows at the end points of all these corridors is more than modest.
With other sectors "Central Asian economic case" Iran, the situation is equally sad. The Iranian goods, came to Central Asia in the late 90-ies of the last century, expected not compete with what is offered and offers China.
Hydro - electricity, minerals, industrial processing, agriculture, textiles and car production – any of these projects in Iran for the region is faced with the same insurmountable obstacles – US sanctions and, most importantly, the presence of more lucrative offers from other trading partners, the same Beijing, and now Ankara and new Delhi.
That is, there is no need of some "unfriendly policy" from Moscow – geopolitics and its impact on Iran's economy hinder the expansion of its presence in the region quite efficiently and without involvement of other external players. Especially in Central Asia, Tehran has enough detractors and "local", that is, frames.
The scandals, intrigues and lack of interest
The foreign policy of Dushanbe are often treated condescendingly and with considerable irony, but justifiably so – without any frills, it is performed with a clear financial component. However, the Tajik authorities have managed to strike a serious blow to Tehran's presence in the region. Moreover, Dushanbe was so convincing in his attack on Iran that his reasons neighbors reacted with a sufficient degree of understanding.
In the short term, the President Emomali Rahmon and his entourage actually swept the Iranians, accusing them of all mortal sins – from the preparation of a coup to planning targeted killings of leading politicians and the financing of terrorist groups. It is quite obvious that most of these allegations are "sewn with white thread", that is clearly present Saudi trail. No wonder that after the Ambassador of Riyadh in Tajikistan Abdulaziz bin Mohammed al-Badi proudly told reporters that "the expulsion of Iran and its agents from the country (Tajikistan) – a big win for the Kingdom of Saudi Arabia and its wise leadership."
It is equally obvious economic spoils of this operation is inherited by the ruling regime, but it is not so important. The main thing is that for everyone else has become clear that Iran "missed" the shock and its influence in the country, with whom relations in Tehran was presented as a model of successful policy in Central Asia, was actually minimal.
Such nuances in the East are very carefully. And the row between Dushanbe and Tehran served as a major impetus for other Central Asian capitals to revise their plans for the "Iranian way". Especially since coming to power in Iran Hassan Rouhani the interest of Tehran to the region began to decline rapidly, down to date, almost no. Despite the fact that a similar decline occurred in trade, figures which constantly raise the question of whether he has any potential at least some growth.
The parties are yet to make optimistic statements, talking about some prospects, but you understand that it is a formal politeness, as a diplomat put in any situation of having a cheerful and spirited – that the reality of joint economic projects is not encouraging.
Woe to the loser
Yes, and whether there are these collaborative projects? With Tajikistan, in General, it is clear from Dushanbe now other friends in Arabia. Relations with Bishkek has always largely political in nature, the economy's very difficult.
With Ashgabat Tehran went wrong, the gas issue, which has repeatedly said messed up. Tashkent's relations with Iran is only interested in a fairly narrow segment, the issue of the Afghan settlement, the most important for Shavkat Mirziyoyev, the question of modernization of the country – the Iranian part it is not visible, because there is no Tehran that Tashkent would not be able to receive the best price and on more favorable terms.
Looks more real expansion of Kazakh grain exports to Iran, as well as oil swaps, but again still the same geopolitics and the sanctions... in short, in the fairly scarce "Central Asian case", Iranian diplomacy was nothing left that would cause the post-Soviet States in the region to seek to establish a partnership with him. While ignoring all the emerging political risks and ignoring the "toxicity" of Iran from the point of view of the United States.
And no "the Sheikh of diplomacy" Hassan Rouhani or his "foreign policy guru" Javad Zarif failed for several years to generate attractive for Central Asia project, involving the presence of Tehran as one of the key elements that make it a strong player, not the applicant possibilities. They prefer to Shine and be active in other areas, which captured the attention of the world media, is that Iran is now calculated.
Against this background, how should look like the joint projects between Moscow and Tehran in a region where one of the parties is not too desirable? Russia needs to persuade Astana, Ashgabat, Bishkek, Dushanbe and Tashkent to accept Tehran as a partner? Or to promote its interests instead of their own? What is the reason?
Something like that could, under certain circumstances, to make Beijing. But here in Tehran went to a "special way". Refusing to participate in the initiative "Belt and road" – the eagles in the wrong sled can't fly, he has focused on cooperation with India and the notorious corridor "South–North". "Well, your right and your choice, decided in Beijing. – A fair wind in the back, a guiding star above the head and success in all endeavors, will be fine without you." And do cope, so much so that the Iranians and their Indian partners in Central Asia it remains only with a slight longing look in the tail is rapidly flying away into the distance without them, Chinese Express...
***
Alloy quite objective reasons and subjective factors, additives which were politics and politicking, intrigue and incompetence, the battle of geopolitics, geography and economy, has led to the fact that in Central Asia, Iran is becoming less and less. And Moscow is not the cause, not Moscow.
No, the region does not become safer. Moreover, it is unlikely that the withdrawal of Tehran, is largely artificial, and therefore unnatural, go to someone local, States and even the foreign players are by and large good. But it's the harsh reality of today. I could not resist, to consolidate and develop its presence – it's your fault. Nobody will pull and is not obliged, thank you, if not push.
It is possible that in the future things will change and natural participation of Iran in the region will be restored. That's just quite obvious that this future is very remote.
Pankratenko I. N.
Source: http://www.ng.ru/courier/2019-03-10/11_7526_partnership.html