Home
/
Defence and security
/
New in the military
/
Recommended
DARPA research program for 2015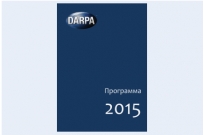 It is regrettable and no one can remain indifferent to the fact of absence in Russia, even congenial counterpart DARPA, or the refusal of its creation.
Awesome is the fact that our recent history does not know examples of the successful establishment of such agencies. Although attempts to create them have been made repeatedly. From 1991 to 2013, the authorities made six attempts to create a governmental structure best technical creativity. Every time on the way initially good and correct words appeared to be insurmountable obstacles. Beautiful motifs are faced with intractable problems. However, despite six experiments to create such an organization of the national government over the past two decades, do not despair. The fact that we have still not managed to create such a beautiful and essential us progressive scientific-technical organization, not the fault of our people.
It is impossible to lower hands. Undoubtedly, in the near future, taking into account the experience of victories and failures, this problem will be solved and will be able to do such an amazing organization, whose achievements are upside down our ideas about our own capabilities.
The seventh attempt is required to be a personal desire from the heart the brightest technology leaders of the future. Will have to think twice, to collect all the right people, and to do so immediately, exactly as it should be.

Ilya Klabukov
---
Source: http://government.fizteh.ru/darpa/Program_darpa2015_ru