Home
/
Defence and security
/
New in the military
/
Recommended
Valery Korovin. `Main military secret of the United States. Network war`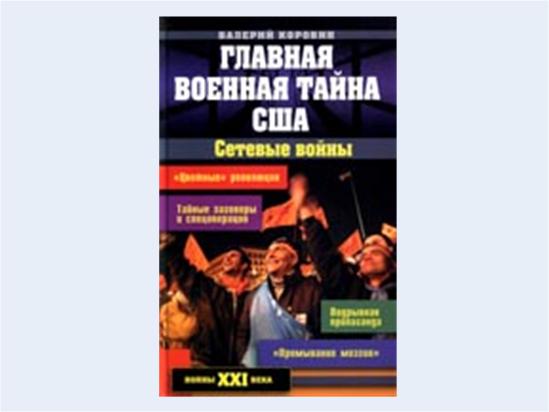 Two and a half thousand years ago a Chinese sage said: "the Supreme art of war is to subdue the enemy without fighting, not even a sword imbrued with blood". Today, the U.S. is closer than ever to achieving that dream, with the new secret weapon and new strategy of conquest mirovoy domination. Talking about the so-called network wars - the last military development of the Pentagon that allows you to win without the use of the armed forces, and thus without any risk to miss a retaliatory strike.
Conspiracies and the RAID, the seizure of information space and the change in public consciousness, ideological Subversion and brainwashing, subversive propaganda and "colored" revolution - this is not a complete Arsenal of network wars, the most dangerous weapon of the XXI century, which is already being used against our country. Because the main aim of the Pentagon, the main obstacle on the way of the American Empire of Evil has always been and remains Russia...
E
that book is the first national study of strategy and tactics of network warfare, exposing the main military secrets of the USA.

Publisher: Yauza, Eksmo
Year: 2009
Pages: 288
ISBN: 978-5-699-34471-0
The book is available in the online store:
1. Barrister
2. Read.ru