Home
/
Defence and security
/
New in the military
/
Articles
Rethinking Vietnam. Some aspects of the use of strike aircraft in Vietnam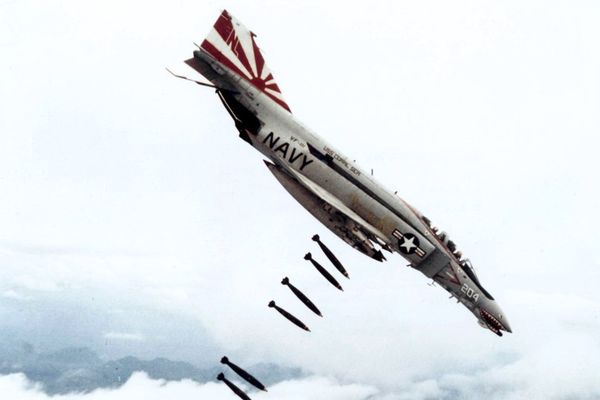 Suffice

forgotten

-

after

closer

to us in time

of war

in Iraq

in 1991

and 2003

, Yugoslavia

in the 1990s

-

is

experience of

aviation

in Vietnam

in the second half

of the 1960s

and early

1970s

.
Concerning that war it is necessary to notice M.Hodarenka's remark in its left in two units in June, 2015 in «the Military-industrial courier» to article about operation Linebacker II in 1972 that «« Christmas bombings »in Vietnam practically have not found 1972 reflexion in works of domestic military analysts» [1].
Article about operations Linebacker II conducted in December, 18-29th, 1972, is mainly devoted the general description of the operation, features of tactics, short reviews of a course of an operation on days and an estimation of influence of operation on the subsequent actions of the contradictory parties on the basis of opinions of experts of the USA resulted in article and the USSR. Despite obvious interest of the concerned in treatment of results of that campaign to own advantage, the author fairly marks a number of the essential moments which yield to adjustment under someone's ideological position a little.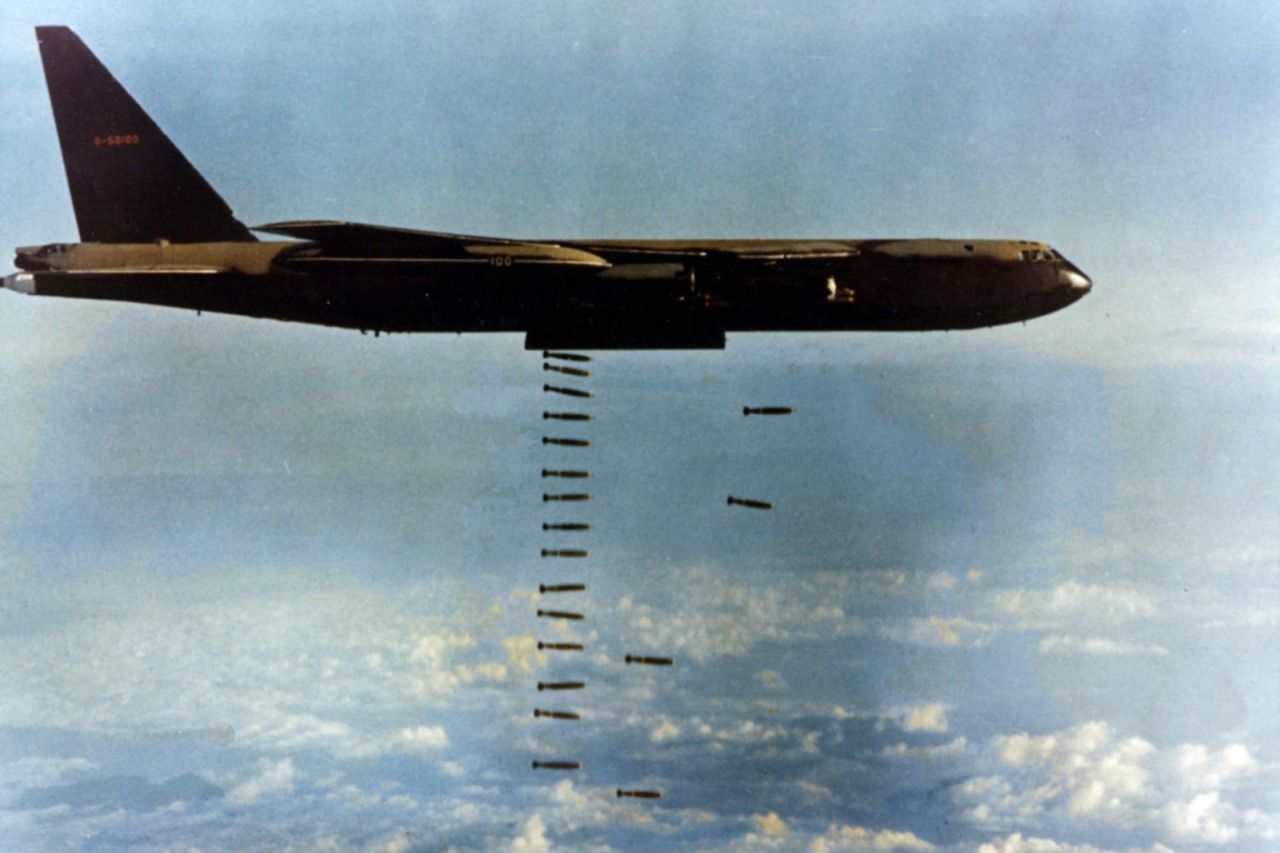 Photo 1. Strategic bombers В-52 were applied in Vietnam as for direct aviasupport of troops at tactical level - compare to the missions which are carried out and carried out by strategic bombers B-1B, in particular, during aviablows now on the purposes in territory, controlled by the Islamic state, - and for drawing of blows on the major objects of Northern Vietnam. To the middle of 1972 more than half of planes of Strategic aviation command of the Air Forces of the USA it has been concentrated in JUVA. On a photo - edge B-52D-60-BO «Old 100», the serial number 55-0100 which have carried out last battle departure on December, 29th, 1972 and which was one of three last B-52, carried out bombing in a course of an operation II. (the Source: http://www.defensemedianetwork.com/)
So, in spite of the fact that in separate days of operation a strategic aviation of the USA has incurred big enough, to own measures, losses (for the third day of operation, on December, 20th, 1972, it has been lost at once 6 "strategists", and for first three days - 9 B-52) - as a whole intensity of raids and their organisation have allowed to reach all the planned purposes in the conditions of counteraction of the Air Forces and ZRK Northern Vietnam and to amaze them with sufficient accuracy, having put an essential damage to military facilities and an infrastructure of Northern Vietnam. In article it is noticed that from six above-stated bombers lost on December, 20th, 1972 only one has been equipped by new onboard complex REB.
In absolute expression nevertheless as a whole losses of aircraft of the USA were not so considerable, especially considering that blows were put on central, to the most important from the military and economic point of view to region of the country, which as specifies M. Hodarenok, was considered at that point in time as region with the strongest and sated with air defence in this region of the world. Considering statistics of self-summers-departures of aircraft of the USA and the data about start-up ZUR by their opponent (even taking into account their possible overestimate), it is difficult to recognise actions of air defence of Northern Vietnam effective and the more so the conclusion resulted in the publication from reports of the Soviet party that «troops of air defence and Air Forces VNA, despite an air supremacy of the American aircraft, application of modern planes by it and means of electronic struggle, together with forces of air defence of a national home guard have forced the USA to refuse continuation of air operation looks doubtful. Its purposes have not been reached» [2]. In view of chronology of a general course of world development at that time, to a reality the point of view about essential influence of this air campaign on compulsion of Northern Vietnam to negotiations in concrete developed then situations looks closer.
The basic striking force within the limits of Linebacker II were strategic bombers B-52. During operation only the Air Forces of the USA 1364 self-summers-departures have been carried out, from them 724 had on B-52 (M.Hodarenok results number 594, thus in its article total number of self-summers-departures - but taking into account a carrier aircraft, - 2814 is resulted, the source is not specified) [3], 140 - on F-111, 274 - on F-4 and 226 - on A-7. Their big unit has been carried out on railway objects - 36 %, and to warehouses - 25 %, signal centres (14 %), objects of power (12 %), air bases (10 %), positions ZRK (2 %) and bridges (1 %) [4] were other purposes.
On August, 12th, 2015 (in Day of the Air Forces of the Russian Federation, by the way) in reply to article in «the Military-industrial courier» critical objections of participants of operations in Vietnam have been published from the USSR (authors - major general A. Blagoderov, colonel A. Malgin, the colonel G.Chislov) which concerned concrete positions of a material of M.Hodarenka. The criticism, however, does not look convincing for some reasons, and more low its separate points will be considered.
However outside of this publication, as well as its criticism, there was a basic estimation of a role of aircraft of Americans in this war and why this role was such. F.Davidson who serving in 1967-1969 by the chief of army investigation of the USA in Vietnam and has written translated at us in the country the book about that war, had no direct relation to the Air Forces of the USA and the more so valuable its certificates and an estimation are represented.
As a whole F.Davidson throughout all narration - and the analysis covers as well the French period of war in Indochina, - constantly underlines the major role of aircraft in provision of actions of Frenchmen and Americans that in general it is clear, considering scales of a battlefield, feature of district and character of operations. Fire support, especially remote garrisons, operative troop transportation, supply, evacuation in those conditions often entirely depended on military aircraft.
Most the bright illustration of that role which was played by military aircraft in that war, represents events of 1972. And not only December - time of carrying out Linebacker II, - but also the period which has begun with the end of March when Northern Vietnam had been gave signal to start to the largest approach on purpose to inflict defeat of army of Southern Vietnam and to Americans, or if such purpose nevertheless is not reached - to improve the positions in territory of Vietnam in the political-military plan and to catch trumps in negotiations from the USA.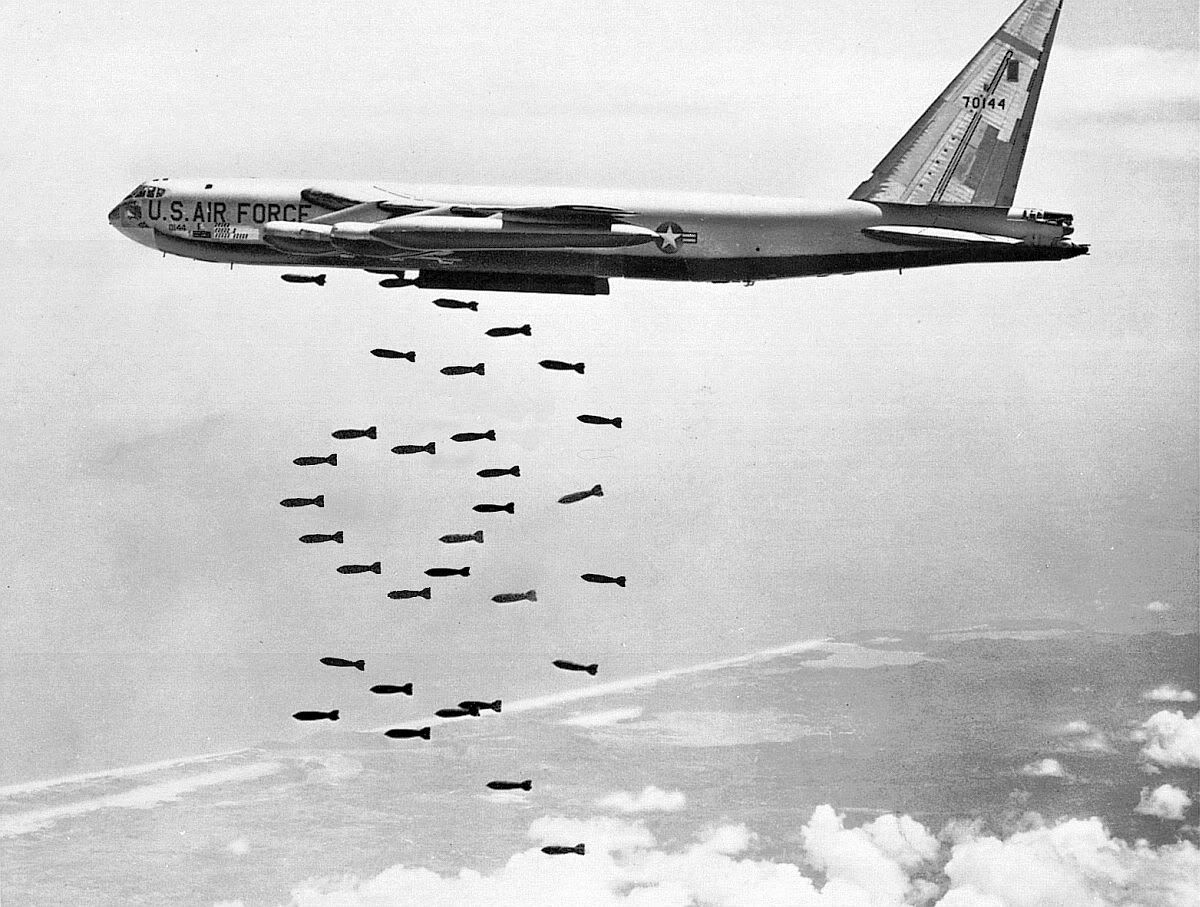 Photo 2. Strategic bomber В-52 (a source: <http://peteralanlloyd.com/>). Bomber В-52 of modification D applied in Vietnam, was capable to take aboard 108 500-foot bombs - 84 on an internal suspension bracket and 24 - on external that constitutes bombing loading in lump more than 24 tons (Jonh T. Correll. The Air Force in the Vietnam War. - The Air Force Assosiation, 2004, p. 49.).
On March, 30th, 1972 the so-called Easter approach named North Vietnameses has begun «Nguen of Hue» by name the Vietnamese emperor and the national hero in which course Northern Vietnam has involved nearby 125.000 persons in 14 divisions and 26 separate shelves, hundreds tanks and artillery pieces [5]. In approach participated, behind some exceptions, all separate units of Army of Northern Vietnam, were both in Southern Vietnam, and in Laos. A distinctive feature of a railroad train of the forces involved with Hanoi was that Vetkong in this case played almost any role. So, attacking a southern direction on capital of one of provinces the city of An-Lok (towards Saigon) three divisions of Vetkonga were those only nominally as were completed with military men of Northern Vietnam. Thus, defending dealt as a matter of fact with mass regular army. It is necessary to notice that by 1972 The scale of military presence of the USA has considerably decreased, and the congress of the United States could take out the resolution about an immediate conclusion of all American troops same year.
Approach went in three directions - on northern Hanoi planned to grasp two provinces, having moved a zone of the control of Southern Vietnam on the south, on the central was planned rassech Southern Vietnam in two, on southern - to create threat to the Saigon. As F.Davidson marks, «having won at once in three or even in two cases, northern Vietnameses actually completed war on the conditions is there would be their complete military victory». It gives due to the plan of command of Northern Vietnam and the reached concentration of forces, but notices that «the only thing that lacked them, - supports from air» [6].
Originally actions by the Army of Northern Vietnam gave certain hope of success, but further approach has stopped. On northern site accurate dependence between weather conditions and success of actions of North Vietnameses as at bad weather the American tactical aircraft and helicopters could not carry out of a problem of direct aviation support was marked, and use of all-weather aircraft was limited to problems with prompting.
On the central direction North Vietnameses did not meet serious resistance from the end of April to the middle of May when battles for key point - the city of Kontum were developed. North Vietnameses in the end of April have routed 22nd division defending which in places left, throwing technics and arms, in particular, 30 artillery installations under the place of Dak-To defending by 47th regiment of the mentioned division. Positions on heights have been as a result lost and Kontum became opened for attacks ASV, and Southern Vietnam has appeared under the threat of division in two.
One key appointment and aircraft have salvaged a situation. In a context of the present narration we will stop on the last. Storm of a city by forces of 5 infantry regiments on May, 14th has begun. Attack has been beaten off, including by means of helicopters of fire support and tactical aircraft. But the second attempt of approach undertaken on night, was more successful and has led to a breakthrough of the defences, the city has been encircled also position it seemed hopeless. However at the last minute raids of bombers B-52 have been carried out - «almost instantly assaulting columns have addressed in ashes. In the morning defenders have found some hundreds spoilt corpses of enemy soldiers and arms and technics fragments». There has come the relative calm lasting from May, 15 till May, 25th when North Vietnameses have dared to assault a city again. On May, 25-27th attacking it was possible to break in a city and to be consolidated on positions. B-52 hourly, under F.Davidson's statement, fulfilled on positions attacking, destroying manpower and technics. Since May, 28th there has come crisis and by May, 30th of subdivision ASV have departed, approach to the central site has failed.
The author «Wars in Vietnam» underlines that cycling on mastering key, but also simultaneously strong defensive points what was in the considered example of Kontum was one of lines of conducting offensive actions ASV. Thus troops attacking became an excellent target «for the American aircraft. Finally it also has played a pivotal role. Without it both Kontum and Hues would be lost, and together with them - the Second Indochina war» is lost.
On southern front approach has begun on April, 2nd basically forces of three divisions from the regions of basing which were in Kambozhde, on the cities of Lok-Nin and An-Lok (the major point on the way to Saigon). Again the aircraft has played the key role. On April, 5th thanks to intensive aviasupport it was possible to beat off attack to Lok-Nin though next day it nevertheless has been left, and the road on An-Lok became opened. To the south of a city the important highway has been cut, and the airdrome in 3 kilometres from a city on April, 7th is grasped.
Supply of the garrison cut off thus came true by air - helicopters and assaults from military-transport planes, and evacuation wounded - only by helicopters. Originally assaults of cargoes in most cases came into the hands of North Vietnameses, but to the end of April of the technician of delivery has been fulfilled also garrison supply became acceptable. More close to the middle of April storm by forces of two infantry regiments, tanks and artillery has begun. Again by means of aircraft this and the subsequent attacks managed to be beaten off. On April, 16th intensity of attacks has weakened.
On April, 18th defending was it is taken captured with the report to command in which among the reasons of a failure of approach the for the first devastating spot-checks of tactical aircraft of the USA and bombardment B-52 »were called«.
Solving storm ASV has undertaken on May, 11th, having conducted a powerful artillery preparation - 7000 shots. Originally coming it was possible to move ahead, but as F.Davidson underlines, «with a dawn attack planes of the Air Forces of the USA have arrived, and then is equal at 09.00 В-52 have put the first of in advance planned blows on an infantry of the opponent. By noon heavy bombers have broken a ridge to attack …. Within days В-52 have made thirty spot-checks, having extremely pernicious consequences for the enemy. In one sector В-52 have covered regiment ASV on the equal, deprived natural shelters of district. When the smoke and a dust have dissipated, from a regiment does not remain anything. … a victory courage of soldiers and officers ARV, professionalism of the American advisers, spot-checks of attack planes of the Air Forces of the USA and Air Forces RV and moreover« the big birds »have brought, bombers В-52 from strategic aviation Command» [7]. Thus, and in the south Easter approach has failed substantially because of the powerful aviation support rendered to units defending on the earth.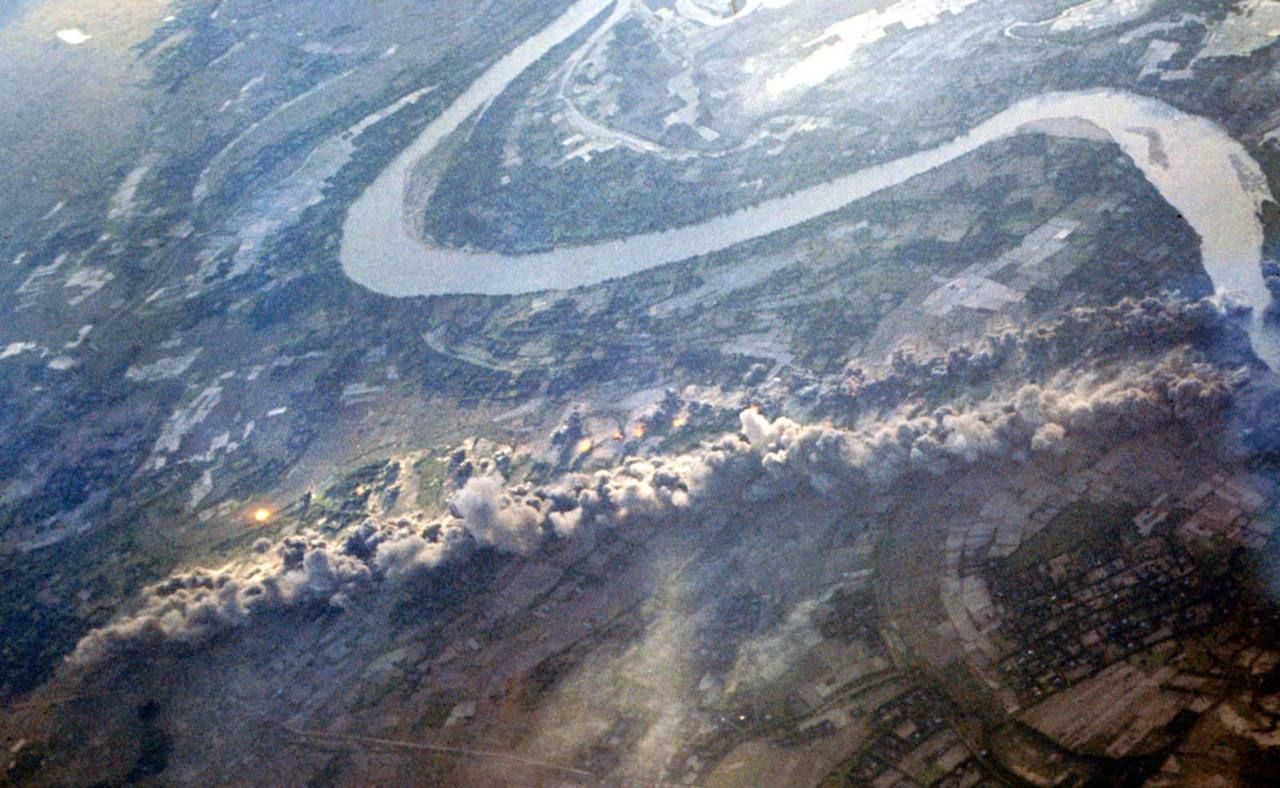 Photo 3. Ruptures of the bombs dumped В-52 during work of bombers on positions of the opponent within the limits of operation Arc Light (operation of Strategic aviation command of the Air Forces of the USA on drawing of blows by planes V-52 on the purposes in JUVA, 18.06.1965-15.08.1973). (The Source: <http://www.defensemedianetwork.com/>).It is important to notice, however, concerning events on southern front that the senior adviser there was the American major general James F. Hollingsvort who, besides other merits in the defence organisation, personally planned raids B-52 and tactical aircraft, determining the most important objects for drawing of blows and controlling interaction of aircraft and land forces.
At the same time F.Davidson pays attention to inability of commander-in-chief ASV of general Ziapa to estimate potential and character of application of battle aircraft, including such unevident course, as mass application of strategic bombers on tactical targets, realisation of direct aviation support of troops.
Here again we approach to other key question as such application of aircraft by Americans actually was not something self-evident.
During all narration F.Davidson pays attention that aircraft application always was limited, planning of the purposes came true often not military men and was the extremely politized. As consequence, it led to radical decrease in efficiency. In April, 1972 president Nixon contrary to State department and Ministry of Defence councils has made a decision to involve all forces of aircraft of the Air Forces and fleet for support rendering to land troops, considerably having increased a railroad train of aviation grouping on theatre. Here it is necessary to notice that during this period presence of the American troops in JUVA as a whole has been already reduced. On an example of shock planes of the Air Forces it looked as follows: in the middle of 1968 on air bases in J.Vetname and Thailand they had 724 machines, on the end of the year - 709, in the middle of 1969 - 713, and here on the beginning of 1972 - only 289, and from them only 62 planes were based in J.Vetname [8].
From the military point of view in itself idea of restriction of air activities against Northern Vietnam, the prohibition on aviablows to the north of demilitarised zone in the presence of corresponding possibilities is rough strategic - and even ridiculous, - an obvious error.
Thanks to basic political to the decision the park of shock planes has grown almost twice, bombers В-52 - has increased with 83 to 171 machines, for the aid to two aircraft carriers have come 3 more, have been in addition directed a little eskadrily to marines aircraft. The quantity of self-summers-departures of Americans has increased about approximately 4 thousand in March to 17-18 thousand in April-May. On April, 6th blow has been struck to objects to the north of demilitarised zone, on April, 10th В-52 bombed key port in 240 km to the north from this zone (F.Davidson's data are cited).
It is necessary to pay special attention that renewal of bombings of S.Vetnama has occurred after more than three-year break, all this period proceeded since November, 1st, 1968 on already mentioned on April, 6th, 1972 S.Vetnam has received, thus, a strategic respite for this time.
Already during reflexion of "easter approach» the restrictions earlier imposed on actions of shock aircraft have been removed. Management of aviation campaign has been transferred Incorporated committee of chiefs of a headquarters and command on places. Still in a greater degree such approach has been implemented at conduct of an operation Linebacker II. As F.Davidson writes, in 1972 Nixon «has issued from a cage of a tiger», and gives characteristic words which have been told by the president to chairman OKNSH to admiral Mureru: «I do not want to listen more to this nonsense that we cannot bomb these or those objects …» [9].
Thus, application of the American aircraft in war in very considerable measure has been limited by political reasons, was not result of military planning to the full that in aggregate considerably reduced effect of its application. Accordingly, to discuss actually reached by aircraft of the USA results follows with caution on restrictions and odergivanija to which it was exposed. But even in such situation as it is visible, in particular, from F.Davidson's same book, its influence on a course of operations was very big, solving in many key moments.
It is necessary to notice that demonstrated by Americans in Vietnam the approach contradicts their own military experience of application of aircraft during II World war and the concept of application of the air power developed in the West from the beginning of the XX-th century.
On August, 11th, 2015 in appeared by an anniversary of atomic bombardments of Hiroshima and Nagasaki to a note of founder Stratfor J. Friedman Debating the Morality of Hiroshima [10] the attention to a number of basic positions of the western military thought is paid. J. Friedman begins with Klauzevitsa who approved that the key to a victory in war lies in capability to strike a blow on the major resource of the opponent allowing it to wage war. However such resource during an industrial age to become not only the soldier in the field of battle, but also - and, maybe, even first of all, - the back providing it all necessary for conducting of operations. And it is cities where the factories producing arms and subjects of supply are massed, and the population working on these factories, it is equal as representing and a mobilisation reserve. So J. Friedman passes to Dzhulio Due massive application of bombers on the industrial centres feeding military capabilities of the opponent was which idea. Due assumed it achievement of two purposes - destruction of military-industrial potential and change of mood of weights (discontent with own government, as result of destruction of civilians, its defencelessness). Ideas of Due were divided by the American B.Mitchell and British H.Trenchard. Feature of a sight of B.Mitchell, marks J. Friedman, was big pragmatichnost, he saw a role of strategic bombings in aiming mainly on capacities, instead of on demolition of high moral spirit of the opponent, as Due. Mitchell considered necessary to concentrate on influence on industrial productions, communication facilities and messages, transport possibilities as on the valid purposes for a strategic air-force power, without considering those troop on fields of battles.
Despite imbalance of such concept (more weighed - though too idealised, - the approach represented Trenchard considering land forces still significant komponentoj of military power), with the termination of the Second World War and change of technical possibilities of aircraft the reality gradually became more and more similar to Mitchell's ideal.
But in the Vietnamese campaign we see appreciably unsystematic character of application of air power and absence of following to the above-stated ideas. Only extreme circumstances mainly connected with military necessity, forced to address periodically to this force gaining repeatedly - to massive application of aircraft. But, as a rule, it was application not on anticipation of the opponent. The next years Americans acted already differently.
The criticism of article M.Hodarenka the senior officers VS the USSR contains the disputable argument. Without setting as the purpose to assort it completely, we will pay attention to the following basic detail.
Critics result the certificate of major general A. I.Hjupenena, senior Groups of the Soviet military specialists in DRV, that the commander of the Air Forces and air defence DRV before carrying out Linebacker II has instructed first of all to try to destroy В-52: «… the main thing - not object defence that is not to admit on it blow, and the main thing - to bring down the plane. The news agency - to act only with forces on duty …». And further M.Hodarenka's opponents the conclusion - «as you can see becomes, the problem of defence of objects was not put». And further A.I.Hjupenena's conclusion that «single combat has won air defence of Vietnam», made on the basis of calculations of losses of the American aircraft on 1000 self-summers-departures which, according to the major general, were high enough is resulted.
Let's underline that war is led not for finding-out of the winner in single combat of air defence and shock aircraft, and for achievement of certain purposes by military means, including by means of shock aircraft. It is possible to put or not to give a task, trying to beat out expensive bombers and it to try to influence their application by the opponent, and Americans could lose many machines or a little, but the result is important. As F.Davidson, «as a result of twelve-day campaign writes military potential of Northern Vietnam, its industry and economy have appeared almost destroyed. Actually in territory of the country any more does not remain objects to which it would be possible to strike blows on lawful bases. Besides, communists have lost possibility to be defended from raids further. All airdromes lay in ruins, besides at air defence rockets have come to an end, and last three days of operation the American planes carried out battle tasks in the conditions of almost total absence of antiaircraft and fighting counteraction »[11].
Besides, and other remarks of critics are not saved of lacks. We will stop short on some of them.
Critics write that «in article a lot of attention is given the description of strategic bomber В-52, its equipment by means REB, construction of battle usages and etc. to Military specialists of air defence this information is known for a long time, for other specialists it does not represent interest» [12]. We will notice that M.Hodarenok just does not assort questions REB in details, and cites the data characterising level of losses of Americans depending on equipment by means REB. Just the basic moment is that with more perfect means of statement of hindrances and more flexible tactics which has undergone changes already in a course of an operation, losses have allowed to reduce application of machines and have made anti-aircraft defence of Northern Vietnam by less effective.
Concerning number brought down В-52 the statistics resulted by critics causes questions. By them it is approved that «Lajnbeker-2» 54 planes, including 31 - В-52 and 23 planes of tactical and deck aircraft has been destroyed «in a course of an operation. It is the fact known to all planet. Loss 31 planes V-52 for 11 days of operation became the real shock for the American command and in general for prestige of the United States. It was for them« the Vietnamese Verdun ». Even the congress of the USA About it sat. And in article the data about any 15 В-52, ostensibly brought down in sky DRV» is cited.
As article critical, that, despite a newspaper variant, followed result sources, including references to materials of hearings in the Congress of the USA (especially authors in other cases refer to concrete sources) as the difference with the American data is huge, considering that it is a question of strategic bombers. According to Americans, general losses В-52 for all war - from February, 1st, till October, 31st, 1973, - have constituted 30 planes, and from them only 18 machines are classified as battle losses [13]. Therefore the figures resulted by critics of M.Hodarenka, demand confirmation.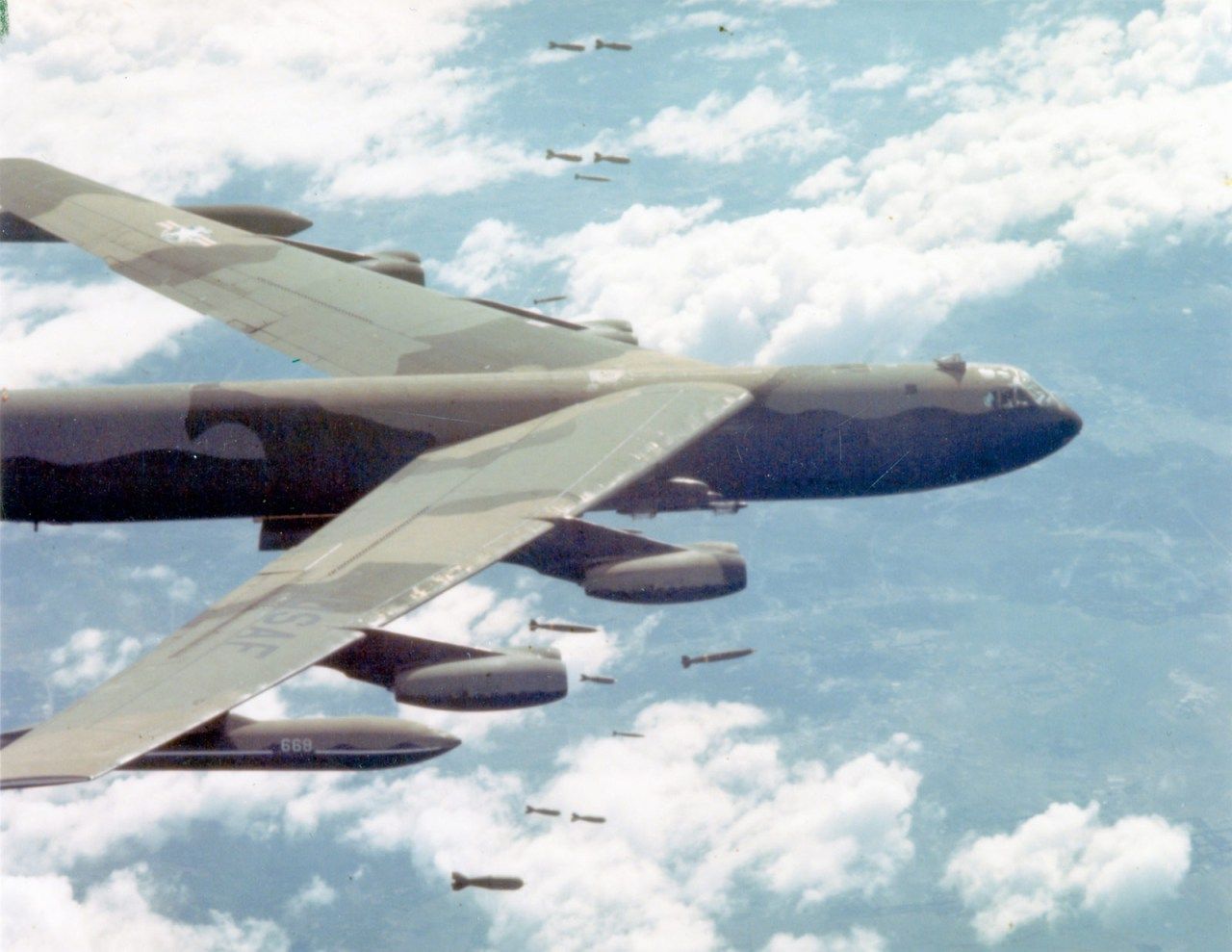 Photo 4. Strategic bomber B-52-35-BW, serial number 52-669, have been damaged by an anti-aircraft missile of ZRK С-75 and has fallen to territories of Laos. From 6 crewmen five were salvaged. The photo source approves that the plane has been brought down on December, 31st, 1972 during conduct of an operation Linebacker II, but date of a conduct of an operation - from December, 18 till December, 29th (it is probable, in a source is admitted discrepancy in the signature to a photo). (The Source: <http://www.defensemedianetwork.com/>).
Critics notice that «the country and its armed forces have managed so to organise and lead anti-aircraft defence that could resist to air aggression and put unprecedented losses to the American air forces. This fact has been recognised even in the USA, including the American pilots who were at war in Vietnam (« 100 years of anti-aircraft defence of Russia », t see. 2, p. 391)». And further: «the Statement of the author that« the Most powerful air defence system in South East Asia, without having suffered yet losses, could not prevent a damage to defended objects », it is insolvent. It could not be that as to the beginning of air aggression of the USA against DRV it at all was not. Air defence system DRV was created in a course of war basically with the military-technical help of Soviet Union (arms and specialists) and with the problems put before it has consulted quite successfully».
However on page 391 of the specified collection emotional estimations of separate two officers VS the USA, including the former pilot of naval aircraft, nowadays the senator, the chairman of committee of the Congress on armed forces of J are resulted more likely. McCain (Sen. John McCain, US Senate Armed Services Committee Chairman), brought down ZUR over the Vietnamese capital.
At the same time we will notice that level of losses of the American Air Forces in a course of war has constituted 0,4 machines on 1000 departures that is considerable below similar indicators in the Second World War - 9,7, and in the Korean war - 2,0. Total number of the lost Air Forces of the USA of planes has constituted 2255 units, from them over Northern Vietnam - 625 [14]. And from the named number noncombat losses have constituted 518 units, general losses during 1962-1966 - till an escalation of war, - 457, and losses for all war from fire ZRK - 110 machines. Especially it is necessary to notice that general losses of the Air Forces of the USA within 1972 - year of "easter approach» and scale use by Americans of aircraft, - have constituted 132 planes. Compare to 1967-1969 - figures were accordingly 401, 462 and 326 machines.
In the collection on the same pages the facts testifying and about one of the reasons of raised losses which could be warned are mentioned. As well as in M.Hodarenka's publication, again it is a question of basic importance application of means REB and their influences on level of losses. In October, 1967 Americans have lost 87 planes, and that month has received the name «black October». But in December «at raid of the big group of the American planes to Hanoi they massirovanno had been applied for the first time hindrances to antiaircraft rocket complexes on the radio vising channel (SNR did not observe flight of the rockets) that has led losses of efficiency of complexes» [15].
As to the statement of critics that air defence DRV could not be the most powerful air defence system in JUVA as «to the beginning of air aggression of the USA against DRV it at all was not» two errors are seen in this objection.
The first, and obvious, consists that discussed operation Linebacker II was conducted in December, 1972, in the end of war, and to speak about absence of an air defence system at DRV by this time absurdly. In the same collection «the 100 anniversary of anti-aircraft defence of Russia» is reported that by 1968 battle experience in DRV was received by 1180 Soviet officers, including 1 commander of air defence army, 4 assistants to the corps commander [16] (starting with history of military conflicts of second half of XX-th century, will assume an error hardly that actually it there were commanders of cases, instead of assistants). In the collection it is directly mentioned that in 1966-1967, in particular, the Soviet battle calculations [17] were the caused most a stir in battles.
To spring of 1968 in a composition of troops of air defence DRV there were 5 divisions of air defence, 4 radio shelves, 4 aviashelves - 77 fighters MiG-21, 59 MiG-17, 12 MiG-19 and 85 machines as a part of an educational aviaregiment in territory of China. In total with 1965 on 1972 to Vietnam 95 ZRK С-75 and 7658 rockets [18] have been put.
It is not necessary to disregard and that circumstance that Vietnam operatively received modifed military technology as it took place to be with ZRK С-75 improved by results of application by Americans of means REB.
Thus, on many positions of the critic of article of M.Hodarenka it is not represented constructive, does not prove capability of air defence weapons in concrete a case to resist to shock aircraft, to make its application inefficient.
Let's pay attention, as operation Linebacker II nevertheless had the limited character. For example, dams that could lead to mass disasters were not bombed. Besides, blows on air defence weapons were not a priority at a planning of an operation that has been considered in the subsequent military campaigns VS the USA when at first choked with air defence and the aircraft had an opportunity to work on the purposes on the earth with bolshej on an order intensity and subjecting pilots less and technics of danger to be brought down.
By own estimations of Northern Vietnam, as a whole the scale of a damage from bombings, besides destruction of the industry, three chief towns, 12 of 29 provincial centres, blockade of seaports, has rejected national economy on 15 years ago.
Considering the caused damage, statements about won by forces of air defence DRV single combat look deprived of rationality. This damage once again reminds of necessity of an estimation of a role of battle aircraft for the modern world. The role of battle aircraft in Vietnam was huge, in spite of the fact that it was the hostage of lacks of military planning and political will, and its application in various periods of war strongly differed character, intensity and efficiency, and despite a general result of that war.
Sources:
[1] M.Hodarenok. Different sides of operation "Lajnbeker-2" - I. «the Military-industrial courier», № 22 (588) for June, 17th, 2015, <
http://vpk-news.ru/articles/25669
>.
[2] M.Hodarenok. Different sides of operation "Lajnbeker-2" - a unit II, «the Military-industrial courier», № 23 (589) for June, 24th, 2015, <
http://vpk-news.ru/articles/25775
>.
[3] M.Hodarenok. Different sides of operation "Lajnbeker-2" - a unit I, «the Military-industrial courier», № 22 (588) for June, 17th, 2015, <
http://vpk-news.ru/articles/25669
>.
[4] Jonh T. Correll. The Air Force in the Vietnam War. - The Air Force Assosiation, 2004, p. 18.
[5] F.Davidson. War in Vietnam. - M.:Изографус, Eksmo, 2002. - Chapter 24. «Totus Porcus. All pig entirely. 1972» (<
http://militera.lib.ru
>).
[6] F.Davidson. War in Vietnam. - M.:Изографус, Eksmo, 2002. - Chapter 24. «Totus Porcus. All pig entirely. 1972» (<
http://militera.lib.ru
>).
[7] F.Davidson. War vovetname. - M.:Изографус, Eksmo, 2002. - Chapter 24. «Totus Porcus. All pig entirely. 1972» (<
http://militera.lib.ru
>).
[8] Jonh T. Correll. The Air Force in the Vietnam War. - The Air Force Assosiation, 2004, p. 10.
[9] F.Davidson. War vovetname. - M.:Изографус, Eksmo, 2002. - Chapter 24. «Totus Porcus. All pig entirely. 1972» (<
http://militera.lib.ru
>).
[10] George Friedman. Debating the Morality of Hiroshima. - Stratfor.com, August 11, 2015.
[11] F.Davidson. War vovetname. - M.:Изографус, Eksmo, 2002. - Chapter 24. «Totus Porcus. All pig entirely. 1972» (<
http://militera.lib.ru
>).
[12] A.Blagoderov, A.Malgin, G.Chislov. Michael, you is not right. The estimations of operation "Lajnbeker-2" given by the Editor-in-chief "VPK", are erroneous. - «The Military-industrial courier», № 30 (596) for August, 12th, 2015 (<
http://vpk-news.ru/articles/26507
>). Further it is quoted under this article.
[13] Jonh T. Correll. The Air Force in the Vietnam War. - The Air Force Assosiation, 2004, p. 25.
[14] Jonh T. Correll. The Air Force in the Vietnam War. - The Air Force Assosiation, 2004, p. 25-26.
[15] 100 anniversary of anti-aircraft defence of Russia, 1914-2014. In 2 t. T. 2 / [Lashkov A. Ju, Golotjuk V. L]. - M; Russian heroes, 2014. P. 390-391.
[16] 100 anniversary of anti-aircraft defence of Russia, 1914-2014. In 2 t. T. 2 / [Lashkov A. Ju, Golotjuk V. L]. - M; Russian heroes, 2014. P. 392.
[17] 100 anniversary of anti-aircraft defence of Russia, 1914-2014. In 2 t. T. 2 / [Lashkov A. Ju, Golotjuk V. L]. - M; Russian heroes, 2014. P. 388.
[18] 100 anniversary of anti-aircraft defence of Russia, 1914-2014. In 2 t. T. 2 / [Lashkov A. Ju, Golotjuk V. L]. - M; Russian heroes, 2014. P. 392, 390.
Oleg Ponomarenko